January 21, 2004
Something Old, Something New
By Nate Ewell
Hockey East Notebook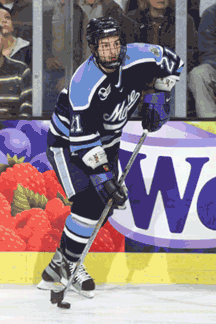 Maine may not have a player among the top 10 in scoring in Hockey East, but it does have offensive weapons like Colin Shields. (Photo by Monty Rand)

This week's schedule
National TV Schedule
Like the remake of a classic rock song, there's plenty about this year's Maine team that sounds like previous editions. But just as the Ataris felt the need to take out the "Deadhead sticker on a Cadillac" line from "The Boys of Summer," the 2003-04 Black Bears are definitely putting their own stamp on things.
For a decade, Maine teams were characterized by the quickness and skill of the Kariya brothers. Once the last one, Marty, graduated last spring, along with a wealth of talent boh at forward and on defense, no one was certain what to expect from the Black Bears.
That they've surpassed expectations – to the tune of a No. 3 national ranking and a shot at the Hockey East regular season title – is thanks in large part, especially lately, to a tough style of play that has made Maine one of the league's more difficult teams to play against.
"One of the biggest things since Christmas is that we're really becoming a strong team physically," said head coach Tim Whitehead. "I don't know what it is – maybe that we've got so many young guys, and they've been hitting the weight room. You wouldn't normally characterize us as a physical team, but certainly it's been a strength lately."
Senior defenseman Prestin Ryan, who has emerged as the Black Bears' blue line leader, leads the physical approach, but he has plenty of support. Forwards like Dustin Penner, Greg Moore and Jon Jankus are among those throwing their bodies around as well.
It's cost the Black Bears somewhat in terms of penalties – they lead Hockey East with nearly 20 minutes per league game – but with a good penalty kill, the style helps more than it hurts. Since other elite teams in the league, like Boston College and New Hampshire, are more finesse than physical, the different style could give Maine a pronounced edge down the stretch.
A more familiar refrain in Orono is outstanding goaltending – and, as has become a bit of tradition, more than one goalie provides the highlights. Whitehead was an assistant at Maine when Garth Snow and Mike Dunham were splitting time en route to the 1993 national championship; by the time he returned for the run to the 2001 title game, Matt Yeats and Mike Morrison were splitting time.
Now it's Frank Doyle and Jimmy Howard, a duo that has shown to be most valuable, ironically, when Howard was out with an injury for the last five weeks.
"Certainly for our team, losing Jimmy Howard could have really hurt," Whitehead said. "A lot of times that will really turn a season around. We didn't miss a beat."
The Black Bears were 4-2-0 without Howard, a goalie so skilled he would have been the starter for the U.S. National Junior team that brought home the gold medal. Doyle, who's undrafted, is the less heralded of the two, but has been equally impressive. Both have save percentages of at least .930 and rank 1-2 in the conference in goals-against average.
"It's a little too early to make comparisons [to Snow and Dunham], but these guys are right up there," Whitehead said. "There's a nice tradition here of winning with two. We have two outstanding goalies – that's hasn't always been the case [here], but that can be an advantage."
SEEN AND HEARD IN HOCKEY EAST
Turnaround in Durham – New Hampshire returns to Hockey East play this weekend with a goaltender playing like an All-American, a recommitted defense, and a first line on par with the best in the country.
Suddenly, those fears that the Wildcats might have been making their last appearance of the year at Verizon Wireless Arena last Tuesday against Dartmouth seem more than a little ridiculous. A more likely question now: how many trips to Boston's FleetCenter does this team have in it?
The Wildcats rival Massachusetts and Northeastern as the conference's most up-and-down team so far this season. An 8-2-1 start may have made the 'Cats look a little more formidable than they actually are, but certainly they are better than the 1-4-2 stretch that followed.
Their contention, even during that dry spell, was that they were playing better than their record. Now, with three straight wins headed into this weekend's single game at Merrimack, they are getting the results to prove it.
"I think we're finally starting to get the hang of this thing," senior Steve Saviano told Al Pike of the Foster's Daily Democrat. "We're playing well and working hard, that's the most important thing. We said that earlier, we felt we were playing well but we weren't getting the Ws, but we worked through that."
Special Approach – Merrimack's special teams have helped carry the Warriors for stretches this year, a fact that underscores captain Marco Rosa's contention that the collection of talent in North Andover easily exceeds that of the previous three years.
It's how head coach Chris Serino deploys that talent on special teams, however, that's particularly noteworthy. While other teams, like Boston College and New Hampshire, will deploy four forwards on the power play, Serino sends out three defensemen.
His first power play unit consists of Rosa and forward Brent Gough near the net, with defensemen Bryan Schmidt, Jeff Caron and Tony Johnson forming an umbrella at the top of the zone. In penalty killing, Rosa, Gough, Schmidt and Eric Pedersen make up Serino's most formidable unit, but he also uses a three-forward, one-defenseman alignment as well.
"We do things a little backwards on special teams," Serino admits. "But it just so happens that our three best shooters are defensemen, and we want to have Schmidt, Caron and Johnson back there firing away. And we'll use three forwards killing penalties because that gives us the best chance to put pressure on the opposition."
So far that unconventional approach is working. The Warrior power play stands sixth in Hockey East (18.0 percent), while the penalty kill is second (87.9 percent) in the conference and fourth nationally headed into this weekend's home games against New Hampshire and Northeastern.
FRIES AT THE BOTTOM OF THE BAG
Great Weekend Getaway

Brown at UMass Lowell (Sat.)
Besides the Beanpot, there's precious little non-conference action after this weekend. Enjoy an unfamiliar face while you can at Tsongas Arena, where Hobey Baker candidate Yann Danis will lead Brown against the River Hawks. Brown has taken a good tour of Hockey East while its ECAC travel partner, Harvard, takes exams. Tests at "Fair Harvard" may be tough, but so are road games at UNH, Merrimack, and UMass Lowell. So far the Bears are 1-1-0.

Stick Salute

They always seem to get mentioned together, and New Hampshire's high school teammates, Sean Collins and Steve Saviano, could hit an impressive milestone at the same time this weekend. Collins enters the weekend with 98 career points, while Saviano goes in with 97.

Bench Minor

Providence and Northeastern tied all three times they played this season. As recently as 1998-99, no team had more than three ties against the rest of the conference, much less one team.
• Last week we mentioned Maine's Frank Doyle and Jimmy Howard and UMass Lowell's Chris Davidson and John Yaros as the conference's only goalie tandems. A week later, it's clear that we missed the duo in Providence, where junior David Cacciola has earned at least a 50 percent share of the Friar starts.
Cacciola didn't make an appearance last year, but he's allowed only one goal in four of his last five starts, and had started four straight games before sophomore Bobby Goepfert got the nod in the last two. He leads Hockey East in conference (.936) and overall (.940) games, despite picking up only one win on the year, in a non-league game. Goepfert hasn't been bad between the pipes, either, recording 47 saves in Saturday's 3-3 tie against Northeastern and 36 in Tuesday's 2-1 overtime loss to BC.
• BU's another team where a goaltending tandem has emerged, although it can't be said that either Sean Fields or Stephan Siewec are making great cases to hold on to the job full-time. Siewec relieved Fields in Fields's last two starts and it was Siewec who started Saturday's game against BC. Nevertheless, goal scoring remains the No. 1 concern on Babcock Street, as the Terriers have scored two or fewer goals in more than half of their games this season (11 of 20).
• The best player in the two-game BC-BU series? Look no further than Stephen Gionta, who was rewarded with a goal in each game.
• What a wild overtime in North Andover Friday night. Merrimack was awarded a penalty shot against UMass Lowell in the 3-3 game, but the shot went wide. Moments after the penalty shot UMass Lowell thought it had the winner, but the goal was disallowed. Then leading River Hawk goal scorer Ben Walter went down with a knee sprain that will keep him out three-to-five weeks. Finally Danny O'Brien scored the game-winning goal to deliver a 4-3 overtime win that featured more action in three minutes than most 65-minute NHL games.
• Don't look now, Thomas Pöck fans, but Brian Yandle – who pilots the league-leading UNH power play, along with national assist leader Justin Aikins – has caught up with UMass's awesome Austrian in Hockey East scoring (both defensemen have 7-7—14). Yandle, however, has two games in hand.
• Providence is 0-5-3 in Hockey East games since what appeared to be a monumental win at the time, a 7-4 home victory over New Hampshire on Nov. 14. The Friars, 6-1-1 on the year outside of league play, get a chance to right the ship this weekend with two games at Lake Superior State. Head coach Paul Pooley was an assistant on two Lakers teams that brought NCAA championships home to Sault Ste. Marie (1992, '94).
• Providence's Chris Chaput scored the team's lone goal in Tuesday's overtime loss to Boston College, the 13th time in 14 games that he's registered a point.
• Northeastern has played one-and-a-half of its best games this season against Boston College. Nov. 29, when still winless, the Huskies raced to a 2-0 lead against the Eagles, only to fade in a 4-2 loss. Jan. 3 at Matthews Arena Northeastern posted its most impressive win of the year, 3-0 over BC. They get a chance to win the season series with the league leaders Friday night at home.
• BC fans had to take joy in Adam Pineault's two-goal effort – his third and fourth of the year – Friday night against Boston University. INCH's No. 5 rated freshman forward coming into the season, the 17-year-old Pineault struggled to adjust, and didn't get a whole lot of ice time given the Eagles' talent up front. With Ben Eaves and Dave Spina out of the lineup Friday – with Patrick Eaves to follow on Saturday, although he has since returned – Pineault picked an opportune time to lift his game.
A variety of sources were utilized in the compilation of this report.