January 21, 2004
Ross Is Boss
By James Jahnke
One question springs to mind as you watch Alabama-Huntsville junior center Jared Ross undress defensemen with filthy moves and then embarrass the opposing goalie: Is he too good to be playing in the CHA?

"No," Ross said after a slight hesitation. "The CHA has really progressed over the last couple of years. I think the competition in the six conferences is all pretty even right now. I don't think it makes a big difference."

Ross did go on to say that he's pretty sure he could compete in a stronger league like, say, the WCHA, and there's plenty of proof to back him up. He scored five goals (among six points) in the Chargers' sweep at Wayne State last weekend. None could have been prettier than his final tally, when he came in one-on-one against WSU's Nick Stodgell, tipped the puck around Stodgell to himself and beat goalie Marc Carlson while being dragged to the ice by another Warrior. The prolific weekend inspired an onlooker to nickname Ross "GAP" — standing for "goal a period."

Overall, Ross has 31 points (12-19) this season, good for a tie for fourth place nationally. But he's played just 16 games, while the guys ahead of or tied with him have played between 21 and 26. In points per contest, he far and away leads the country at 1.93.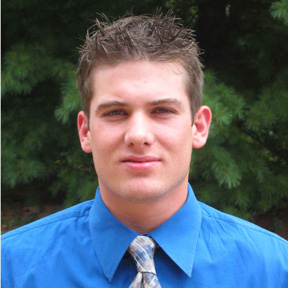 UAH's Jared Ross is one point shy of 100 for his career. He has 99 points in 88 games as a Charger.
So how did he wind up at out-of-the-way UAH instead of a more prestigious school? Well, remember, his father, Doug Ross, is the Chargers' coach.

"I wanted to play a year of juniors or so, but they needed a spot filled here," said Ross, a Huntsville native who played high school hockey at Detroit Catholic Central. "I was going to go to Cedar Rapids in the USHL, but at the last second, I kind of gave in and said, 'All right, I'll come play here.' My dad put a lot of pressure on me.

"But I'm not complaining. It was a good choice. I like it."

The 5-foot-9, 165-pounder was supposedly getting interest from Michigan
State, among other schools, but almost every scout wanted to see him play a year of juniors first. But Doug Ross made it clear that he wanted his son to go right from high school to college, so his options were scarce. Except, of course, at UAH.

"I was interested in him going to a major school a couple of years ago, but he didn't get the opportunity," Doug Ross said. "I don't always think junior is the way to go. I think he wants to be here. I think it paid off for him — he's getting his education and he got the chance to develop here the last two years. And he got to do it right out of high school, which is good. Not everyone gets that opportunity. He deserves the respect and the recognition he's getting right now."

And his teammates are sure glad to have him.

"He's unbelievable," senior goalie Adam MacLean said. "I just sit back there and chuckle. He makes me look bad in practice, but I'd rather have that than have him make me look bad in a game. First day we saw him practice, we knew he deserved to be here — if not one of the bigger schools."

The Wayne State series was a homecoming of sorts for Jared. His grandmother Pat Ross, with whom he lived while attending high school, still lives in Doug Ross' hometown of Dearborn. Jared also has uncles in Livonia and Flint and his girlfriend goes to Michigan State. The whole crew got to see him torch the Warriors.

"It felt good to come back home," Jared said. "I was pretty determined this weekend. I always score goals when they come."
SEEN AND HEARD IN THE LEAGUES

Where is everyone? — You've seen teams roll out four or five forwards on a power play unit before, but how often do you see a coach play four or five defenseman at even strength at one time? Yeah, that's what I thought.

But that's exactly what Wayne State did several times during Sunday's game against UAH. A lethal combination of injuries, NCAA suspensions and team discipline left Warriors coach Bill Wilkinson with just 16 skaters dressed Saturday. During full line changes, the Wayne State bench was about as full as the stands at an Arizona Cardinals game.

Only nine of the 16 skaters were forwards, giving Wilkinson three lines to work with. So, to shake things up, he occasionally sent out freshman defenseman Adam Drescher and junior defenseman Aaron Hundt as forwards — making for four WSU D-men on the ice at once.

"I kinda knew what I was doing out there at forward," Drescher said. "I played there one game at AIC when we had a couple of guys ineligible.

"Tonight, Coach put three D on a forward line, just basically to go out there and hit for four or five shifts. He had to give the forwards a rest."

The Warriors' situation should be helped by the returns of senior forwards Chris Vail and Travis Rycroft, who have served their mandatory one-game suspensions for game disqualifications they picked up Saturday. But, because of NCAA privacy regulations, there's no word on whether any of the injured Warriors (such as sophomore Derek MacKay or freshman Mark Cannon) will be back soon.

Saintly — Much like Jared Ross, Bentley junior goalie Simon St. Pierre might be playing somewhere else if it weren't for an immediate opening for playing time at his school. In the Boston Globe last week, Falcons coach Ryan Soderquist recalled luring St. Pierre to Waltham with the promise of immediate playing time, while most bigger schools wanted the Montreal native to play another year of juniors.

Now, "He is the backbone of our team," Soderquist told the Globe. "When he plays to his potential, he can put us in position to win every game."
Indeed, St. Pierre has been one of the lone bright spots during a sluggish Bentley season. He boasts a 2.99 GAA and .909 percentage for a team that has just three wins. It seems as though the 5-foot-10, 185-pounder was born to play in net.

"I started playing hockey when I was 3, and because I played forward, I quit twice because I didn't like it," St. Pierre said. "There was one game where I was playing forward and I skated right down to the net and sat down between the posts."

Typical goalie.
Mac is back — Speaking of backstops, INCH recently caught up with MacLean, our midseason pick as the CHA's surprise individual. The Woodstock, Ontario, native is splitting time with sophomore Scott Munroe this season, which is quite a feat considering MacLean languished on the bench behind Munroe and then-senior Mark Byrne last season. He played just three games in 2002-03, but already has nine under his belt this season.

"Scottie got the opportunity last year, and he just closed the door on me ever getting back in," said MacLean, who currently has a team-leading 2.39 GAA and .919 percentage. "Now we're both playing, we're both competitive and we both push each other."

Freshman Marc Narduzzi is also in the Chargers' goaltending mix this season, although he hasn't seen any game time yet. No offense, but that's the way MacLean wants it.

"I knew what happened last year," MacLean said. "I didn't want someone to be able to step in and have one great game and have the door get closed on me again. I'm just trying to play well, and Scottie's playing great, so it's a healthy competition for all three of us."
FRIES AT THE BOTTOM OF THE BAG
Great Weekend Getaway

Niagara at Canisius (Thu.), Canisius at Niagara (Sat.):

Apparently, these teams need an extra travel day to traverse the 20-some miles between the Buffalo State Sports Arena and Dwyer Arena. Oh well. More time for you to spend in New York's Queen City. Amazingly, Canisius is the hotter of the two teams, riding a six-game unbeaten streak into this cross-town rivalry. The Golden Griffins came from two goals down both nights to take three points from Sacred Heart last weekend. Niagara, on the other hand, has finally tied Bemidji State for first place in the CHA, but the Purple Eagles will probably fall behind again because of this nonconference series. Niagara has lost two of its last three games, yet remains a dangerous team.

While you're there: With Friday off, you have plenty of time to head to
the new Seneca Niagara Casino in Niagara Falls, where you can win
enough dough to pay for your ticket to Saturday's game and get a sub or two from Jim's Steakout on Elmwood Ave. Hopefully, you'll have the luck of the Irish-Baker with you

Stick Salute

It was a milestone weekend. Congratulations to Doug Ross for earning his 400th (and 401st) career win as Alabama-Huntsville's bench boss. Frank Serratore got in on the action, too, getting win No. 100 as Air Force's coach. From the players' standpoint, American International senior forward Guillaume Caron notched career point No. 100 with an assist Friday. He's the first Yellow Jacket to reach the benchmark since AIC joined Division I in 1998.

Bench Minor

It's a problem with every league, but I'm going to pick on College Hockey America for now. Amazingly, the CHA finally honored a defenseman (AFA's Brooks Turnquist) with its weekly Defensive Player of the Week award on Monday. Imagine that: A defenseman winning Defensive Player of the Week honors! Too often, these things go to goaltenders because it's easier to quantify their accomplishments than defensemen's. But someone (the coaches, the sports information directors or the league itself) should step up to the plate and see to it that defensemen get the same credit as netminders. It shouldn't take a four-goal weekend for a blueliner to win this award.
• Did I forget to mention, to mention (for fans of the Talking Heads) that Canisius senior defenseman Mark Persick is one of five finalists for the Hockey Humanitarian Award this year? Well, he is. On Persick's resume is charity work with the Buffalo Women's and Children's Hospital, St. Anne's church, the Roswell Park Cancer Institute, Hamlin Park and Vive La Casa. The Humanitarian Award winner will be announced April 9 at the Frozen Four in Boston.

• Mercyhurst has won four straight games, but not as convincingly as
the Lakers would like. Rick Gotkin's squad swept Bentley and American International (combined record: 6-26-6) the last two weekends, but all four games were decided by just one goal. Worse, the Lakers scored the first two goals of each game (and twice scored the first three) before letting the opponent come back.
• The next several notes will contain college hockey tidbits, followed by quotes from Air Force coach Frank Serratore. I like to call these: "The Gospel according to Frank."

We'll start with Falcons sophomore defenseman Brooks Turnquist, who is
the CHA Defensive Player of the Week after scoring four goals — the
first four of his career — in the split at Army last weekend. Turnquist hadn't found the net in his first 59 games as a collegian before the outburst in West Point.

"Brooks Turnquist turned in one of the most dominating performances I've ever seen by an Air Force defenseman," Serratore said. "He is a good player and he is going to be a great player. He was the best player on the ice."

• The latest conference realignment plan was floated by Serratore to the Associated Press last week. It calls for Robert Morris, Mercyhurst and Canisius to join the CHA and his Air Force squad to go to Atlantic Hockey. At face value, it's a great plan. Geographic rivals Robert Morris and Mercyhurst and Niagara and Canisius would be in the same league, as would service academies Air Force and Army. And each conference would get to keep its automatic bid to the NCAA Tournament.

"I challenge anyone to come up with a better plan," Serratore said. Of course, he doesn't get to make the final call.
• Finally, Friday's win over Air Force was Army's first home victory against the Falcons since 1997 (seven games). The Black Knights jumped out to a 4-0 lead and then held on for a 4-3 decision.

"It was important for us to get the first goal," Serratore said. "Not only did they get the first goal, they got the first four goals. I want to kick our guys in the tail and pat them on the back (for coming back) at the same time."

• For those of you averse to scoreboard-watching, Findlay won its first home game since the announcement that the school is cutting the hockey
program after the season — a 4-2 decision over Niagara on Friday. Captain Kris Wiebe led the way with a hat trick, becoming the first CHA player to notch two hat tricks this season.

"They were a team on a mission," Niagara coach Dave Burkholder said. "I have a newfound respect for their program."

• UConn has just one win in its last eight games, but the Huskies haven't been playing all that poorly. They beat Air Force during the holidays and just tied Brown on Friday. Also sprinkled in there are close losses to Vermont, Yale and Holy Cross (twice) and a tie against Bentley. Look for Bruce Marshall's club to improve as freshman tender Scott Tomes (3.19, .897) learns how to turn narrow defeats into victories.
• Niagara forward Mario Nucci made quite a splash Saturday in just his
second game since getting called up from the Purple Eagles' club team earlier this month. Nucci, a sophomore from Rochester, N.Y., beat Findlay goalie Will Hooper to tie the game 2-2 early in the second period. Niagara went on to win, 6-5. Nucci is the first walk-on to see game action in Niagara's eight-year history.

• Weird but true: All six of Wayne State's wins have come by 3-2 scores this year. However, the Warriors' 14 losses have come by a myriad of finals.
• Also from the Warriors file: You might need a program to find Drescher on the ice, as he's the only Warrior without a name on the back of his jersey. The problem stems from the fact that his nameplate was misspelled "Derscher" at the start of the season, and the situation has yet to be remedied.

"I asked this past week and they said, 'We're working on it,'" Drescher
said. "I don't know."

• Tickets for the Atlantic Hockey tournament are now on sale through
Army. Call (877) TIX-ARMY, visit www.goarmysports.com or stop by the
Holleder Center Box Office for ordering information. All-tournament tickets are available for $25. Single-session passes are $10 for adults and $5 for youth. The tournament will be held March 12-14 and either March 19 or 20 at Army's Tate Rink.