January 22, 2004
Kalamazoo Confidential
By Mike Eidelbes
It could be that, because of the top-to-bottom parity of the CCHA this season, it's not difficult to overlook one team at the expense of others. Maybe it's due to the prevailing attitude in Michigan that hockey is played in three arenas – Joe Louis, Yost and Munn. Maybe it's just pure ignorance.
Whatever the reason, we're ready to address the question: Who are the Western Michigan Broncos, and where did they come from?
The first question is a two-parter. The Broncos (13-9-3 overall, 9-6-2 CCHA) are one of three teams tied for second place in the conference standings, one point behind league leader Miami, thanks to a 7-1-1 record in their last nine league games dating back to a win against Bowling Green in late November. But more important, they're an experienced club with 10 or 11 juniors and seniors in the lineup on a given night, and a confident group that rarely seems rattled.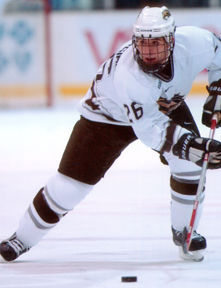 Western Michigan's Vince Bellissimo is tied for seventh in the CCHA with 26 points.
"We have seven seniors on this team," coach Jim Culhane said. "I think that's helped out with the leadership within the four walls of the locker room. And all our forwards and our defensemen have come up big when they've been in a position to make a contribution."
Culhane's response begins to explain where his team came from. The Broncos are an incredibly balanced group up front – nine players have more than 12 points heading into this weekend's home-and-home series with Michigan. Balance, however, doesn't equate a lack of talent.
Senior Dana Lattery, one of the conference's top two-way forwards, leads the team with 27 points. Sophomore Vince Bellissimo, a Florida Panthers' draft pick, scored 36 points as a freshman and is on his way to eclipsing that total this season. Senior Jeff Campbell, who's scored 137 points in his college career, snapped a mini-scoring drought last weekend with three assists in a sweep of Nebraska-Omaha. Highly regarded freshman Paul Szczechura (pronounced shuh-HER-uh) owns a three-game goal streak and has five points in his last four games.
"We're trying to get as many scoring opportunities as we can," Culhane said, "and we've been getting those second and third opportunities."
The Broncos will have to continue to capitalize on those opportunities in order to maintain their current position in the CCHA standings because they work with a razor thin margin of error most nights. While they've scored 87 goals, tops in the conference, WMU has allowed a league-high 86 goals.
That balancing act will be put to the test this weekend against the Wolverines. Working in Western's favor, however, is their success at home. They're 9-3-1 at home this season and 2-1-3 in their last six games against Michigan in Kalamazoo. The Broncos will be buoyed by a raucous, standing-room only crowd of 4,500 at Lawson Ice Arena – or is it the Broncs' Zoo? – that rarely sits on its hands. Still, Culhane believes the series will be business as usual for his team.
"Our preparation is not going to change at all," he said. "We're going to focus on the weekend ahead."
Better to be in focus, of course, than be overlooked.
SEEN AND HEARD IN THE CCHA

JORDAN RULES – Last weekend was really no different than any other for Bowling Green goaltender Jordan Sigalet. Two games, 79 saves, three goals allowed…and a split.
"I think we're just one step away from being a winning team," Sigalet said Friday after making 39 saves in 1-0 loss to visiting Michigan State. "It's frustrating, but…I think we're right there. It's just gonna take a little more."
It's hard to fathom that the junior netminder could give much more, because he's been nothing short of spectacular for the young Falcons this season. Unfortunately, the primary statistics fans use as an indicator of a goalie's play – won-loss record and goals against average – don't bear out Sigalet's excellence this season. He's 6-12-6 with a 2.78 GAA, but a closer look at his numbers reveals much more. To wit:
• His .915 save percentage ranks fifth in the CCHA, not bad for a guy who's seen more shots than a Coyote Ugly bartender. Sigalet has made 734 saves this year. Only two other goalies in the nation – Northern Michigan's Craig Kowalski (688) and Ferris State's Mike Brown (626) – have stopped more than 600 shots.
• In 13 of his 24 starts, Sigalet has made 30 or more saves, including 56 in a 5-3 win at Notre Dame in October and 85 in a two-game series with Ferris. BGSU, fourth from the bottom in the nation in scoring offense at 2.21 goals per game, earned just one point in that series even though the Bulldogs scored a total of five goals on the weekend. His one shutout this year was in a scoreless tie at Lake Superior State.
• Sigalet has played every minute of every game for the Falcons. With 1469:14 of playing time, only Brown (1438:18) is close. Massachusetts' Gabe Winer is third on the list, a full two games behind Sigalet.
I'm not too worried about my numbers or anything," said Sigalet, whose NHL rights are owned by the Boston Bruins. "I'm just glad I get the chance to play every minute. I just like to win games."
With his skills and work ethic, Sigalet gives the Falcons a chance to win every night. He's solid in just about every phase of the game – he squares his body to the shooter, waits out opposing attackers with incredible patience until the last possible moment before committing to the shot, steers the puck away from pressure, stands his ground in traffic and plays bigger than his listed height of 5-11½. He could stand to improve his puck-handling, but he's not a liability when playing the puck.
"Every day we see it," Bowling Green coach Scott Paluch said of the junior goalie's talents. "He can pick up the puck extremely well…and he has the unique ability to smother the puck and not let it get away from him for rebounds. And he can do that through traffic, too, which is a really good skill to have."
Sigalet's rock-solid consistency is important for a number of reasons, but two stand out as particularly crucial. First, he's able to cover up the mistakes of the young skaters in front of him (11 of the 18 players in the Falcons' lineup Friday were freshmen or sophomores). Second, his reliability allows the team's defensemen – most notably, his brother, Jonathan, a freshman – to join the rush in accordance with Paluch's desire to play an up-tempo style.
"As a guy that's played every minute so far, clearly he's going to be in the spotlight on the team," Paluch said. "And what makes it a healthy situation for our team is that he's a leader, he works hard and he's a tremendous person off the ice. He can't hide, because he's out there all the time."
There's no doubt that, if the Falcons are to make the transition from a team that keeps games close to one that wins close games, Sigalet will spearhead that effort. And he's ready – and willing – to face any challenge opponents throw his way.
"When you're making big saves, it gets your adrenaline going, it gets your team going and it gets the crowd going," Sigalet said. "I don't have a problem with it. I kind of like it in a way."
Great Weekend Getaway

Michigan at Western Michigan (Fri.), Western Michigan at Michigan (Sat.): We're not ready to anoint the Broncos as a sure-fire contender for the CCHA regular season championship – this is a team that lost three of four points at Lake Superior State less than three weeks ago, mind you – but they can take a giant leap toward solidifying their position against the Michigan this weekend. The Wolverines have their work cut out for them in Kalamazoo Friday; the Broncos are notoriously tough to beat at home. The scene shifts to Yost Ice Arena Saturday, where WMU hasn't won since 1995.

While you're there: If you're making the drive on I-94 from Kalamazoo for game two of the series, swing into the town of Chelsea. Located just west of Ann Arbor, it's widely regarded as Michigan's cultural center and is anchored by the Purple Rose Theatre, a not-for-profit professional theatre company founded by actor (and hometown boy) Jeff Daniels. As far as we know, there has yet to be a stage adaptation of "Dumb and Dumber." We'd love to see Cam Neely reprise his role as Sea Bass. Speaking of sea bass, a Friend of INCH says the Common Grill is arguably the best restaurant in the area. Pasta and seafood are the house specialties.

Stick Salute

• Ask anyone who attended Friday's Michigan State-Bowling Green game, and they'll tell you it was as entertaining a game as they've seen in some time. Both goalies brought their "A" games to the rink that night, there was plenty of physical play, each team had quality scoring chances numbering in the double digits and both sides played with a high level of enthusiasm and energy. Just a fantastic night.


Bench Minor

• Bowling Green, a bastion of equality in northwest Ohio, has Falcon mascots in both male and female form. The male bird looks like a cartoonish falcon, while the female appears to be a steroid-laced turkey. Whatever. The beef here is that mascots that take to the ice should actually be able to skate. The BGSU birds didn't do too badly but, for the love of Bucky Badger, don't wear rentals from the arena skate shop while you're out there. Pick up a pair of CCM 152's, maybe.
FRIES AT THE BOTTOM OF THE BAG

• With series against Notre Dame and Michigan State launching the second half of Bowling Green's conference schedule, Paluch had the opportunity to assess the games of the CCHA's three 17-year-old defensemen – the Irish's Wes O'Neill, the Spartans' A.J. Thelen and his own standout blueliner, Jonathan Sigalet. He says the trio of talented rearguards are a credit to the quality of the league.
"Here you have three 17-year-olds – playing defense, no less – who are really doing some fun things," said Paluch, a former defenseman. "They're all kind of multi-dimensional. They understand the [defensive] zone, they get involved offensively. With our guy, he plays a lot of hockey for us and he's handled every situation well, as it looks like with the other two. They just keep getting better and better."
• One week after bemoaning his team's lack of effort in a 3-2 home loss to UMass Lowell, Michigan State coach Rick Comley lauded his troops for their perseverance despite finishing on the short end of a 3-2 decision at Bowling Green Saturday.
"We've had some poor efforts in second games of series, but this was not a poor effort tonight," Comley said to Neil Koepke of the Lansing State Journal. "I thought our kids played their hearts out.''
The Spartans haven't recorded a series sweep since taking a pair from Ferris State in a home-and-home set Oct. 31-Nov. 1.
•An oddity from Saturday's NHL game between Edmonton and Nashville: not only were four Michigan State alums on the ice that night, but all four were members of the same team. Oilers Mike York and Shawn Horcoff and Adam Hall and Andrew Hutchinson of the Preds were on the 1998-99 Spartan squad that advanced to the Frozen Four in Anaheim. We sent the boys at the INCH Institute for Hockey Research to the books and the only similar instance we could find of this occurrence came in 1991-92 when four members of the 1984-85 Wisconsin team – Scott Mellanby and Dave Maley of Edmonton and Calgary's Gary Suter and Paul Ranheim – squared off in the Battle of Alberta. If we overlooked another quartet, let us know.
• Less than five months into his professional hockey career, former Ferris State All-American Chris Kunitz made his National Hockey League debut – on Hockey Night in Canada, no less – in Anaheim's 2-1 win against host Vancouver Saturday. One of the finalists for the 2003 Hobey Baker Award, Kunitz was credited with four shots on goal and logged seven minutes of ice time. Coincidentally, former Ohio State standout Ryan Kesler returned to the Vancouver lineup that same night for the first time since helped the U.S. team to the gold medal at the World Junior Championships.
• Someone once told me the difference between Anchorage and Fairbanks – I've been to both places on hockey trips in the past – is that the former is a city, while the latter is an outpost. Make that a frozen outpost. Northern Michigan braved the bitter cold when visited UAF for a two-game series last weekend. The high temperature during their visit: one below zero. The low temp occurred Saturday: 46 below zero. Fortunately for us, a Fox Sports Net Detroit crew was in Fairbanks last weekend. They'll share their travelogue with us on the next edition of CCHA Weekly, which airs prior to Friday's Michigan-Western Michigan game.
• After making the trip to Ohio last weekend, I've learned that the Obscure Bowling Green Note of the Week is one of the most popular features of this notebook according to a sampling of people wearing brown and orange. This week's gem: Bowling Green and Michigan are the only two teams to win the CCHA regular season trophy and the MacNaughton Cup, which is currently presented to the WCHA regular season champion. Michigan, a WCHA member from 1951-81, won the MacNaughton Cup in 1953 and 1956. The Falcons, meanwhile, won the MacNaughton from 1982-84. Michigan Tech – the custodian of the trophy – was a member of the CCHA for those three seasons.
A variety of sources were utilized in the compilation of this report.

Send this to a friend
About Us | Advertiser Info | Site Map | Privacy Policy
© 2004 Inside College Hockey, Inc., All Rights Reserve