January 22, 2004
Willing Van Abel
By Joe Gladziszewski
Senior captain Brian Van Abel will finish his career among the all-time leaders in games played at Dartmouth College. He's been as steady as they come over the last four seasons, which made a freak ankle injury during a Sunday afternoon skate-around on Jan. 11 a real
concern for the Dartmouth defense corps.
Van Abel, a native of Lino Lakes, Minn., is the lone senior on the Big Green blue line and is joined on a nightly basis by a combination of five freshmen and sophomores.
The injury occurred when Van Abel fell awkwardly into the boards and twisted his ankle. On crutches, he watched a loss (along with more than 10,000 fans) to in-state rival New Hampshire at Manchester's Verizon Wireless Arena. He also missed last Friday's 2-2 tie against Clarkson.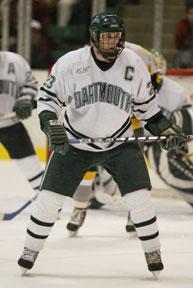 Dartmouth senior captain Brian Van Abel's status for games against Colgate and Cornell this weekend is cloudy.
He missed only two games in his previous three years for the Big Green. Being an observer was difficult.
"It was really tough to sit down and watch the games, especially our big game against UNH. It would've been nice to play in that one," he said.
Van Abel returned to the Dartmouth lineup on Saturday, and helped his team snap a three-game winless streak with a 5-3 win over the Saints. His return in that game doesn't mean that he's back in the lineup for keeps.
The ankle is still bothersome for Van Abel, who said that he's not totally healthy. He didn't practice this week, and could miss either the Colgate or Cornell game this weekend.
Of course, Coach Bob Gaudet would be more at ease if his senior stalwart were able to play. Van Abel's experience and ability are a big reason why Dartmouth is in the hunt for the ECAC title.
SEEN AND HEARD IN THE ECAC

Checking In – Two bits of news from the league office. ECAC hockey commissioner Phil Buttafuoco reports that the league is very close to finishing a deal with Empire Sports Network (Buffalo) and Comcast CN8 (New England) to broadcast select post-season games in both the men's and women's conference tournaments.
Also, the league's membership committee is wasting little time as it seeks to chart the future of the ECAC once Vermont departs for Hockey East next season. The committee has already held four conference calls, and during those calls has discussed the pros and cons of becoming an 11-team conference once Vermont leaves, or whether an expansion to 12 or more teams best suits the league's interests.
Credit to the Man in the Pipes – Yale sophomore forward Joe Zappala continued to light up the ECAC scoring charts with a four-point night in the Bulldogs' 6-4 win over Connecticut on Saturday. His big night included his second hat trick of the year, his seventh game-winning goal (Yale has nine wins), and an assist. Zappala and linemates Ryan Steeves and Jeff Hristovski accounted for four of the six Yale goals.
Zappala was named ECAC Player of the Week for the second week in a row, but he's not the only reason for Yale's recent surge. Goalie Josh Gartner, a sophomore classmate of Zappala, has nailed down the number-one goalie role at Yale with a string of fine performances, including a huge 29-save effort in a recent win against New Hampshire. Gartner then stopped a season-high 39 shots against UConn.
The goal-getter had high praise for the goal-stopper.
"He's played really well, and been very solid," Zappala said of Gartner's play. "The one think I can say is when we're in a spot where we need him to make a save he's there for us. He makes the routine saves that he's expected to, and also makes the big saves when we're under pressure."
Great Weekend Getaway

Dartmouth at Colgate (Fri.)
Dartmouth currently holds down one of the coveted top-four spots in the league standings, with Colgate lurking just two points back of the Big Green. These teams, along with Vermont and Cornell, have played the fewest games in the league to this point. The loser of Friday's game effectively loses one of those games in hand, by missing out on two points.

While you're there: Look for Cornell coach Mike Schafer among the observers at Starr Rink. He's got the night off.

Stick Salute

• Cornell head coach Mike Schafer literally took one for the team with his R-rated officiating rant following Saturday's loss to Rensselaer. He wasn't happy about how his players were being treated and stood up for them, but it will cost him his regular bench duties for Friday's game against Vermont. The timing of the rant was well calculated. It sent was a message of support for his players, a volley at league referees, and perhaps a rallying point for the Big Red as Cornell heads into this weekend winless in three games.

Congrats to Paul Crosty, Brown's sophomore defenseman from Edmonton. Crosty scored his first career collegiate goal in his 57th game in a Brown uniform, as the Bears beat Merrimack 6-2 on Tuesday night. It was Brown's first non conference win of the year.


Bench Minors

• While covering a youth hockey tournament last weekend, I was asked by a parent at a peewee game (12-year-old players) if I was a scout. Minor hockey parents, please take note: Your child will not play in the NHL. Also, the refs (many of whom are teenagers) are doing the best job that they possibly can and are not out to screw your son or daughter's team.
FRIES AT THE BOTTOM OF THE BAG
• Without checking the stats, can you identify the two leading point-producers from the league in all games (combined ECAC and non-conference) this season? The answer is at the bottom of the bag.
• The log jam in the middle of the ECAC standings, an annual tradition, means that a four-point haul from a weekend series in the league can drastically raise a team's standing. When Colgate swept Rensselaer and Union last week it marked the ninth time this year that an ECAC team had a perfect weekend in the league.
• Not surprisingly, Brown leads the way with three 'four-pointers' and Yale has accomplished the feat twice. Cornell, Dartmouth, Rensselaer, and the aforementioned Colgate sweep were the other teams to get a pair of wins.
• The most swept opponents? The Yale-Princeton and Union-Rensselaer weekends have been the most generous to opponents, with six teams getting maximum points from those matchups (three each). Clarkson and St. Lawrence were accommodating to opponents twice, and the ninth such example was RPI's home-and-home sweep of Union.
• Colgate junior goalie Steve Silverthorn has twice bettered his heralded counterpart Yann Danis in head-to-head games. Silverthorn has allowed one goal in each of Colgate's two wins against Brown. By stopping 66 of 68 shots last weekend in a sweep of RPI and Union, Silverthorn improved his season statistics with a 1.93 goals-against average and a 92.7 save percentage. The Owen Sound, Ontario native is the ECAC Goalie of the Week.
• Rensselaer has won four of five games and hosts Sacred Heart on Saturday to wrap up its non-conference schedule. Sacred Heart visits Union on Friday. In other non-conference games this weekend, Brown travels to Lowell to face the UMass Lowell River Hawks.
• St. Lawrence snapped a 10-game road winless streak with a win at Vermont. The Saints have been much better at Appleton Arena, where they will put a three-game winning streak on the line Saturday night against Clarkson.
• The answer to the earlier question. Not Zappala, nor Ihnacak, nor Moulson, nor Jessiman. The Clarkson tandem of Mac Faulkner and Chris Blight lead the way with 29 and 27 points respectively. The Golden Knights have played 23 games.
A variety of sources were utilized in the compilation of this report.