January 21, 2004
Surprising Seawolves Focus on Realistic Goals
By Jess Myers
The folks who spend a lot of time looking at computer rankings will tell you that if the NCAA playoffs started today, Alaska Anchorage would be solidly in the running for a spot among the final 16. After a winless WCHA season last year, the Seawolves are turning heads, having earned at least a point in their last seven league series.
But before fans in Anchorage get too excited, Seawolves coach John Hill is quick to do a little "expectation management" and offer a realistic view of what he hopes for his team in the next two months. A finish in the league's upper half would be nice, but with the way some other teams are playing and collecting points, Hill doesn't see it happening this year.
"Realistically, we're shooting for sixth," said Hill. "But we've still got a list of things that haven't happened in the history of the program that we're hoping to accomplish, namely winning a playoff series and getting to the (WCHA) Final Five."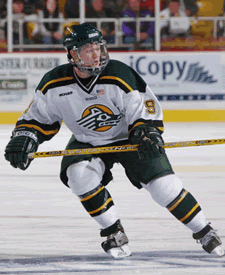 Sophomore Chris Fournier (7-11--18) has played a key role in Alaska Anchorage's rebound from an abysmal 2002-03 season.
Hill said that while nobody expected last season's one-win disaster (Hill has joked that he promised his team would double its win total this season), the fact that his team is playing competitive hockey this year is in keeping with the plan he put into motion when he took the job at his alma mater in 2001.
"I had hoped that we'd start showing progress in year three, once I had two recruiting classes in," Hill said. "Chris Fournier transferring back here has obviously been a huge addition for us, but in addition to that, we've got a young hockey team that gets along very well. I honestly thought our team was capable of doing this."
For Hill, the biggest challenge in year three has been fielding a full roster. A "perfect storm" of player departures, injures and academic troubles has left the Seawolves short-handed to the point that defenseman Ryan McMullan, an Alaska native who had been playing junior hockey in Missouri, enrolled in school and joined the team just last week, making his college debut in the Seawolves' 6-3 home win over St. Cloud State.
SEEN AND HEARD IN THE WCHA
Tigers Flew Without A Net On NCAA Vote – While these are tough times on the ice for the Colorado College hockey team, off the ice, all is well in Colorado Springs now that the NCAA has issued a favorable vote. After his team was swept in Duluth last weekend, Tigers coach Scott Owens admitted that they're glad to see the distraction created by the D-III issue gone.
"It was a big relief," said Owens of the NCAA vote. "There have been so many things going on with this team this year, from accidents and injuries to illnesses, and this was just one more added thing, so it's nice to have it over."
Asked what the school would have done had the vote gone badly, Owens said there was no "Plan B" in place.
"We didn't have a contingency plan," he said. "We didn't even think about 'what if" because we wanted to put all of our energies into the fight. And we were fortunate because the eight schools involved were incredibly organized, and they worked their butts off to make sure things came out right."
As for the Tigers' struggles on ice, they're in new territory. Prior to the team's current six-game WCHA losing streak, CC had gone 21 consecutive WCHA series without getting swept.
"This is a tough stretch for us, but we're trying to stay positive and patient," said Owens. "We've had 27, 27 and 30 wins the last three seasons, so we haven't really experienced this. I think we're a pretty good team without a good league record, but I think we'll be pretty good eventually."
Great Weekend Getaway

North Dakota at Minnesota (Fri.-Sat.)

Despite the current trend in pro and college arenas, there are still no protective nets behind the goals at Mariucci Arena in Minneapolis. With the way these two teams shoot the puck, there are about six sections of seats that could be similar to a combat zone this weekend. Some casual college hockey observers get pumped up about the Gopher-Badger rivalry, but others contend that the Gopher-NoDak series (which has been going on 20 years longer than Minnesota-Wisconsin) is the true "big game" in the WCHA. Both teams are red-hot, with Minnesota on an 11-1-2 streak and NoDak on an 11-0-2 streak. Some are still not sold on the Sioux goaltending, and with the way Minnesota is scoring (putting up 16 goals last weekend in Mankato) many expect the Gophers to put an end to the Sioux unbeaten streak. But NoDak has gotten a win in each of its last six trips to Mariucci, so don't be surprised to see that streak grow to seven.

While You're There: In the winter, North Dakotans watch hockey. In the summer, North Dakotans (at least the ones I knew growing up) come to Minnesota to fish. It's somehow appropriate, then, that with hundreds of North Dakotans coming to the Twin Cities to watch hockey this weekend, the 32nd Annual Boat Show is in full swing at the Minneapolis Convention Center. If you stop by on Saturday, expect to see more than one person wearing green and white while checking out the newest equipment for use on Minnesota's 11,842 lakes.

Stick Salute

To Minnesota Duluth sports information director Bob Nygaard and his efforts with the Mentor Duluth program. Run by the local YMCA, Mentor Duluth is similar to Big Brothers Big Sisters, and pairs kids from the Twin Ports with adult mentors. For the fifth consecutive year, Nygaard organized Mentor Duluth Night at the DECC, and more than 150 kids were on hand to see the Bulldogs host Colorado College last Saturday. The event is completely funded through private donations, and UMD athletics offers kids and their mentors discounted tickets. We can think of no better character-building event for the youth of America than witnessing a night of top-level collegiate hockey.


Bench Minor

To the Minnesota State, Mankato fan who threw a dead gopher on the Midwest Wireless Civic Center ice last weekend as the Mavericks and (live) Gophers battled. Two decades ago, when North Dakota fans started this trend, it was funny and unique. Nowadays, it's old hat, and somewhat cruel, and we're not ones to condone throwing anything on the ice during games. Kudos to Gophers forward Thomas Vanek for having the good sense to toss the carcass back into the stands.
PUCKS TO PICK UP AFTER PRACTICE
• How's this for parity in the WCHA: In the last 20 meetings between Minnesota Duluth and Michigan Tech, the Bulldogs hold a razor-thin 10-9-1 edge. It almost makes one hope that Tech wins and ties this weekend in Duluth. That even play is a far cry from the start of the rivalry between the WCHA's two Lake Superior schools. Between their first meeting in 1952 and 1970, the Huskies were 43-2-1 versus UMD.
• What has already been a long, cold winter in Mankato got a little bleaker this week when it was announced that senior forward Cole Bassett has left the Mavericks hockey team for personal reasons. Bassett was a highly-recruited player out of St. Paul's Hill-Murray High School and had been among the team's top five scorers as a sophomore and junior. Expected to complement Shane Joseph and be a major contributor to the team's offense this season, Bassett had struggled in his final year, recording five goals and no assists in 18 games.
• Wisconsin sophomore defenseman Tom Gilbert is prominently featured in the new book "Blades of Glory: The True Story of a Young Team Bred to Win." Minneapolis author John Rosengren spent the 2000-01 season as an insider with the Bloomington (Minn.) Jefferson High School hockey team, when Gilbert was a senior and the team's captain. Rosengren has written an engaging book based on the experience, including an unvarnished look at the pressures put on kids to make the team and the disturbing increase in the use of performance-enhancing substances among young athletes. Jefferson is one of the most successful prep hockey programs in the nation, having won five state titles since 1981 and having produced such notable collegians as Hobey winner Tom Kurvers (Minnesota Duluth), All American defenseman Mike Crowley (Minnesota) and current Tampa Bay Lightning forward Ben Clymer (Minnesota).
• Look for suites and club seating to factor prominently into any design for a new arena in Duluth. Bob Nielsen, who took over as UMD's athletic director in December, said that if sightlines were the only factor in an arena, the Bulldog hockey program would be happy to stay in the DECC. "I think, and most people agree, that the DECC is a great place to watch hockey," said Nielsen. "But unfortunately, facilities are judged more on the basis of bells and whistles today." As for abandoning an effort to get an arena built on the UMD campus (the DECC, and the proposed new arena site, are five miles from campus, on the waterfront near downtown Duluth), Nielsen said he likes the agreement under which the city would build a new lakefront arena and give UMD hockey free rent for life. "I think having college hockey in Canal Park is good for UMD, for the city, and for the Duluth business community," said Nielsen. "We certainly want to work with the city to secure a new facility, because we think there's a great partnership between UMD and the city." The DECC, which opened in 1966, is the oldest arena in the WCHA. The building has hosted two men's Frozen Fours (1967 and '81) and the women's Frozen Four last season.
• Good luck picking winners when Denver hosts Alaska Anchorage this weekend. With the Seawolves playing well and the Pioneers unable to win WCHA games at home (Denver is 0-6-1 in WCHA games at Magness Arena this season) it would be tempting to pick Anchorage. But the Pioneers have owned the series recently, going 8-0-2 in their last 10 meetings with the Seawolves. With a trip to top-ranked North Dakota looming on the Pioneers' schedule, the four points at stake this weekend are vital to Denver's chances of getting back into the league's upper echelon.
• A face on ABC's "The Bachelorette" recently might have looked familiar to college hockey fans. Yes, that was former Wisconsin forward Rick Enrico receiving the all-important white rose from bachelorette Meredith Phillips at the end of the show's first episode. For their first date, People magazine reported that Rick and Meredith had an intimate dinner and a tour of Michael Jackson's $20 million Beverly Hills estate. While we don't know what was on the menu at Jacko's house, we're guessing it was a far cry from any pregame meal Rick had at the Fabulous Westward Ho in Grand Forks. Enrico played for the Badgers between 1994-98.
• With his team trailing 1-0 in the third period at Anchorage last weekend, St. Cloud State captain Matt Hendricks scored two of his team's four goals as the Huskies rallied for a 4-1 win. In doing so, Hendricks became the 18th player in SCSU hockey history to top 100 points for his career. While the computers still rank the Huskies in the top five nationally, their WCHA fortunes have gone south recently. After starting their WCHA slate on a 6-0-1 tear, the Huskies are 1-5-1 in their last seven conference games.
• One of the true nice guys in college hockey media will call it a career at the end of the current season. After 26 years as the color analyst for Minnesota Duluth hockey broadcasts, Rik Jordan is stepping down from his post with KDAL sports. Jordan, who has struggled with eye problems at times, made an amazing recovery after going blind in both eyes during the Bulldogs' run to the 1993 WCHA title. Surgery helped him re-gain sight in one eye, and he's been back behind the mic for home games since then.