September 25, 2003
2003-04 WCHA Preview
By Jess Myers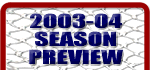 THE SKINNY
The MacNaughton Cup is one serious piece of hardware. In fact, the 90-year-old silver chalice, given annually to the WCHA's regular season champion, is heavier than the Stanley Cup. Winners of the MacNaughton Cup often struggle to lift it, which might be only one reason why winning the WCHA title isn't always seen as a good thing in the college hockey world.

During his three-decade run as one of the WCHA's most successful coaches, former Wisconsin and Colorado College skipper Jeff Sauer almost treated the WCHA title as a distraction en route to the NCAAs. After a home loss to Minnesota late in the 1991-92 season, all but securing the WCHA title for the Gophers, Sauer was heard to say, "Minnesota can have all the MacNaughton Cups they want, as long as we're in the hunt for the big one at the end." Sauer took his Badgers to within a goal of the NCAA title later that same year, while the Gophers were one-and-done in the NCAA playoffs.
Of the last dozen teams to hoist the MacNaughton Cup, only one (North Dakota in 1997) went on to win the NCAA title in the same season. So while all of the pieces are in place for Minnesota to win the WCHA title and plow on toward a third straight NCAA title, don't be surprised if the Gophers fall just short of the league title before mounting a spirited run in the NCAA playoffs.
While nobody would accuse coaches of sandbagging, Don Lucia must have learned a lesson about dedicating your efforts to the right cause while winning a league-record three consecutive MacNaughton Cups (but no NCAA titles) in his first three seasons at Colorado College.
After Minnesota, it looks like traditional Gopher-haters like North Dakota and Minnesota Duluth are geared up to challenge for greatness. The Sioux may put all of that offensive talent to use, providing the goaltending is solid. And the Bulldogs, who made a failed late run at the NCAAs last March, have got their fans camping out for tickets – something that's rarely been seen since the days when Brett Hull was attending classes in Bohannon Hall.
If the Gophers falter in February, those teams, Denver and defending champ Colorado College will certainly make a run for the Cup. Whether winning it is a good thing or not will be determined in April.
BREAKTHROUGH TEAM
Minnesota Duluth Bulldogs. The religious crowd talks about being judged "by what we have done and by what we have left undone." Take that look at UMD from both angles, and you'll see the potential for an exciting season at the DECC. While Scott Sandelin's team probably won't match the accomplishments of their female counterparts (the Bulldog women's hockey team has won three straight NCAA titles), the men finished strong last season (going 11-4-1 in their last 16 games), and left something big on the table when they just missed an invite to the NCAAs. Explosive junior forward T.J. Caig finished among the team's leading scorers despite having to sit out the season's first three months, and sophomore goalie Issac Reichmuth quietly emerged as one of the better young netminders in the league. A repeat performance this winter should have the Bulldogs dancing in late March, and will have their fans squeezing every minute out of Minnesota's new 2 a.m. bar time.
PRIMED FOR A FALL
Colorado College Tigers. Scott Owens is one of the most charismatic and innovative coaches in college hockey. Academically, CC is one of the finest schools of its size in the nation. And Colorado Springs, the birthplace of the Frozen Four, is one of the most stunningly beautiful communities in the world. Add all of those positives together, and they still won't fill the 204-point hole left in the Tigers' stats chart by the graduation of Tom Preissing and Noah Clarke, plus the early departure of Hobey winner Peter Sejna. There's good news in the shadow of Pikes Peak with the return of sophomore forward Brett Sterling (who scored 27 goals as a rookie), sophomore defenseman Mark Stuart (a first-round pick by the Bruins this summer) and junior goalie Curtis McElhinney (who won 25 games en route to the MacNaughton Cup last winter). But the loss of the "big three" and the potential distraction caused by the NCAA's threats to the future of big-time hockey at D-III schools, means a repeat of their WCHA title run is an unrealistic expectation for Tiger fans. But with the NCAA's West Regional being held in Colorado Springs, a late surge by the Tigers might mean a good chance they could play their way to Boston before the home fans.
PRESSURE TO PERFORM
North Dakota's goalies. Since Karl Goehring left Grand Forks for the AHL in 2001 with three WCHA titles and an NCAA crown in tow, the ensuing men to fill the gaps between the Fighting Sioux pipes seem like a cursed lot. With their top four scorers returning and a highly-touted freshman class coming to Ralph Engelstead Arena, experts agree that Sioux coach Dean Blais has most of the pieces in place for a run at the WCHA and NCAA titles. The biggest (perhaps the only) question mark is in goal. Alongside junior Jake Brandt (11-4-4 last year) and little-used senior Marc Ranfranz on the NoDak goalie depth chart are two rookies in Grand Forks native Nate Ziegelmann and familiar last name Jordan Parise. With the likes of Zach Parise and Brandon Bockenski on offense, the goalie quartet might need to be merely adequate to keep North Dakota in the title hunt. The Sioux had a disappointing 8-11-4 finish last season (after a blistering 18-1-1 start) and play only two road games before New Years' Day this time around, setting the stage for another great beginning. It's no secret that goaltending will be the key to avoiding another big fade by the banks of the English Coulee.
TOUGHEST ACT TO FOLLOW
Minnesota State, Mankato's offense. A few pundits (OK, it was me) picked the Mavs to finish dead last a year ago, and were more than a little surprised to see Troy Jutting's team go better than two months without a loss en route to a second-place finish in the WCHA and its first-ever NCAA D-I playoff appearance. Forwards Grant Stevenson and Shane Joseph led the way, combining for 56 goals and 128 points. With Stevenson gone (an early signee with the San Jose Sharks), there's a considerable load on Joseph's shoulders. He's the nation's leading returning scorer, and is already being hyped in hopes of becoming the school's second Hobey finalist (after goalie Steve Carroll in 1981, when they still considered D-II players for the award). He will have to look to veterans like Cole Bassett and highly-touted freshman David Backes (a second-round pick by the Blues this summer) to pick up some considerable slack. Otherwise, the Mavs might be the league's latest one-hit wonder (see also: Denver Pioneers, 2001-02).
BEST PLAYER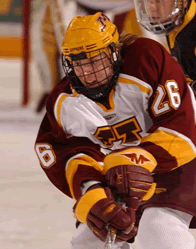 Thomas Vanek, Minnesota forward. We don't know how to say "sophomore slump" in German. Gopher fans hope that neither does Vanek – the most popular native of Graz, Austria, between the Alps and the California governor's race. The MVP of last year's Frozen Four chose another year of college over a potential NHL career (he was the fifth overall pick, by the Buffalo Sabres, in this summer's NHL draft) and heads back to the big ice of Mariucci Arena in hopes of extending two significant streaks. While looking to lead Minnesota to its third straight NCAA title, he'd also like to follow Peter Sejna of Slovakia (by way of Colorado College) in becoming the second consecutive European to win the Hobey. Another 62-point season would go a long way toward accomplishing both goals.
BEST NEWCOMER
Ryan Suter, Wisconsin defenseman. A Madison native and the fourth member of his family to skate for the Badgers, Suter's decision to sign with Wisconsin last November was the least-surprising recruiting announcement since Ryan Miller (of the East Lansing Millers) picked Michigan State. However, after he was the seventh pick overall (by Nashville) in this summer's NHL draft, Suter's decision to go to college instead of jumping to the pro ranks right away surprised a few. Suter's father, Bob, was a member of the 1980 Miracle On Ice team, and uncle Gary had a two-decade NHL career, so the hockey bloodlines are clearly there. Ryan has won two gold medals himself, at the world U-17 and U-18 championships (where he was named tournament's top defenseman) and is clearly the one Badger fans are looking to as the program seeks a return to the WCHA's upper echelon. The only note of warning might come from Suter's propensity for earning two-minute reprimands from the officials. As talented as he might be, Suter led his U.S. National Development Team in penalty minutes last year and can only help the Badgers from outside the penalty box.
UNSUNG PLAYER
Colin Murphy, Michigan Tech forward. In 1982, a hot-hitting rookie first-baseman named Kent Hrbek, from the then-woeful Minnesota Twins, graced the cover of Sports Illustrated next to the headline "Best of the Worst." Well, Michigan Tech isn't likely to be the league's worst team this year (as long as they still play college hockey in Alaska) but Murphy is clearly the offensive catalyst for a team that has failed to earn home ice in the past decade. Murphy is a team leader with a powerful slap shot that knocked Minnesota goalie Travis Weber out of the WCHA playoffs last winter (breaking a finger on the Weber's glove hand, and scoring a goal on the play). If Tech's new coach is looking for a leader of the Russell Revival, Murphy, who had 20 goals and 40 points last year, should be the guy to carry the flag.
THREE BURNING QUESTIONS
1. Only Maine, Michigan and St. Cloud State have earned four straight trips to the NCAA tournament – an impressive accomplishment despite the fact that the Huskies are 0-4 in those games. With three of their top four scorers and their top goalie gone, is this the year the Huskies finally have a quiet selection Sunday?
2. The last time Wisconsin finished eighth or worse in the league standings (Bucky finished ninth in 1979-80) the Badgers rebounded to win the NCAA title the next year. With a season under his belt and a decent freshman crop on campus, does Mike Eaves have a Madison Miracle up his sleeve? An army of fans in the nation's best college town (according to the rakings in Sports Illustrated) are dying to know.
3. Hockey East has claimed three consecutive Hobey winners on two occasions (David Emma, Scott Pellerin and Paul Kariya in '91, '92 and '93, and Chris Drury, Jason Krog and Mike Mottau in '98, '99 and '00). The WCHA has won two in a row, with Jordan Leopold and Sejna taking the trophy the past two years. With the likes of Brandon Bochenski, Thomas Vanek, Zach Parise, Grant Potulny, Ryan Suter, Shane Joseph, Mark Stuart, Adam Berkhoel and T.J. Caig on the ice this season, will the WCHA earn its own Hobey Hat-Trick?
MARK IT DOWN
Five things you can take to the bank in the WCHA this season
1. With all due respect to new Badgers radio voice Rob Andringa, the WCHA will sadly be a quieter place on Oct. 10. When the puck drops for Wisconsin's season-opener at Nebraska-Omaha, Bill Brophy will not be donning a headset for the Badger Radio Network or covering the game for a Madison (or Duluth) paper for the first time in 29 years. One of the all-time great friends of college hockey has effectively retired from sports media (although he's offered to contribute his insights to INCH from time to time). Brophy started covering college pucks with the Duluth News-Tribune in 1975, went to the Wisconsin State Journal in 1978, and was the color analyst for Badger radio for the past 13 years. Brof's warm smile and sarcastic good humor will certainly be missed in press boxes from Anchorage to Orono.
2. Alaska Anchorage will win a league game this season. Yes, that 0-22-6 WCHA campaign made the winter in Alaska a little bit colder and darker, and yes, John Hill's first two seasons as coach of his alma mater have been tough. The optimist will remind Seawolves fans that the Tampa Bay Buccaneers had a winless season once too, and things have turned out all right for them.
3. Although they'll deny it later, at least one freshman at an opposing WCHA school will get the willies just a little bit when walking to the ice for a game at Denver's Magness Arena. In a tweak of opponents' accommodations rivaling the pink visitors' locker room at the DECC in Duluth, next to the tunnel leading from the Magness visitors' locker room to the ice is a sign that reads, "Welcome to 5,280 feet." Gotta love that thin mountain air and mile-high hockey, baby!
4. For the first time since the Huskies joined the WCHA in 1990, St. Cloud State does not host Minnesota this season, depriving fans there of a chance for a nice tribute to former SCSU and Gophers coach Herb Brooks, who died this past summer. That means SCSU president Roy Saigo, athletic director Morris Kurtz and coach Craig Dahl will have more than a year to officially rename their building the "Herb Brooks National Hockey Center" and formally dedicate it (with a nice statue of Herbie out front, perhaps) when the Gophers visit in 2004-05.
5. Speaking of Brooks, he was an inspiring young coach with great hair in 1974 when he took his Gopher team to Boston to claim Minnesota's first NCAA title. Minnesota's current coach, Don Lucia, is a little older than Brooks was then, and his hair is a topic of some debate. But the betting here is that – barring a series of catastrophic injuries – Lucia will choose to honor Brooks' memory by taking the Gophers on another trip to Boston for the Frozen Four and a crack at a third straight NCAA title.
Predicted Finish

No.

School
Of Note

1.

Minnesota
With Vanek back for another run, everything is in place for a NCAA three-peat, and Don Lucia's first MacNaughton Cup at Minnesota.

2.

North Dakota
Either this is the year the Sioux goalies show their stuff, or there are going to be a lot of 8-6 wins in Grand Forks.

3.

Minnesota Duluth
Sophomore Tim Stapleton, the best WCHA forward you've never heard of, will be a key in determining whether the 'Dogs are for real.

4.

Colorado College
Stuart and Sterling are great building blocks to have on hand as the Tigers seek to stay in the league's upper half.

5.

Denver
After a disappointing tumble last season, Coach Gwozdecky looks to coax one more good case from the law firm of Berkhoel, James and Caldwell.

6.

Wisconsin
Mike Eaves has one of the nation's best freshman classes. He'd better put it to good use fast, before impatient Badger fans get itchy.

7.

Minnesota State
Having Shane Joseph back is a big plus, but he'll need complimentary linemates if the Mavs want home ice in the playoffs again.

8.

St. Cloud State
Big questions at forward and in goal will need to be answered if the Huskies are to make a fifth-straight trip to the NCAA playoffs.

9.

Michigan Tech
The Jamie Russell revolution will begin quietly, as Tech will be good enough to win a game every two weeks, but not quite ready for prime time.

10.

Alaska Anchorage
When your top four scorers return from a one-win season, is that a good thing or a bad thing?

Send this to a friend
About Us | Advertiser Info | Site Map | Privacy Policy
© 2003 Inside College Hockey, Inc., All Rights Reserved