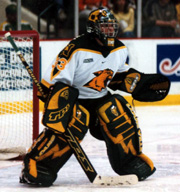 Craig Kowalski and Northern Michigan will host a CCHA first-round playoff series with onewin against Notre Dame this weekend.
West Notebook
CCHA | CHA | WCHA
Sure, the playoffs in the CCHA, CHA and WCHA start next week…
in theory.
The reality is that the majority of teams are treating this weekend as if they're fighting for their postseason lives. If they're not battling for a home-ice berth in the first round of the conference tournament – or in Niagara's case, something potentially more significant – they're jockeying for position in the league standings, which could spell the difference in having the last line change in a semifinal game. Take a close look at the three teams below. Each holds its playoff destiny in its own hands, albeit under entirely different circumstances.
Northern Michigan: The Wildcats, currently in a four-way tie for fifth in the CCHA standings, need one win to secure a home series for the first round of the playoffs. The rub: this weekend's opponent, Notre Dame, is in a similar situation. Three points would be optimal for the Irish, but they can still host with a split and some help.
"We're just trying to win every game we play, as are our opponents, I'm sure," NMU coach Walt Kyle told Marquette's Mining Journal. "It's not a matter of who we're playing or what they're doing. We just have to focus our efforts in making sure we're at the top of our game."
While the Wildcats have been consistently inconsistent – since Dec. 1, they've not won more than three in a row, but haven't lost more than three straight – they are at home this weekend. Northern is 11-3-1 at the Berry Events Center this season.
Niagara: The Purple Eagles may have more at stake than any team in the nation when it comes to playoff position. All they need is one point to get a lock on second place in the CHA standings – and the accompanying berth in the playoff semifinals.
"We're taking it like our first playoff games," said coach Dave Burkholder, whose club is 8-3-3 in its last 14 games. "It's been the goal of every team in our league to make sure you're first or second, because I don't think a team is going to win three games in a row out in Kearney."
Not only is second place at stake, but with Niagara facing regular-season champion Alabama-Huntsville this weekend, the series could serve as a pre-cursor of things to come next week.
"For us to take care of business at home would be huge for our young team heading into the playoffs," Burkholder said.
Minnesota-Duluth: Not unlike Northern Michigan, Minnesota-Duluth needs one win against visiting Michigan Tech this weekend to secure a first-round playoff series at the DECC. For the Bulldogs, however, it would mark a step forward for the program, which hasn't hosted a postseason game since 1998.
"We just want to keep playing well and build confidence as we head into the playoff," third-year head coach Scott Sandelin said. "We've gained some confidence, we've grown up a little bit by winning some tight games and battling back to earn some points in games.
"All those things are certainly building blocks when you have a young team. For most of our guys, this is a new experience and it's kind of exciting. Hopefully, it's something we can build on not only for the remainder of this year, but years to come."
A win and the ensuing home-ice advantage would also create an intriguing situation for UMD, as the team could possibly be matched against an opponent that ranks below them in the WCHA standings but above them in the Pairwise Rankings. Not that it's a bad thing; in fact, two wins against Tech this weekend and a sweep against a first-round foe such as Denver, North Dakota or St. Cloud State would propel the Bulldogs, ranked 19th in the latest PWR, closer to an at-large bid.
"We probably have to work a little bit harder than some of those other teams to win," Sandelin said. "But we've been able to do that and we've found ways to win and – more importantly – we've been able to get points every weekend. That's why we're in the position we're in."


LIFE OF BRIAN
At this time last season, Michigan State's Brian Maloney was on a roll. He entered the 2002 CCHA playoffs as the Spartans' leader in goals and assists and his team was challenging for a first-round bye in the NCAA Tournament.
Things People Say
"Sometimes you hit a certain point of the season where you're red hot, and I think they're red hot right now." – Denver coach George Gwozdecky, on Minnesota, which rallied from three-goal deficits both nights to take three of four points from the visiting Pioneers.
"I can't score goals and I can't stop the puck. We can at least try to bring good players into our program and mold them into good teams." – Michigan coach Red Berenson, following his 500th career victory, a 5-4 win against Michigan State in Detroit Saturday.
"What's wrong with this picture? Wisconsin is leading the Big Ten in hoops and ranks eighth in the WCHA in hockey?" - Denver Post columnist Jim Armstrong. The Badgers have since won the Big Ten regular season championship.
In State's first postseason contest, the unthinkable happened. During the second period of a win against Bowling Green, the rugged winger from Bassano, Alta., caught an edge and slammed awkwardly into the boards behind the Falcons' net. He broke two ribs and bruised his kidney, ending his season prematurely. The Spartans weren't the same team without him, and they limped through losses to Michigan in the CCHA Super Six championship game and Colorado College in the first round of the NCAA Tournament."
"I'd never had a serious injury before, so I thought I could get back into it right away and get all my training done in a month," Maloney said. "But it took longer than that."
Longer indeed. In fact, through 21 games this season Maloney, who was expected to be the focal point of the MSU offense this season, had two goals and seven assists. While he admits that he may have been tentative because of the injury – "I think that affected me more than I thought it was going to," he says – Maloney also dealt with two significant changes. One was the adjustment to the systems installed by new coach Rick Comley, the other was the loss of Adam Hall, his running mate for three seasons who now plays with the Nashville Predators. It didn't help that the Spartans struggled out of the gate.
"It's frustrating because you feel...you're the leading goal scorer coming back and the puck's not going in the net for you," Maloney explains. "Obviously, if you're blowing teams out of the water or winning every night it wouldn't be a problem. But our team was losing, and I wasn't doing anything to help us out."
The good news for MSU fans is that Maloney is starting to hit his stride. He's been especially effective during the last month or so, with at least one point in eight of the Spartans' last 10 games and 11 goals and six assists in his last 13 contests. Maloney's play picked up when the 6-foot-1, 207-pound senior moved to the right wing on a line with sophomores Brock Radunske (6-4, 203) and Lee Falardeau (6-4, 211) to form one of the most physical units in the CCHA.
"We're able to control the puck in the corners and it's hard for the defensemen to contain us," says Maloney. "We know our role. We're not going to take the puck end-to-end and make flashy plays and putting the crowd on the edge of their seats. Our role is to get the puck deep, wear down the defensemen and hopefully put the puck in the net."
While he's back in a groove and playing at a level close to where he was at this time last year, he still feels he has some unfinished business to tend to in the postseason. That's good, because State most likely needs to win the CCHA playoff championship in order to earn a berth in the NCAA Tournament.
"Last year at this time, I was playing well," Maloney recalls. "I was looking forward to carrying that into the playoffs, and then I had my injury. It was frustrating to watch the team go down earlier than you think they should've. We've got a young team. I'm gonna play my heart out and see how far I can get these guys this year."
Buckeye State Benevolence: Thanks to the folks at Nationwide Arena, Ohio State has a place to host its CCHA first-round playoff series.

The Buckeyes, who can't play at Value City Arena next weekend because of the Ohio high school girls basketball tournament, will skate instead at the home of the Columbus Blue Jackets in a best-of-three series that begins Friday (March 14.) The first game is scheduled for 7:05 p.m. ET Friday, with game two set to face off at 1:05 p.m. Saturday afternoon. The time for a deciding game Sunday has not been determined, but it would be played at Value City Arena.
Three Great Weekend Getaways

1. Michigan at Ohio State: While Ferris State has all but locked up the CCHA regular season championship, this series is of huge importance as far as playoff positioning is concerned. The Wolverines lead the Buckeyes by three points in the league standings, and the league's second place team gets a) a first-round date with Bowling Green, as opposed to facing Nebraska-Omaha in a best-of-three series and b) a bye into the Super Six semifinals, should they survive the opening round.

While you're there: Get a true sense of Ohio State athletic history by stopping by the Buckeye Hall of Fame Café, home of a pretty solid memorabilia display, a great game room and a fantastic ice cream "Buckeye". Also, the Varsity Club, located a short walk from Value City Arena, is a great post-game destination. It's right across the street from the OSU Ice Rink, which is a must-see just for the fact that it's impossible to fathom that a Division I program played in such a facility.

Runners-up:

Minnesota vs. St. Cloud State (home-and-home): The Gophers are striving for a second-place finish in the WCHA standings and harbor hopes for a top seed in the NCAA Tournament. The Huskies, meanwhile, could finish anywhere from fourth to seventh in the league, depending on the outcome of this weekend's games. Think Minnesota wouldn't get any satisfaction by sending SCSU on the road for the first round of the playoffs?

Notre Dame at Northern Michigan: Two of the four teams in the four-way tie for fifth in the CCHA standings meet Friday and Saturday in Marquette. The Fighting Irish have won five of six after enduring a nine-game winless streak. The Wildcats, not surprisingly, are very good at home - 11-3-1 this season following their split with Ohio State at the Berry Events Center.
Xcel-lent!: To the surprise of no one, the WCHA has elected to keep the Final Five tournament in St. Paul through 2006. The Xcel Energy Center has hosted the event in each of the last two seasons, and set attendance records both years.

"I definitely can see it going past that," WCHA tournament manager and assistant commissioner Carol LaBelle told Bruce Brothers of the St. Paul Pioneer Press. "I think we've found our home."

The Xcel Energy Center is the fourth venue to host the Final Five. It's been played at the St. Paul Civic Center (where the Xcel Center now stands), Milwaukee's Bradley Center and the Target Center in Minneapolis in the past.

St. Paul is a logical site for the tournament; not only is the Xcel Center a fantastic venue, but it's an easy drive for fans from more than half of the league's schools and a short flight – less than two hours – from Colorado Springs and Denver.

Victory for the WCHA?: A proposed regional sports network for the Upper Midwest could significantly increase the number of college hockey games on television next season.

According to a Feb. 28 column by Kevin Allenspach of the St. Cloud Times, Victory Sports – an endeavor of the Minnesota Twins – is scheduled to debut in October, and is discussing the possibility of televising St. Cloud State, Minnesota-Duluth and North Dakota athletics. The network has already reached an agreement with Minnesota State, Mankato to broadcast some of the Mavericks' contests.

Allenspach speculates that, if Victory can sign agreements with the aforementioned schools, the outlet could choose games to televise on a weekend-by-weekend basis, almost in a "game of the week" format.

"Our base is going to be local and regional sports," senior vice-president of Twins Sports, Inc., Mark Sharockman told Allenspach. "We'll cover all or parts of five states: Minnesota, North Dakota, South Dakota, Iowa and Wisconsin. There are five WCHA schools in that footprint."

Fox Sports Net North owns the broadcast rights to both Minnesota and Wisconsin hockey.
News of the Weird: Since sweeping Lake Superior State in December, Nebraska-Omaha is 0-8-2 on the road and has been outscored 40-12...On Senior Night at Notre Dame Saturday, coach Dave Poulin started all six of the team's veterans. That meant goaltender Tony Zasowski got his first start in more than a month and forward Jake Wiegand played defense for the first shift. Notre Dame won 5-2...Alaska-Fairbanks is 7-0-0 in games decided by one goal, and they've scored the last goal in six of their seven ties this season...Bemidji State went to overtime for the 14th time this season last weekend vs. Niagara. The Beavers are the first team in NCAA history to go into OT 14 times in one season...Findlay needs one point against Wayne State this weekend to secure fifth place in the CHA standings. If that happens, it would be the first time the Oilers avoid the basement in the league standings since joining the CHA...Winless streaks of note in the WCHA: North Dakota is winless in its last seven, the school's longest such stretch since going 11 games without a victory in 1974-75. Meanwhile, Alaska Anchorage, with 12 straight losses, has matched the school's longest losing streak first set in 2000-01...Five WCHA teams have surpassed their conference point totals from last season – Colorado College, MSU-Mankato, Minnesota-Duluth, Michigan Tech and North Dakota.


STICK SALUTES
College Sports Television: The fledgling television network is making good on its promise to college hockey by carrying Friday's Michigan-Ohio State game live. CSTV officially launches April 7, but is presenting selected events over the next few weeks in anticipation of that date.
Wisconsin and Michigan Tech: Saturday's game in Green Bay attracted 8,744 fans to the Resch Center, who witnessed a 9-5 Badger victory. Certainly, the beautiful new facility – which opened this year – should host its share of college hockey games and perhaps an NCAA regional in the near future.


BENCH MINORS

WCHA goaltending: There were 82 goals scored in the WCHA last weekend. Check out some of the scores: 9-5, 8-5, 8-1, 9-6, 7-0. Can't anyone in this league stop a puck?

Sid Hartman: The longtime Minneapolis Star Tribune columnist suggested that since small WCHA schools such as Michigan Tech and Minnesota-Duluth only have one Division I sport, hockey, it enables them to focus their energies in that area and gives them an advantage over bigger schools such as Minnesota and Wisconsin. It's kind of like how the Cloquet Pine Knot does a better job with sports reporting than the Star Tribune because they don't have as many teams to cover.


THIS WEEK'S NHL TRANSACTIONS

Boston Bruins: Assigned forward Andy Hilbert (Michigan) to Providence of the American Hockey League.
Columbus Blue Jackets: Recalled defenseman Duvie Wescott (St. Cloud State) from Syracuse of the American Hockey Leauge.

Dallas Stars: Recalled forward David Oliver (Michigan) from Utah of the American Hockey League.

Ottawa Senators: Assigned forward Josh Langfeld (Michigan) to Binghamton of the American Hockey League.
San Jose Sharks: Recalled defenseman Jesse Fibiger (Minnesota-Duluth) and forward Ryan Kraft (Minnesota) from Cleveland of the American Hockey League.


MINOR LEAUGE TRANSACTION OF THE WEEK
Missouri River Otters (United Hockey League): Acquired forwards Jeff Antonovich (Minnesota-Duluth; I know, one game, but it counts) and Erik Wendell (Minnesota) from the Rockford Icehogs for forward Joey Bastien.