September 21, 2004
Bowling for Rebirth
In his third year at his alma mater, coach Scott Paluch and Bowling Green are headed in the right direction
By Kevin Gordon
Scott Paluch embarks on his third year behind the Bowling Green bench in 2004-05.
Twenty years ago, Bowling Green State University hockey games were the hottest ticket in town, the major social event of a winter weekend. Lines of students wound their way through the Ice Arena parking lot back to Mercer Road on Friday and Saturday nights. Two and a half hours before faceoff, Falcon hockey fans swarmed the place.

Today, there are no lines to enter the arena and fans can still often park in the front row even if they arrive 30 minutes before faceoff. Attendance has dwindled to family and friends, and long-time fans who long for the success of the past. BGSU's last capacity crowd came during the 1996-97 season. A decade of losing has eroded the support of the students, many of whom unfamiliar with the names of George McPhee, Rob Blake, Brian Holzinger and Nelson Emerson.
Building Blocks
Inside College Hockey's 2004-05 season preview includes an in-depth look at the process of building programs at different stages in their development:
• From scratch: Robert Morris
• Rebuilding: Bowling Green and Clarkson
• Making the Leap: UMass Lowell
No longer do the Falcons have one of college hockey's elite programs. Instead, they're struggling to regain their past glory and success. But there's optimism in northwestern Ohio that the team is finally turning the corner in their rebuilding process.

Bowling Green, 11-18-9 overall and ninth in the CCHA with a 9-13-6 mark, was the second-most improved team in the CCHA last season. They're striving for even more improvement this time around. The result, they believe, could be the chance to host a first-round CCHA playoff series for the first time in a decade. The Falcons' 24 league points last season were 11 more than the previous season.

"We want to establish ourselves as a home-ice team. Our ultimate goal, from the day we started, is to compete for league and national championships," said Falcon head coach Scott Paluch, who is starting his third season.

Paluch and assistant coaches Ron Fogarty and Kevin Patrick are gradually turning the program into a successful one. Despite the recent lean years, they still have the tradition of the 35-year-old program on their side.

BGSU had one of the top programs in college hockey, initially built by head coach Ron Mason in the mid-1970s. The run extended all the way through the early 1990s. The highlight was the Falcons' NCAA championship in 1984, a team guided by current Boston College coach Jerry York.
"It's never easy to win, but it's a lot easier to have success at a school that has the tradition that our program has," Paluch said. "We've won a national championship, we've won CCHA championships, we've had great players... we've had a lot of success."
Paluch is familiar with the tradition of the Falcon program. He helped build it as a player and as an assistant coach. Paluch was a first-team All-American defenseman for the Falcons in 1988 when he was a senior. He remains the top-scoring defenseman in school history, totaling 169 points on 48 goals and 121 assists. He then served as an assistant to York from 1990-94 before following his college mentor to BC to serve as the Eagles' top assistant.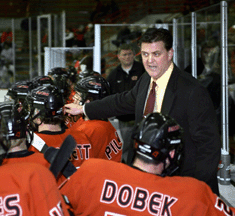 When Paluch speaks, his players listen — he's the school's all-time scoring leader among defensemen with 169 points.
The Falcons had four straight winning seasons and a .655 winning percentage during Paluch's tenure as a player. They won 33 games and the CCHA regular-season title his junior year, and won 30 games as well as the CCHA playoff title when he was a senior.

"BG has always been a very special place for me and everything — the community, the students, the academics, the facilities, the hockey — is still special," Paluch said. "It's a special bond the hockey program has with the students and the community."

The Falcons haven't had a winning record overall since 1997 and they failed to reach the 10-win mark in the two seasons prior to last year. BG's last winning record in the CCHA came in 1996. The Falcons have finished seventh or lower every year since 1998, including next-to-last place efforts in each of the last two seasons. It's been 14 years since the team made an NCAA Tournament appearance.

Earning home ice for the league playoffs this season would be a solid start for the Falcons as five of the six CCHA teams to host first-round series advanced to the NCAAs last year.

"We want to prove that the upward trend the second half of last year is something that will continue, Paluch said, noting that the Falcons were 7-6-3 in the league after Jan. 1. "We clearly want home ice this year. We want to be involved in the race for league and national honors every year."

Hard work on and off the ice have the Falcons headed in the right direction.
The Falcons' slide more than a decade ago started because they didn't work consistently hard. They played their best hockey against elite teams, and not so well against teams or equal or lesser ability. Discipline was lacking on and off the ice.

"Our goal, when we got here was to develop a real good base of hard work and discipline ... on the ice, off the ice, working hard in games, working hard in practice, working hard in the weight room, but also working hard in the classroom, how we are in the community and how we interact with other students and in the community," Paluch said.

"The most critical part of a successful program is you need a base of culture of hard work and discipline."

The enthusiastic and personable Paluch is the consummate competitor who despises losing, and his attitude has rubbed off on the players. The commitment to winning started immediately after Paluch was hired in April 2002. And it hasn't stopped.

The Falcons undergo rigorous off-ice training that also have served as team-building drills. Weightlifting included carrying 275 pounds around the school's football stadium with the team divided into groups of three or four players. The drill's losers were forced to run steps. The result was a stronger team with increased camaraderie. Players work hard on and off the ice or their ice time suffers.

"The coaches definitely followed through with that they said and that was good because it really helped their credibility," said senior goalie Jordan Sigalet, an All-American candidate who was a first-team All-CCHA pick last season with a 2.74 goals-against average and a .919 save percentage. "We've really improved our strength and conditioning."

Practices also are intense and fast-paced. Players learn how to compete, while improving their skills as individuals and as a team. On game night, the Falcons are playing an up-tempo style with an emphasis on physical contact and finishing checks.

"In the past, there've been clusters who worked hard, now it's everyone together. We're a lot tighter team," Sigalet said. "You build respect for each other when you're battling every day in practice.

"As soon as the coaches stepped on the ice, we knew they were serious. We push each other to work harder," added Sigalet, one of BGSU's captains this season. "We've changed the culture of our team.

"We have the saying, 'we decide.' We decide how we're going to finish, we decide our attitude, how we're going to react and everything that goes on."

A turning point of the Paluch era came on Jan. 2, 2003 — in his first season — when the Falcons hosted Alaska-Fairbanks. Paluch suspended five players for the first game of the series for violating team rules the previous weekend after the Falcons' game against Yale in the Mariucci Classic in Minneapolis.

The suspensions — coupled with two other players being kicked off the team — left the Falcons with only 14 skaters (eight forwards, six defensemen) for the first game against UAF. Teams typically dress 12 forwards and six defensemen each night. Despite playing short-handed, the Falcons still earned a 3-3 tie.

"If you're going to talk about being disciplined, you have to follow through on it," Paluch said. "You have to follow the rules and if you don't, you're going to pay a price. We set the tone with our decision."

While the Falcons have gradually improved during Paluch's first two seasons. this season's major challenge is to improve a punchless offense. BGSU averaged just 2.4 goals per game and scored at 15.2 percent on the power play last season. The Falcons scored three or fewer goals 29 times in 38 games last season, including 20 games with two or fewer goals. Amazingly, the team didn't win either game last season when it shut out its opponent, skating to scoreless draws on both occasions..

"Our goals for won't show it, but I'm convinced we were a much more creative offensive team than we were a season ago," said Paluch, whose team averaged 29 shots on goal per game last season.

The Falcons — who return 12 forwards, six defensemen and two goalies this season — prefer to play an up-tempo style with aggressive forechecking. BG SU also likes to involve the defensemen in offense.

Expected to lead the team up front are junior Brett Pilkington (10 goals,
11 assists, 21 points last season); and seniors Steve Brudzewski
(11-9—20) and Ryan Minnabarriet (6-14—20). Sophomore Jonathan Sigalet
(3-12—15) is one of the league's top offensive defensemen.

"There's no question that we created better chances and we're more a multi-dimensional team," Paluch said. "We can create chances off the cycle in the offensive zone and we can create in all 200 feet of the ice. But from a confidence standpoint, we haven't had the consistency to put pucks behind opposing goalies."

Averaging an additional goal per game would help the Falcons win more close games and complement Sigalet's consistently good goaltending. Sigalet enters the season as the school's all-time leader in save percentage (.914) and is second in career goals-against average (3.02). He's also a solid prospect of the Boston Bruins, who selected him in the seventh round of the 2001 NHL Draft.

"He's the strength of our team," Paluch said of Jordan Sigalet.

BGSU reduced the number of goals it allowed from 3.97 in 2003 to 2.95 last season. The Falcons tied for seventh in the CCHA in goals allowed and were fifth in penalty-killing (86.3 percent).
Aside from Jonathan Sigalet, the Falcons' top returning defensemen are juniors Jon Sitko and Don Morrison.

BGSU has nine newcomers — six forwards, two defensemen and one goalie.
Many could have an immediate impact and could receive extensive ice time. Among them are forwards Jonathan Matsumoto and defenseman Michael Hodgson, both of whom rated highly in INCH's 2004 Recruiting Rankings.
It's proof that recruiting is improving, which in turn enhances the quality and depth of players on the roster.

"We're excited about the way our program is progressing," Paluch said. "We expect to continue to get better and better, and get the program back to where we can consistently compete for league championships and be a player at the national level."

Kevin Gordon has been covering college hockey for 18 years for the Bowling Green Sentinel-Tribune.

Send this to a friend
About Us | Advertiser Info | Site Map | Privacy Policy
© 2002-04 Inside College Hockey, Inc., All Rights Reserved