September 21, 2004
Knight Revival
Clarkson is rebuilding after some lean years and a controversial firing
By Kevin Gordon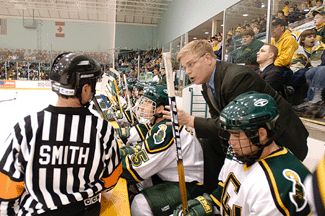 Head coach George Roll enters his second season at the helm of the Clarkson program.
Clarkson fashioned a superb run in the ECAC playoffs last season. The Golden Knights are optimistic their long playoff run can lead to even more victories this season.
The result could be Clarkson's return to national prominence.
The Knights are college hockey's all-time winningest team. They're 1,204-691-86 for a .652 winning percentage in 82 seasons, including 66 winning records.
Yet, Clarkson has fallen on hard times of late. The Knights were just 18-18-5 last season and ninth in the ECAC before advancing to the championship game of the league playoffs. The most recent of Clarkson's 18 NCAA appearances came back in 1999.
Building Blocks
Inside College Hockey's 2004-05 season preview includes an in-depth look at the process of building programs at different stages in their development:
• From scratch: Robert Morris
• Rebuilding: Bowling Green and Clarkson
• Making the Leap: UMass Lowell
"We had a great playoff run," said Clarkson coach George Roll, who is starting his second season. "A lot of the one-goal games in February went our way and we made a noticeable turn in our record. We're excited about the direction of the program."
The Knights swept eighth-seeded Union in the first round of the playoff last season and then upset defending ECAC champion Cornell in Ithaca, N.Y., in the quarterfinals. Cornell won Game 1 by a 5-1 score, but Clarkson answered with 5-4 and 5-1 wins to capture the series. Clarkson scored a 2-1 win over
regular-season champion Colgate in the semifinal, but lost a 4-2 decision to Harvard in the championship game.
"One thing we can't forget is that we were a ninth-place team last year," Roll said. "We still have a lot of work to do, even though our run in the playoffs takes away some of the disappointment of that finish."
Clarkson's long-term goal under Roll is to regain its status as one of the top programs in college hockey. And Roll believes the Knights aren't far away.
"We've had success before and there's no reason we can't do it again," Roll said. "With our tradition, our location, our academics ... we can compete for the ECAC championship and a berth in the NCAA playoffs."
Roll is familiar with Clarkson's tradition as he helped add to it as an assistant coach. He spent eight years as Clarkson's No. 1 assistant under former head coach Mark Morris, and the Knights went 186-82-26 in that time (1988-96). Clarkson won ECAC regular-season conference titles in 1991 and 1995 and ECAC playoff championships in 1991 and 1993. Clarkson also advanced to the NCAA playoffs six times in those eight seasons, reaching the Frozen Four in 1991.
"Our program is very attractive to players and our program isn't in as bad of shape as some people think," Roll said. "It's a lot easier to rebuild a program that's had success at the national level. It's much tougher to rebuild if you don't have a winning tradition."
But the rebuilding hasn't been easy. Roll was named Clarkson's head coach in late March 2003. He took over after Morris had been fired on Nov. 15, 2002 for an alleged physical confrontation with a player in practice.
Morris, who had been Clarkson's coach for 15 years, was fired after a 10-day investigation by the university. He later sued Clarkson for breach of contract and defamation, and the two sides eventually reached a settlement.
The situation involving Morris left the Clarkson program and its supporters divided.
"We didn't dwell on it; all we concentrated on was moving forward, no matter what side you were on," Roll said. "We just concentrated on it being a fresh start for everyone and getting the program back to where it should be.
"The players have been excited about what we're doing and they've responded well."
The next step for Roll and assistant coaches Jean-Francois Houle, who played at Clarkson, and Greg Drechsel was to instill discipline and a consistent work ethic on and off the ice.
"The foundation of your program is discipline, hard work and commitment," said Roll, a hard-working forward on Bowling Green's NCAA championship team in 1984. "We asked our players for a commitment on the ice, off the ice, in the classroom, in the community.
"Players were going to be accountable for their actions."
One of the key moments last season for Roll came just prior to Clarkson's ECAC playoff opener against Cornell. He suspended two of the team's captains, Rob McFeeters and Tristan Lush, for the first game of the series. The two returned for the final two games of the series.
"There's no gray areas with our rules," Roll said. "They understood they broke a rule and they had to be disciplined. Everyone handled it well and it became a positive for us, and we ended up the great playoff run.
"If you're going to have rules and have guys accountable, you can't ignore any situations when they come up," Roll said.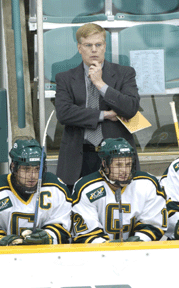 Before returning to Clarkson, George Roll enjoyed success in seven years as the head coach at Oswego State.
Clarkson is Roll's second head coaching stint, having spent seven years as Oswego State's head coach after his stint as a Clarkson assistant. The Lakers were 119-74-16 overall under Roll with two berths in the NCAA Division III playoffs, two regular-season titles in the State University of New York Athletic Conference and one conference playoff title. During the 2002-03 season, the Lakers were ranked as high as third nationally and advanced to the NCAA Division III Frozen Four.
Entering his second year back in Potsdam, Roll and the Knights are optimistic about the upcoming season. They return 17 lettermen – nine forwards, six defensemen and two goalies – and bring in a heralded rookie class that was rated ninth in the nation in the INCH Recruiting Rankings.
Forwards Mac Faulkner, Chris Blight and Jay Latuilippe – the team's top three scorers last season – return after combining for 50 goals and 63 assists last season. Also back is goalie Dustin Traylen, who had a 2.57 goals-against average and .918 save percentage.
"I'm guardedly optimistic," Roll said. "We have a good group of players returning and we have a good incoming freshmen class ... they're good players and good citizens, and we have good leaders ... those things can make a difference."
The Knights were competitive last season with 29 of their 41 games decided by two or fewer goals. They were 10-14-5 in those games, including an 8-9 record in one-goal games.
"We expect to make a big jump in the league this year and finish in the top four in the league," Roll said. "We were competitive last year and if we can improve our record in those close games, we can make that jump and get the program back to where it should be.
"Our strength should be up front and our goaltending should be solid," Roll said. "Our defense is still a big young, but they do have a year of experience and should be a lot more seasoned."
Kevin Gordon has been covering college hockey for 18 years for the Bowling Green Sentinel-Tribune.

Send this to a friend
About Us | Advertiser Info | Site Map | Privacy Policy
© 2002-04 Inside College Hockey, Inc., All Rights Reserved