September 20, 2004
New Colonial Era
Schooley's steady hand has Robert Morris ready to hit the ice
By Nate Ewell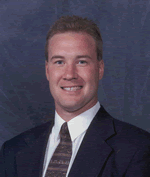 Derek Schooley
The 12 months since he was introduced as Robert Morris' first head coach have been hectic for Derek Schooley. The recruiting demands alone have been enough to put him on a first-name basis with the Enterprise rental car dealer in town.
Somewhere in the middle of those recruiting trips and endless administrative chores, Schooley found time to relax with a copy of The Hockey News. Little did he know, when you are building a new college hockey program from scratch, even a little downtime can present an opportunity to cross something off your to-do list.
Schooley, who had met with several equipment reps in search of a jersey design, was almost at the end of the magazine when the Hartford Wolf Pack's white sweaters caught his eye. Once he tracked down their designer, S&P Apparel, he had the company make a few tweaks and the Colonials' look was set.
Building Blocks
Inside College Hockey's 2004-05 season preview includes an in-depth look at the process of building programs at different stages in their development:
• From scratch: Robert Morris
• Rebuilding: Bowling Green and Clarkson
• Making the Leap: UMass Lowell
"I didn't want to copy something that you see a lot, like the Rangers or Team USA," said Schooley, the former Air Force assistant coach. "I wanted to see something unique."
In a sense, that captures the entire process of starting a program from scratch. As much as Schooley leaned on others for advice – notably Niagara's first coach, Blaise MacDonald, and Bill Wilkinson, who started the Wayne State program – the end result is entirely unique: a collection of 28 players ready to begin College Hockey America play this winter as Pittsburgh's first Division I hockey program.
Identifying those players, and convincing them to come play at a school with no hockey history, was Schooley's first big challenge. He started simply, just trying to make the school's name known and to make junior players and coaches aware of the opportunities he had to offer.
"Pretty soon there was a buzz around hockey about us," he said. "I heard a few kids refer to us as an expansion program."
Growing Pains
Typically, nothing comes easily for new programs, at least in their first year. But success might not be far off, and often comes while that first recruiting class is still on campus. Here's a quick look at the last three Division I programs to start from scratch:

Niagara
First year: 1996-97 (16-9-2 record)
Program highlight: The Purple Eagles' 30-8-4 record in 1999-2000 included an NCAA Tournament bid and an improbable upset of New Hampshire.

Nebraska-Omaha
First year: 1997-98 (12-18-3 record)
Program highlight: The Mavericks have had a pair of 20-win seasons since, but in 1999-2000 they made a playoff run to Joe Louis Arena, stunning Michigan and coming one win away from an NCAA bid.

Wayne State
First year: 1999-2000 (6-23-1 record)
Program highlight: The Warriors captured the CHA Tournament and the conference's first automatic berth in the NCAA Tournament in 2002-03, finishing the year at 21-17-2.
They don't give new college programs an expansion draft, however. That meant Schooley had 20-plus spots to fill, whereas his counterparts on the recruiting trail might be looking to fill five or six specific roles. That meant scooping up as many good players as possible without thinking about roles – at least early on.
"[Other coaches told me] not to try to build a team yet," he said. "Toward the end of the recruiting class I started to think, maybe we have enough defense we need some skill, or maybe we have enough small guys up front and we need some size. But that didn't happen until very late in the process."
Schooley focused on finding players from winning teams, feeling that they would bring a winning atmosphere to Robert Morris. Ten players on the Colonials' roster won a championship – either regular season or playoff – in junior hockey.
Schooley also needed to identify players who would embrace the challenge of starting a program from scratch. While other schools parade recruits in front of championship banners, Schooley had to sell the value of contributing to Robert Morris' first banner – whenever that may be.
MacDonald contends from his experience at Niagara that this can be a positive. First, some recruits love the idea of starting a program. And second, the ones who do appreciate it are exactly the types of players a developing program needs.
"I think it's an exciting selling point, recruiting-wise," said MacDonald, whose first class at Niagara included current Robert Morris assistant coach Nate Handrahan. "You have the chance to put your stamp on a program. There are a lot of positives about starting a new program. The identity is forged by you – you don't have to fit in to someone else's identity.
"A lot of good recruiters, like Derek, have a sense of who fits into the type of environment you are creating. You don't want to try to sell ice to an Eskimo."
A Scout's Take
An opposing recruiter offered his thoughts on Derek Schooley's first class at Robert Morris:

"I think they did pretty well. As that class becomes juniors and seniors, especially, I think you'll see some really good players.

"They don't have any forwards who are going to carry the mail right away, but they'll have some sleepers. Jace Buzek is a solid all-around player. He's not going to put up great numbers, but he's solid. And David Boguslawski will turn out to be a good player. [Defenseman] Andrew Bonello is younger – he's a true freshman – so he'll struggle at first, but he'll be a good player. For them to have an '86 [birthdate] is pretty good."

While spending three or four weekends each month on the road recruiting, Schooley still had plenty of administrative matters to attend to in Pittsburgh.
The big things got taken care of fairly early, like preparing the Island Sports Center, which Robert Morris recently purchased and Schooley calls "an excellent facility." Nearly four months after Schooley's arrival, the Colonials accepted an invitation to join the CHA, the conference he coached in at Air Force as an assistant. (Contrary to some reports, Schooley says that Robert Morris hasn't discussed leaving the CHA in the future.)
Those large, visible elements are a lot like the game uniforms, however – underneath are an unimaginable number of details Schooley had to address as well. Unlike an existing program, he had no equipment leftovers from the year before. Everything, from helmets to skate laces, had to be ordered.
"The toughest thing is to be patient and persistent when you are implementing your overall plan," MacDonald said. "It's so broad-based – you are doing everything from designing stationery to uniforms, and obviously recruiting players. It can be overwhelming, so you have to be patient."
Schooley, still filling out orders for t-shirts and game pucks in August, said it seemed like a whole other job: "I felt more like the general manager than the head coach."
There's certainly some truth to that. For all of a hockey coach's responsibilities in the first year of a new program, there's one thing he never has the chance to do – coach hockey.
Schooley actually got behind a bench this summer, working at the USA Hockey Select 16 Festival in Rochester, N.Y. But he's clearly itching to get on the ice for practice with the players he's brought to Robert Morris.
"You miss the youth of the players, laughing at their jokes and hearing the music in the locker room," Schooley said in late August. "I'm excited to get them on campus and experience that again."
By midseason, if the Colonials are struggling and a Jay-Z track is doing no favors for a loss-induced headache, Schooley might not feel so enthralled about being surrounded by 25 freshmen.
But even if the rewards aren't immediately evident in the win-loss column, Schooley will be able to take pride in a program he started from nothing. And at the very least, the sweaters will look sharp.

Send this to a friend
About Us | Advertiser Info | Site Map | Privacy Policy
© 2002-04 Inside College Hockey, Inc., All Rights Reserved