September 22, 2004
From Good to Great?
UMass Lowell hopes to follow the path laid out by a famous business book – and head coach Blaise MacDonald fully expects to
By Nate Ewell
On a Saturday in April, just weeks after last season ended, Father Tony Penna had the ear of almost every college hockey coach in the country. Several hundred people crowded in a small Florida hotel meeting room at the American Hockey Coaches Association Convention as the athletic chaplain from Boston College summarized the best-selling business book, Good to Great, and discussed how it could be applied to college sports.
Building Blocks
Inside College Hockey's 2004-05 season preview includes an in-depth look at the process of building programs at different stages in their development:
• From scratch: Robert Morris
• Rebuilding: Bowling Green and Clarkson
• Making the Leap: UMass Lowell
UMass Lowell coach Blaise MacDonald was already familiar with the book – not only had he read it, but he had each of his players submit a written report about it as well. Still, MacDonald was transfixed by Father Penna's talk.
"The biggest thing I take from the book is that the enemy of great is not mediocrity," said Father Penna, who was invited to the convention by Bowling Green head coach Scott Paluch, a former BC assistant coach. "The enemy of great is good. The real challenge is that when you become a good program, you get comfortable. To make that next jump to great can be very hard when you are good."
MacDonald, hardly satisfied with his team's sixth-place finish in Hockey East in 2003-04, might have felt like he was the only person in the room as Father Penna spoke. Good to Great is precisely the kind of leap MacDonald expects from his River Hawks in 2004-05, and as Father Penna spoke, it was an expectation he had been reinforcing in his team since the moment the 2003-04 season ended.
"This is not Disneyland, or Hollywood. I'll give you an example:
I've read that I flew up the hills and mountains of France.
But you don't fly up a hill. You struggle slowly and painfully up a hill,
and maybe, if you work very hard, you get to the top ahead of everybody else."
—Lance Armstrong, It's Not About the Bike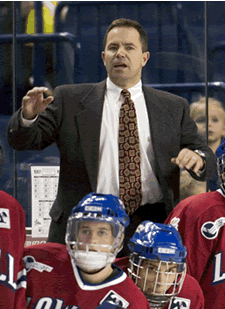 "Dare to be great is what we need to do," said head coach Blaise MacDonald, who is entering his fourth season at UMass Lowell.
MacDonald's message found welcome targets among his returning players, a group that includes 23 letterwinners. By June the team's goal-scoring leader, Ben Walter, donned a Boston Bruins sweater at the NHL Draft and talked not about skating in the FleetCenter for the B's, but about winning the national championship next spring at Value City Arena with UMass Lowell.
In a world where "managing expectations" is considered a public relations necessity, MacDonald is aiming for the top of the hill – and he's not afraid to let everyone know it.
"Sometimes I think coaches and players are too guarded in their approach – one day at a time, that sort of thing," he said. "We certainly subscribe to that, but I think you have got to shoot high. We should be talking about getting home ice in the Hockey East playoffs. We should be talking about who we are going to play in the FleetCenter, and watching ESPN on Sunday to find out who we are going to play. Are all of those things going to come true? Maybe not, but I think you have to have high expectations."
Those expectations are usually reserved for the Boston Colleges, Michigans and Minnesotas of the world. At UMass Lowell, MacDonald seeks to apply them to a team that had some postseason success in the 1990s, but has only hosted a first-round playoff series once in the last eight years. Senior defenseman Peter Tormey is the only player to skate in a postseason victory for the River Hawks.
With Good to Great already on the bookshelves, MacDonald gave his team another assignment this summer: Armstrong's book. Each player submitted a written report detailing what they would take from the book on a personal level, and how its message could help the team improve.
MacDonald was overwhelmed by his team's responses to the book. Chances are, they were consistent with his goals for this fall:
"Dare to be great is what we need to do," he said. "If we're going to be great, here are some standards that need to be met. It's something I talk to the team about a lot – we want to be daring here, not conservative."
"The good-to-great companies built a consistent system
with clear constraints, but they also gave people
freedom and responsibility within the framework of that system.
They hired self-disciplined people who didn't need to be managed,
and then managed the system, not the people." –Jim Collins,
Good to Great: Why Some Companies Make the Leap... and Others Don't
MacDonald's optimism derives from more than just determination, of course. The biggest reason is his personnel, a group of young and talented players that gained seasoning last year as a team full of freshmen and sophomores.
Now primarily sophomores and juniors, the team seems to have the makeup of a team that made the good-to-great breakthrough a year ago.
"I look at the model of Minnesota Duluth," said MacDonald. "The breakdown of their team is not unlike what we have here.
"Now we just need Junior Lessard to transfer here and Isaac [Reichmuth] to play goalie," MacDonald said with a laugh. "That, and Sandy's [Scott Sandelin] a much better coach than I am.
Poised
UMass Lowell isn't the only team that could be ready to make the leap from good to great this year. Here are three other candidates, none of whom made the NCAA Tournament last season:

Dartmouth
The Big Green has a group of forwards that's just as formidable as UMass Lowell's, led by Lee Stempniak. Head coach Bob Gaudet may have his team ready for a breakthrough.

Northern Michigan
A perennial upset specialist in the CCHA Super Six, it seems, NMU enters year three of the Walt Kyle era ready to start the season as strong as it has finished lately.

Mercyhurst
The recruiting and preparation of Rick Gotkin's program continues to draw praise. They didn't get the coveted invitation to join the ECAC, but Mercyhurst may crash the NCAA party this year.

If the River Hawks have a Lessard-in-waiting, it's likely one of a trio of juniors who are close friends and roommates: Elias Godoy, Andrew Martin and Ben Walter. Other talented forwards like sophomore Jason Tejchma, juniors Danny O'Brien and Mark Pandolfo, and incoming transfer Jeremy Hall (eligible in the spring semester) support the River Hawks' big three.
Defensively, UMass Lowell lost Jerramie Domish, the only everyday player from last year not back in 2004-05. Returning is sophomore Cleve Kinley, who has the potential to be a Hockey East star, and a solid, if fairly anonymous, supporting cast.
Goaltending, along with youth, was expected to doom the River Hawks a year ago, but Chris Davidson and John Yaros were both solid. Peter Vetri, a highly regarded freshman from the BCHL, joins the mix as well.
All that talent means that it's not just River Hawk followers who expect big things out of Tsongas Arena this season. Several opposing coaches see them as a candidate for the "surprise team" role UMD held last season.
Ask MacDonald what he likes about his players, however, and he doesn't even touch on their on-ice abilities.
"I think their honesty, their trust-worthiness," he said. "They have an incredible ability to get along as 29 people. There are no egos, no cliques – just good, responsible people.
"We're very fortunate to have such a great group. I know they can handle that kind of expectation level, and I know that they want that expectation level."
How MacDonald's players respond to the increased expectations will certainly be watched closely as the puck drops for UMass Lowell at Niagara Oct. 9. If they can put together a season like their coach expects, they should be the best story in college hockey this year – perhaps a story worthy of a book report.

Send this to a friend
About Us | Advertiser Info | Site Map | Privacy Policy
© 2002-04 Inside College Hockey, Inc., All Rights Reserved