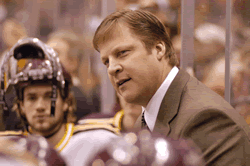 Scott Sandelin
Minnesota Duluth
Record: 28-12-4 (19-7-2 WCHA, second)
Minnesota Duluth's rise since Scott Sandelin arrived on campus in 2000 has been steady, but not in a tortoise-and-hare sort of way. The Bulldogs' rapid rise under Sandelin saw his teams jump from seven wins, to 13, to 22 last year in a season that ended just shy of an NCAA Tournament berth.
That had people in Northern Minnesota expecting good things from the Bulldogs this season. A top four WCHA finish perhaps, and a bid in the dance.
But it would have been hard to dream up a season this special. Even as they saluted the 20th anniversary of the 1984 team that won the WCHA title and reached the national championship game, Bulldog fans were watching Sandelin put together a group with a chance to match – and perhaps even eclipse – that group's accomplishments.
He has guided a team that was led by its five seniors, the first group to spend all four years playing for Sandelin. There's only one NHL draft pick on the roster, but Sandelin had them matched up with the most talented clubs in the country. Their first three games were one-goal losses at North Dakota and Michigan State and a shootout loss to Boston College. Fitting, however, that things began looking up with a two-game sweep of Minnesota.
Last weekend the Bulldogs beat the Gophers for the fifth time this season, a win that sent them to Boston. That victory puts Sandelin, in just his fourth year as a head coach, in reach of a national championship – something both the tortoise and hare would agree was a far-fetched thought four years ago.
For more on Scott Sandelin and his wife, Wendy, check out Jess Myers' feature, Reason to Cheer.