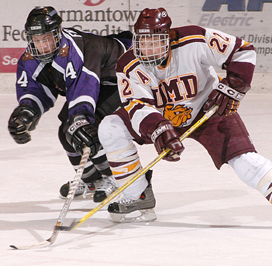 Junior Lessard
Minnesota Duluth
Statistics: 44 GP, 30-31—61
It's not hard to see how much Junior Lessard means to the Minnesota Duluth Bulldogs. Thirty goals and 61 points – two totals that lead the nation – will do that.
But look beyond the numbers, and you see a player who is the undisputed leader of the resurgent Bulldog team. Never was that more apparent than the first round of the NCAA Tournament in Grand Rapids.
Lessard, expected to be sidelined with an injury, made a game-time decision to suit up. His presence alone seemed to energize the Bulldogs, but just in case it wasn't enough, he chipped in two goals as well.
"He's our leader, both on and off the ice," said defenseman Tim Hambly. "Every time he touches the puck, it seems like he scores a goal."
In that sense, while Lessard's first-round NCAA Tournament performance against Michigan State seemed remarkable, it was really just another game in a season that has seen him emerge as the nation's most feared offensive weapon. The 6-foot-0, 195-pound senior from St. Joseph deBeauce, Quebec, not only captured a share of the WCHA scoring title, but also earned the conference's Player of the Year honors.
It's interesting to note that Lessard's improvement has mirrored that of his team. As a freshman, he scored 12 point and the Bulldogs won seven games. He scored 30 points the following season; UMD had 14 wins. Last year, he totaled 37 points as the 'Dogs amassed 22 victories. This season? 61 points, 28 wins...and counting.
The day after that Michigan State game, Lessard and UMD beat archrival Minnesota, 3-1. Now he heads to the Frozen Four as one of the three finalists for the Hobey Baker Award and with a national championship in sight. Given his season-long track record, the Bulldogs will want to make sure they have space on the plan for a couple of trophies.