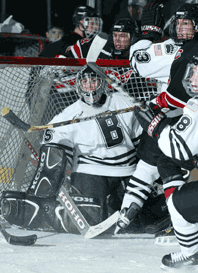 Yann Danis
Brown | Senior
Statistics: 15-11-4, 1.81, .942
Here's a shock: the best goalie in college hockey in 2004 was a Quebecois. Aren't the best goalies always Francophones? From Jacques Plante to Patrick Roy to Martin Broduer to Marc-Andre Fleury, the province's netminders always seem to stand head and shoulders above the rest.
Brown's Yann Danis certainly fits that stereotype. The Ste. Jerome, Quebec, native posted a rather vanilla 15-11-4 mark, but throw in a 1.81 goals-against average, a .942 save percentage and five shutouts. Not bad for a guy whose team scored just 79 goals in his 30 starts, an average of 2.63 goals per game.
It's not like he didn't know he was expected to be the Bears' première étoile every night – consider that Brown was 0-11-1 in games in which Danis allowed more than two goals. That's a pretty heavy burden to bear.
"He's the real deal," said Harvard coach Mark Mazzoleni, a former goalie at Michigan State. "I have not seen a goaltender better than him this year, anywhere. I think he's as good a college goaltender as I've seen in a long time."
Danis also brought unprecedented attention to Brown's hockey program. Prior to this season, the Bears had fewer Hobey Baker Award finalists than schools such as Babson, Bowdoin and St. Anselm. Now he's one of three players in the running for college hockey's top individual honor.
Fittingly, Danis recently signed a free agent contract with the Montreal Canadiens. Whether he ends up donning the bleu, blanc et rouge in The City of Saints remains to be seen, but college hockey fans won't soon forget his time at Brown.