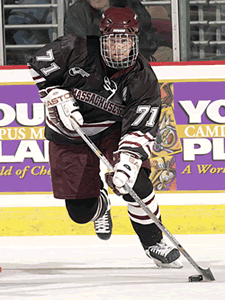 Thomas Pöck
Massachusetts | Senior
Statistics: 37 GP, 16-25—41
Back in the early 1990s, as Massachusetts was preparing to join Hockey East, here was how the theory went: the Minutemen, with access to all the hockey playing talent in the Bay State, would become a power before too long.
In its 10th season of Hockey East play, UMass hosted a playoff series for the first time and reached the conference's playoff championship game. But it wasn't a New Englander who led them. It wasn't even an American.
It was Thomas Pöck, a native of Klagenfurt, Austria, who made Massachusetts' state university a college hockey force.
That's not the only contradiction in Pöck's game, who discovered a feared scoring touch last season when he was moved from forward back to defense. The senior, who came to UMass thanks to a friendship between his father and assistant coach Bill Gilligan, was a heralded player before the switch – he played in the 2002 Olympic Games as a forward – but as a defenseman, he was like a superhero discovering his powers for the first time.
"Moving Thomas to defense was the most significant single move we made last year to turn things around," said head coach Don Cahoon. "We really needed help back there in terms of coming out of our zone, and we thought, 'Let's put him back there and see how it goes.' It became an instant breakout for us, and the puck started going in for him."
Pöck was the most feared player in Hockey East this season, a guy who changed the way opponents played every time he hopped over the boards. But more importantly, he changed the way UMass played – he gave the Minutemen a noticeable shot of confidence, and was a weapon that made forwards like Greg Mauldin and Stephen Werner that much more dangerous.