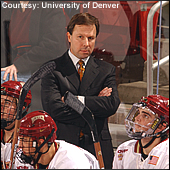 George Gwozdecky
Denver
Record: 30-9-2 (19-7-2 WCHA, tied for first)
In order for someone to earn national coach of the year honors the season after his team won its first NCAA title in 35 years, he must've had a heckuva year.
George Gwozdecky's Denver Pioneers make the return trip to the Frozen Four this season with hopes of successfully defending their throne. Repeating as champion is a difficult proposition. Heck, making consecutive Frozen Four appearances is a notable achievement. That Gwozdecky has DU on the cusp of second straight national title after literally retooling his approach to the game is remarkable.
Last year's Pioneers relied on strong goaltending from Adam Berkhoel, terrific team defense, the ability to wear down opponents physically and balanced scoring. With a number of key components from a year ago gone, Gwozdecky tinkered. He loosened the reins on dynamos such as forward Gabe Gauthier and defenseman Matt Carle. Rather than relying on one netminder, he rotated the green duo of Glenn Fisher and Peter Mannino. But he kept some core principles in place – spreading the scoring wealth (nine DU skaters have more than 20 points) and the commitments to team defense and finishing checks.
Since starting the season 5-5-0, the Pioneers have gone 25-4-2, won a share of the WCHA regular season title and captured the league's playoff championship and now sit two wins from claiming the school's seventh NCAA hockey crown. Regardless of the year, it's been a job well done.

Runner-up: Ted Donato, Harvard