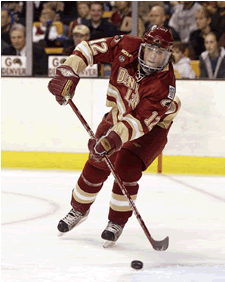 Matt Carle
Denver | Sophomore
Statistics: 41 GP, 12-28—40
Is Denver, which averages more than four goals per game and boasts what may be the most balanced offense in the nation, an offensive firepower? Or are the defending champion Pioneers, who have allowed just seven goals during their current seven-game winning streak, a lockdown defensive club?

That debate will rage at least until next Thursday's semifinal, but no player personifies the Pioneers' versatility more than Matt Carle.

The sophomore from Anchorage, Alaska, is half of the nation's most feared pair of offensive defensemen, joining junior Brett Skinner to score 16 goals and 75 points. Carle had 12 of those goals on his own, one shy of the national lead for defensemen, and tied for sixth on the high-scoring Pioneers.

He shines in his own end as well, however, a prerequisite for this award where Paul Coffey types need not apply. Carle is consistently matched up against opponents' top lines, a bonus for head coach George Gwozdecky since he can keep his best offensive defenseman on the ice – something he takes advantage of for upwards of 30 minutes per game.

So is it offense or defense that sets the Pioneers – and Carle – apart? In the end, with results like these, it's a moot point.
Runner-Up: Noah Welch, Harvard