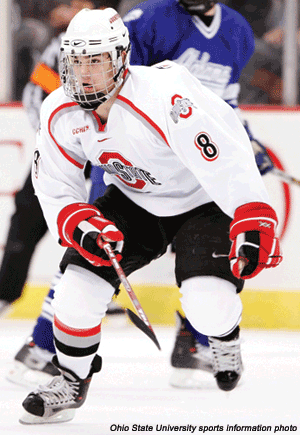 Tom Fritsche
Ohio State
Statistics: 42 GP, 11-34—45
Tom Fritsche's hometown of Parma, Ohio, is famous (or infamous) for the abundance of plastic pink flamingos decorating its residents' lawns.
And while Parma prides itself as a bastion of kitsch, none of the tackiness associated with the faux tropical wading birds can be seen in Fritsche's game. In fact, the freshman forward was a major reason Ohio State improved by one win from the previous season – a feat that doesn't seem all that remarkable until one considers the Buckeyes lost nine letterwinners from the team that won the 2004 CCHA playoff championship.
Fritsche was one of three freshmen this season who shared the nation's top spot for scoring by a rookies. Not bad for a guy who didn't really hit his stride until after Christmas. The U.S. Under-18 Team alum scored 10 of his 12 goals after the holidays and had a point in 17 of OSU's last 23 games as the Buckeyes pressed Michigan for the CCHA regular season title up until the final weekend of the regular season.
Fritsche's importance to his team extends well beyond point production. He was also an integral member of Ohio State's power play and penalty kill, both of which ranked among the 10 best units in the country.

With three years of eligibility remaining, Fritsche has OSU hockey fans – from both Parma and elsewhere – tickled pink.

Runner-up: Joe Fallon, Vermont