March 3 , 2005
Orange Crush
By Mike Eidelbes
CCHA Notebook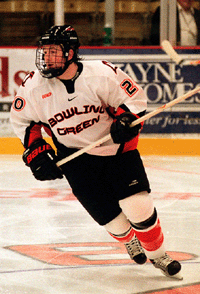 Brett Pilkington and Bowling Green will open the CCHA playoffs at home for the first time in 10 years.

Former Bowling Green standout Brian Holzinger returns to his alma mater this weekend for a ceremony in which he'll get a ring commemorating the Hobey Baker Award he won in 1995. While he's there, he can also fill current Falcons in on what it's like to host a CCHA playoff series.

Holzinger's senior season a decade ago was also the last time Bowling Green opened conference post-season play at home. As a point of reference, Illinois-Chicago was still part of the CCHA, and Alaska-Fairbanks would officially join the league the following season.

The 10-year drought came to an end at BGSU Ice Arena Friday when the Falcons beat visiting Michigan State to secure a top-six finish in the CCHA standings. Next weekend, coach Scott Paluch's team entertains one of four opponents – UAF, Lake Superior State, Miami, or MSU.

"It has been too long," Paluch said shortly after his team's loss to the Spartans in East Lansing the night after clinching. "It was something that our kids have talked about all year long. We've made progress this season."

It's just one of the areas of growth. In addition to earning a place in the top half of the league standings, BGSU is assured of finishing above .500 in CCHA play, something that hasn't happened since 1995-96, which is also the same season the Falcons posted their last overall winning record. The 29 points the team has earned in league play thus far is also the most in nine seasons.

The team is also improving offensively – 106 goals through 32 games this year after scoring 94 and 92, respectively, during the previous two seasons – and defensively. BGSU's goals allowed has dropped from 143 in Paluch's first season to 112 last year and stands at 95 entering this weekend's home-and-home series with Michigan.

"We got closer last year than we did two years ago, and this year we finished in the top half," said Paluch, whose team earned 13 points in his first season behind the Falcon bench, then climbed to 24 points last year. "You have to start somewhere. You've got to start somewhere in order to start a streak. Now, we need to look forward and move toward the next goal."

That goal for the Falcons is earning the opportunity to make the short drive up I-75 to Detroit later this month for the CCHA Super Six, which BGSU last accomplished in 2001. Paluch notes, however, that several steps remain in order for that goal to be achieved.

"There are no guarantees moving on with home ice," Paluch said, "especially in our league where everything is so tight."

SEEN AND HEARD IN THE CCHA

Sixth Shooters: And then there was one.

One berth, that is, for a first-round home series in the CCHA playoffs, which get underway at campus sites next weekend. Michigan, Ohio State, Northern Michigan, Bowling Green and Nebraska-Omaha are already locked in for home cookin'. Alaska-Fairbanks, Ferris State, Western Michigan and Notre Dame know they'll be on the road.

That leaves Miami, Michigan State and Lake Superior State as the lone inhabitants of playoff purgatory. Here's how each can clinch sixth place:

• Miami: The RedHawks can eliminate the Lakers from the equation with a win or two ties against Ohio State or an LSSU loss or two ties against Northern Michigan. Miami finishes ahead of the Spartans in the league standings with any combination of wins and ties plus MSU losses and ties that equals three or greater.
• MSU: The Spartans finish sixth by taking a minimum of three points against Notre Dame this weekend and Miami earns no more than two points in its series with Ohio State.
• LSSU: The longest of shots, the Lakers need two wins against Northern Michigan, an Ohio State sweep of Miami and a Notre Dame sweep of Michigan State.

The Future is Now: The Hockey News released its annual Future Watch issue this week, including a list of the top 50 NHL prospects as determined by a panel of NHL executives.

Michigan goaltender Al Montoya is the only current CCHA player to make the top 50. The New York Rangers' draft pick ranked 31st overall. Colorado College defenseman Mark Stuart, who was chosen by the Boston Bruins in the first round of the 2003 NHL Draft, is the top-rated collegian at 22nd overall. Other current collegians in the top 50 were North Dakota forwards Drew Stafford (27th) and Travis Zajac (41st), and Boston College forward Patrick Eaves (32nd).

A pair of senior forwards represent the CCHA in the top 75. Michigan State's Jim Slater, an Atlanta Thrashers' prospect, is 71st. Michigan's Eric Nystrom, whose rights are held by the Calgary Flames, is ranked 74th.

In order to be eligible for Future Watch, The Hockey News considers only prospects who have been drafted by an NHL team and have played fewer than 50 NHL games.
Great Weekend Getaway

Miami vs. Ohio State
(home-and-home, Fri.-Sat.)

Miami won its first four games before OSU claimed both games of a home-and-home series with the RedHawks. The sweep sent Miami into a 10-week tailspin during which they posted a 3-10-3 mark. Somehow, the RedHawks have managed to crawl back into contention for home ice in the first round of the CCHA playoffs. The Buckeyes, meanwhile are still chasing Michigan for the league's regular-season title.

While you're there: If you're at Value City Arena for Saturday's tilt, crane your neck skyward and get a glimpse of the Buckeyes' newest rafter tapestry – the retired no. 5 of Hall of Fame hoopster John Havlicek. Enhance the experience by mimicking Johnny Most, the legendary gravelly voice of Celtics basketball, by repeatedly shouting, "Havlicek stole the ball! Havlicek stole the ball!"

Stick Salute

The NCAA released its first-ever Academic Progress Rate report, a real-time assessment of a team's performance in the classroom, for Division I schools earlier this week. Starting with the 2005-06 academic year, programs that fail to meet minimum requirements set forth by the NCAA risk losing scholarships. Among Division I institutions that also play I-A football, Miami student-athletes earned a score of 986 out of a possible 1,000. Only Navy (990) had a higher mark.

Bench Minor

It's no secret most college hockey beat writers tend to cast a favorable light on the teams they cover. That said, Antoine Pitts of the Ann Arbor News plummeted to a disturbing new low Monday with his article on Phil Kessel – a blatantly slanted piece of schlock extolling the virtues of the Michigan hockey program that read like an open letter to the coveted recruit.

Pitts offered a variety of reasons Michigan is "the program that just seems to be the best fit for Kessel" including an absurd notion that "Minnesota…might be too far away from Kessel's comfort zone of family and friends". According to MapQuest, Minneapolis is 269 miles from Kessel's hometown of Madison, Wis., roughly 130 miles closer than Ann Arbor.

While it's surprising the News editors opted to run this piece of overt propaganda, it's even more of a shock Pitts was able to type this paean to his beloved Wolverines while waving his
maize-and-blue pompoms.
FRIES AT THE BOTTOM OF THE BAG

• Michigan State assured all kinds of firsts by splitting last weekend's home-and-home set with Bowling Green. For example, the split ensured that the Spartans (15-15-4 overall, 10-3-3 CCHA) would finish the regular season with a losing record in CCHA play for the first time in school history. The last time MSU sported a conference record below .500 was 1980-81, Ron Mason's second year behind the bench in East Lansing and the Spartans' last in the WCHA.

The Spartans, who enter the final weekend of regular-season play with a pair of games against Notre Dame, cannot finish higher than sixth in the league standings which guarantees the team its lowest finish in the CCHA since joining the conference in 1981. Prior to this season, Michigan State had never finished lower than fifth – which they did once, back in 1990-91.

• If the Spartans are to earn a home series for the first round of the CCHA playoffs and advance to the Super Six in two weeks, they'll have to do so without the services of forward David Booth. The junior from Washington, Mich., who suffered a rib injury in MSU's 6-3 win vs. Ohio State Feb. 18, will miss this weekend's games against Notre Dame and the first round of the league postseason.

Booth, who has seven goals and nine assists in 29 games this season, was listed as day-to-day coming into MSU's series with Bowling Green. He was scratched from the lineup after testing the rib at the team's skate the morning of the Spartans' 2-1 loss to the Falcons.

• Nebraska-Omaha sophomore forward Scott Parse is quietly putting together a tremendous season for the surprising Mavericks. The Portage, Mich., product, who enters the upcoming non-conference series against WCHA foe Minnesota State, Mankato with 18 goals and 28 assists, needs one point to equal the school's single-season scoring mark of 47 set by David Brisson four years ago.
By the way, Parse and freshman linemate Bill Thomas have combined for 86 points and are the highest scoring single-season tandem in UNO history. Jeff Hoggan and Andrew Wong totaled a combined 85 points in 2001-02.

• In light of the earlier discussion regarding Bowling Green droughts, another lengthy streak for the Falcons could come to an end this weekend when they face Michigan in a home-and-home set. Freshman forwards Jonathan Matsumoto (28 points) and Alex Foster (27 points) are on the verge of becoming the first BGSU rookies to record 30 or more points in a single season since Curtis Fry did it in 1993-94.
• Last week in this space, you read about Notre Dame knocking on the doorstep of setting a dubious honor – the longest winless streak in school history. On a more positive note, junior forward Tim Wallace will become the Fighting Irish's career leader in consecutive games played this weekend, provided he makes it through Friday's game at Michigan State healthy. The Anchorage native has played in 113 straight games, one shy of the record set by defenseman Evan Nielsen two years ago.
• Former Northern Michigan standout Don Waddell, now the general manager of the NHL's Atlanta Thrashers, was named general manager of the 2005 U.S. men's national team that will compete in the IIHF World Championship in Austria April 30-May 15.

Waddell, who played for the Wildcats from 1976-1980, served as the U.S. general manager in 2001 and 2002. He was also the team's assistant g.m. in 1999 and 2004.
Normally, the World Championship rosters are comprised of NHLers whose teams have been eliminated from the playoffs, players from European professional leagues and the occasional collegian. With the NHL labor dispute canceling the 2004-05 season, teams participating in this year's tournament will likely be laden with top-flight stars.

A variety of sources were utilized in the compilation of this report

Other Notebooks: Atlantic Hockey/CHA Notebook | ECACHL Notebook | Hockey East Notebook | WCHA Notebook