March 3, 2005
Resting in the 'Cat-bird Seat
By Joe Gladziszewski
ECACHL Notebook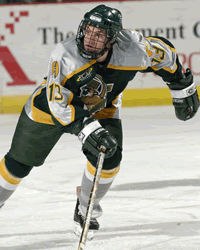 Scott Mifsud scored three goals last weekend as Vermont earned a bye in the first round of the ECACHL playoffs.

Seeing his team respond to adversity with a win and a tie against the No. 1-ranked team in the nation gave Vermont coach Kevin Sneddon a hunch that this might be a pretty good year.

A pair of home losses to Niagara had the Catamounts with a 1-4-0 record headed out to face the top-ranked Minnesota Duluth Bulldogs. To make matters worse the team's most talented offensive player, Brady Leisenring, was lost for the season due to injury. Vermont turned that road trip into a springboard for the rest of the season. The Catamounts picked up a win and a tie against Minnesota Duluth on the road.

That was followed by a 4-0-2 run in ECACHL games in the month of November and a non-league win against Massachusetts.

But four weeks after that successful trip to Duluth was when Sneddon's hunch was confirmed. Trailing by a goal with less than three minutes left, Vermont rallied to tie the game, and then scored the winning goal with one second left.

"That game, when I saw that we could skate and compete against an excellent skating New Hampshire team that we have a lot of respect for," Sneddon recalled, "I felt that our team showed it could really play."

The 5-4 win over UNH was the 10th game in an 11-game unbeaten streak that sent Vermont into the national rankings and near the top of the ECACHL standings. Those were unexpected places to find Vermont. There wasn't much pre-season optimism that the Catamounts would fare better this season as the media picked Vermont to finish 11th and the coaches forecast the Catamounts tied for 10th. Last year at this time, Vermont was heading to Harvard for an opening-round playoff series after finishing 11th in the ECAC Hockey League.


But instead of a bus trip this weekend, there's time to nurse some injuries, concentrate on studies, and get some mental recuperation after a grueling season. Vermont claimed fourth place and a first-round playoff bye after racking up 29 points with a 13-6-3 record in ECACHL play.

"We look at it as earned rest. We've had some injuries from the past three weekends that we can pay attention to and focus on some important school work," Sneddon said.
As far as this week's practice schedule goes, the Catamounts have had a couple of days off, and mixed in a lot of skill work while staying away from contact drills in practice. Intensity will increase this weekend to simulate a game weekend, and strength coach Paul Goodman will work with the team to maintain its strength during the bye weekend.
First-Round Matchups
No. 12 Yale at No. 5 Dartmouth
Y: 3-18-1 ECACHL, 4-23-2 overall
DC: 14-8-0 ECACHL, 17-10-2 overall
Season Series: Dartmouth won 2-0-0
Bulldog Fact: Yale was the second-choice school for Cornell goalie Dave McKee and Dartmouth forward Hugh Jessiman. With those two players on the roster, the standings might have had a much different look.
Big Green Fact: Dartmouth and Harvard are the only teams that have advanced to the ECACHL Championship weekend in each of the last four years.

How Yale Wins: It's going to take a stellar goaltending performance from either Peter Cohen, Matt Modelski, or Josh Gartner if the Bulldogs hope to pull off a huge upset.

How Dartmouth Wins: Keep things simple. Dartmouth's second-half surge coincided with a commitment to making the basic plays, and the offensive production picked up.

No. 11 Rensselaer at No. 6 Brown
RPI: 6-15-1 ECACHL, 14-20-2 overall
B: 9-11-2 ECACHL, 14-12-3 overall
Season Series: RPI won 1-0-1
Engineer Fact: Junior forward Kevin Croxton, who led the team in points in his first two seasons, went 22 games without a goal before scoring in both games last weekend.
Bear Fact: Brown stumbled into the playoffs last year, and finds itself in a similar position this year after limping into the postseason with just one win in the last six games.

How RPI Wins: The Engineers found a way to get three points from the Bears during the regular season, making this a favorable matchup for RPI. They must allow their confidence to carry them into the series.
How Brown Wins: Brown's balanced offense must produce. They've scored just 10 goals in the last six games, and five of those came in a win over Clarkson.

No. 10 Princeton at No. 7 St. Lawrence
P: 6-14-2 ECACHL, 8-18-3 overall
SLU: 9-12-1 ECACHL, 15-17-2 overall
Season Series: St. Lawrence won 1-0-1
Tiger Fact: Princeton hasn't had a first-team All-ECACHL selection since Steve Shirreffs was tabbed in 1998. Forward Dustin Sproat and defenseman Luc Paquin are candidates this year.
Saint Fact: This is St. Lawrence's first home playoff series since 2001, when the Saints won the ECACHL playoff championship and went to the NCAA Tournament.

How Princeton Wins: The defense has to limit shots against and scoring chances. The Tigers earned a win and a tie last weekend, but allowed 68 shots to Union and Rensselaer.
How St. Lawrence Wins: The No. 1 line of T.J. Trevelyan, John Zeiler, and Stace Page must continue to carry the offense. Senior goaltender Mike McKenna will be tested by the Tigers.

No. 9 Clarkson at No. 8 Union
CU: 7-13-2 ECAC, 11-20-3 overall
UC: 8-13-1 ECAC, 12-20-2 overall
Season Series: Split 1-1

Golden Knight Fact: In last year's playoff trip to Messa Rink, Clarkson eliminated Union with 8-3 and 5-2 victories.

Dutchmen Fact: Union is hosting a first-round playoff series for the third straight year. They've lost those series each of the last two years.

How Clarkson Wins: The team's veteran players must step to the fore. Jay Latulippe, Chris Blight, Mac Faulkner, and Dustin Traylen were key in last year's playoff run. They need to come up big again.

How Union Wins: It comes down to goaltending. When Kris Mayotte or Justin Mrazek have played well, there's been a noticeable surge in Union's confidence. Mrazek started the last regular-season game and posted a shutout against Princeton.
Junior wing Jeff Corey, the least-mentioned member of the team's top line with Scott Mifsud and Torrey Mitchell, politely disagrees with Sneddon. He said that the feeling of success on this team didn't come from the Duluth trip or the UNH comeback. It came much earlier.

"As soon as last season ended, the older kids came together and we wanted to change things. The freshmen came in and everyone was positive. Our goal was to get to Albany," Corey said. "This is the best team I've ever been on in terms of trust and chemistry."

Vermont showed just how tough and resilient it was last weekend. Holding a slim two-point lead over Dartmouth for fourth place, the Catamounts beat Brown 2-1 with another buzzer-beater. This one came off the stick of Scott Mifsud at 19:59 of the third period. On Saturday, Mifsud scored a pair of power-play goals as Vermont rallied for a 2-2 tie against Harvard. It was the difference between fourth and fifth place, and some well-earned time off.

SEEN AND HEARD IN THE ECACHL

Welcome back: Last week we mentioned Hugh Jessiman's possible return to the Dartmouth lineup, and when the Big Green took the ice at Thompson Arena on Friday night for the game against rival Harvard, there was big no. 27 making his first appearance since Nov. 6 against Princeton.

"I'm feeling great," an enthusiastic Jessiman said from Hanover on Wednesday, where he and his teammates are preparing to host Yale in a first-round playoff series this weekend. "I was a little sore over the weekend, but it was great to be out there with the team, suiting up with the guys and being a part of it."

His return to the lineup was the culmination of a long process that Jessiman approached in stages. The initial stage was depression. Jessiman completed his most rigorous off-season training program, which he spent with New York Rangers staff and players. With that work came big expectations and anticipation for the upcoming season.

"I prepared all summer and fall and then to have that happen, you get pretty depressed," Jessiman said. "After that, the second month you come to terms with what's happening. You get the screws out (of the ankle) around 10 weeks and that was the turning point of the progression. You can see the light at the end of the tunnel and know that things are in your control."

Jessiman practiced for approximately two weeks before making his debut in the 2-1 overtime win against Harvard. He skated a regular shift on a line with fellow NHL draft picks Tanner Glass (Atlanta) and David Jones (Colorado).
"Both are very talented players. They play a great style and it helps me to assert myself physically right off the bat," Jessiman said.

Although he wasn't in the lineup on a nightly basis, Jessiman was around the team at practices and team meetings, and from an observer's standpoint, he saw something he really liked.

"Watching the team in the locker room over the last five weeks, I really like the character of the team. I've never been a part of that before," he said.

And there's no doubt that Dartmouth is quite happy that Jessiman can be a part of it.
FRIES AT THE BOTTOM OF THE BAG

• Union senior forward Joel Beal scored the game-winning goal with 2:30 remaining to beat Yale last Friday. The goal, and subsequent victory, snapped Union's 10-game ECACHL losing streak and was also the 100th point of Beal's collegiate career.

• A similar fate awaited the Bulldogs on Saturday night, as RPI's Kevin Croxton scored an overtime goal with 15.1 seconds remaining. You guessed it. It was Croxton's 100th career point.

• Clarkson's Jay Latulippe became the 72nd Golden Knight to record 100 career points.

• Brown captain Les Haggett also reached the 100-career point mark over the weekend. He was the first Bear to reach that mark since 1996, and Brown's senior class was the first to graduate with a winning record since the Class of '96.

• Cornell's Dave McKee tied Ken Dryden's career record for shutouts when McKee made 22 saves in a 3-0 win against Clarkson on Saturday.

• Colgate's Tyler Burton won the league's Rookie of the Week award for the third time in the last four weeks. With three goals and an assist in the last weekend of the year, Burton finished sixth in ECACHL scoring with 24 points in league games.

• Harvard has done nice work promoting goaltender Dov Grumet-Morris for postseason honors, launching gocrimson.com/dovforhobey.

• Yale senior captain Nick Shalek scored the first goal of his career against Union.

• The 0-0 tie between Princeton and Union on Saturday was the fifth scoreless tie this season involving ECACHL teams. Colgate and Yale played to a 0-0 tie on Feb. 11. Harvard, Dartmouth, and Brown were involved in non-league duels with a 0-0 result.

A variety of sources were utilized in the compilation of this report.
Other Notebooks: Atlantic Hockey/CHA Notebook | CCHA Notebook | Hockey East Notebook | WCHA Notebook