March 3, 2005
Denver's Points of Order
By Jess Myers
WCHA Notebook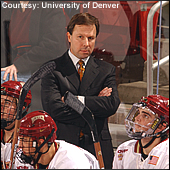 Denver coach George Gwozdecky

College hockey coaches say that you can't win a conference title in November, but you can certainly lose one then. The point to be made for teams with an eye on a championship is that October and November are the months for saving up points in the standings, while February and March are the months when those points you've banked early on come in handy.

Last Friday, after defending national champion Denver finished surrendering an embarrassing eight goals in a loss at Minnesota State, Mankato, Pioneers coach George Gwozdecky glanced back a few months, to the wins his team had collected in November and December. By saving up points back then, the always even-keeled Gwozdecky said that an otherwise tough loss in late February is an ailment from which his team can more easily recover.

"We're not in a position where all of a sudden we have to scramble," said the coach. "We worked very hard early in the season to put ourselves in a position where we can absorb this kind of game and move on."

Denver needed less than 24 hours to effectively move on, beating the Mavericks in the Saturday night rematch to move into a tie atop the WCHA standings with arch-rival Colorado College. That deadlock sets up one of the more interesting meetings between the Pioneers and Tigers in the generations-long history of their rivalry.

The teams meet Thursday night in Colorado Springs and Friday night in Denver. A split, and they share the league title. If someone gets three (or four) points, they take the MacNaughton Cup home for the summer.

Gwozdecky, whose team won the Cup in 2002, said that the Pioneers haven't put a conference crown on their "must have" list for the season.

"As a team, we never set out to accomplish any one goal," the coach said, noting that in 2002-03, his team set out to repeat as conference titlists and win the NCAA title, and instead had one of their more disappointing seasons during Gwozdecky's decade-plus in Denver.

Colorado College last won the Cup in 2003, and a sweep this weekend would give the Tigers their fifth conference title in the past 11 seasons.

SEEN AND HEARD IN THE WCHA

Work to do in the Classroom, With a Caveat: St. Cloud Times reporter Kevin Allensbach did thorough work this week, reporting on the NCAA-issued findings that places St. Cloud State's hockey team last in the league academically. As was reported in the Times, school and team officials note that they have work to do in the classroom, but their rating may have been negatively affected by early departures from the Huskies roster.

As Allenspach reported, the Academic Progress Rate report, which details academic eligibility, retention and graduation of student athletes for Division I sports, revealed St. Cloud State had one of the lowest scores among men's hockey teams in the country.

"We're aware of the situation and, when you have young people leave your program, it puts you in a precarious situation," St. Cloud State athletic director Morris Kurtz told the Times. "At the same time, we have no concern that we'll be above 925 next year. The reason for letting it out this year is so programs can take corrective measures if need be."


Great Weekend Getaway

Wisconsin at Minnesota Duluth
(Fri.-Sat.)
Two teams with a lot at stake will face off this weekend, and desperate time may mean desperate measures for both. The once-hot Badgers are 1-4-2 in their last seven and need a win to clinch third place in the WCHA standings. The Bulldogs are a long way from fulfilling their lofty preseason expectations but still have visions of running the table and sneaking into the NCAAs. The results of this series will go a long way toward prolonging, or killing, both teams' dreams.

Stick Salute

Anyone who has listened to a Wisconsin hockey TV broadcast in the past year or two knows that sometimes transitions from player to broadcaster can be awkward. Not so for ex-Gopher Darby Hendrickson, who debuted this week doing color on the Minnesota State Hockey Tournament broadcasts. Hendrickson has provided some great insight into on-ice tactics and the barely-describable feeling of playing in the nation's premier prep sports event. While we hope to see Darby and all of his NHL brethren back on the ice soon, his work in the pressbox has been a treat.

Bench Minor

The folks at Fox Sports Rocky Mountain made the bewildering determination that viewers in Colorado (and dish owners throughout the country) would rather watch Pac-10 basketball than see DU and CC battle on Thursday night. So much for the concept of "regional interest," eh, fellas?
The Huksies men's score comes just a year after the team had a school-record 10 players earn WCHA All-Academic honors. Allenspach noted that St. Cloud State had a 3.08 team grade-point average in the fall of 2004, the third consecutive semester the team had attained a 3.0 or better, coach Craig Dahl said.

"What's hurting us is we had one player turn pro and another leave early to go play major junior," Dahl told the paper. "Something's going to have to change in the way this is accounted for."

Some of the Huskies' best students aren't part of the score because they are walk-ons. Dahl told Allenspach he will reward those players in the future with at least some scholarship money so their grades will count in the APR.
PUCKS TO PICK UP AFTER PRACTICE

• Alaska Anchorage goaltender John DeCaro upheld his reputation as the hardest-working man in the WCHA last weekend, stopping 50 shots in the Seawolves 2-2 home tie with Michigan Tech. In doing so, DeCaro became the first Seawolf to have three 50-save games in his career. Amazingly, DeCaro set the school record in less than three weeks, after he recorded back-to-back 50-plus save performances at Minnesota on Feb. 11-12. DeCaro also accomplished a feat that nobody else had done for better than a month. DeCaro's 1-0 shutout of Tech last Saturday snapped Colin Murphy's 12-game scoring streak.
• With all of the team's forwards seemingly either banged up, in a scoring drought, or both, maybe North Dakota will look to the blueliners to provide the offense in the playoffs. The Sioux took a step in that direction in last Saturday's 4-2 win over Wisconsin, as defensemen scored three of the team's four goals. Rearguards Nick Fuher, Matt Jones and Matt Greene scored goals for coach Dave Hakstol as the Sioux recorded their first win over a ranked opponent since early November.