December 14, 2005
2005-06 CCHA Mid-Season Report
By James Jahnke
SURPRISE TEAM
Lake Superior State and Ferris State have similar resumes after entering the season with similarly sagging expectations, but we're going to go with the Lakers for this honor because of their two big wins – over Colgate and Miami. Before the season, Lake Superior was picked 11th in the league by the media and coaches and 10th by yours truly. But with a sweep at Notre Dame this weekend, the Lakers would be alone in second place in the standings to start 2006. LSSU is 9-5-4 overall, matching its win totals of the last two seasons and surpassing its marks from the two seasons before that. The Lakers are second in the league defensively, only allowing 2.06 goals per game, and also rank in the top half of the conference in both special teams. They head to South Bend with a six-game unbeaten streak (5-0-1), their longest in nearly a decade.
SURPRISE INDIVIDUAL
We'll go with Ferris State senior center Greg Rallo so that the Bulldogs get some love, too. After mediocre sophomore and junior seasons, Rallo has turned it on during his last year in Big Rapids. He leads the Bulldogs in goals (10) and points (22), good for seventh in the CCHA in scoring. Few could have seen that coming after he posted 7-11–18 as a sophomore and 7-15–22 last season. Rallo did have a solid freshman year (15-14–29), so this hot start might be a return to his rookie form. More likely, though, he is more of a focal point of Ferris' attack now that Jeff Legue, Derek Nesbitt and others have moved on.
BEST NEW FACE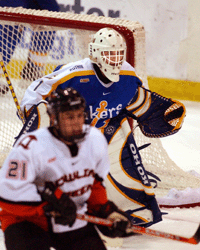 Lake Superior State, led by goaltender Jeff Jakaitis, can take sole possession of second place in the CCHA with two wins at Notre Dame this weekend.
With all due respect to stellar freshmen Jack Johnson, Andrew Cogliano and Jeff Zatkoff, we're going to go with an older face. New Notre Dame coach Jeff Jackson, who guided Lake Superior State to national championships in 1992 and 1994, is once again a welcome sight around CCHA circles after stints with USA Hockey, the OHL and the NHL. He has the Fighting Irish recovering from last season's stinkbomb by playing competitive hockey, and he might be the guy to rouse the "sleeping giant" he's always seen in Notre Dame hockey. Don't be fooled by their 5-10-1 record. The Irish are much-improved.
WHAT HAPPENED TO...
Miami senior center Chris Michael? He's still the pivot of the GMC line, one of the best units in all of college hockey, but his production just hasn't been there thus far. He has just three goals and four assists for the first-place RedHawks, and all three tallies came in one series at Nebraska-Omaha in October. Michael, who was sick and missed last weekend's games against St. Lawrence and Clarkson, has never been as big of a scorer as linemates Marty Guerin and Matt Christie, but the RedHawks will need him to chip in as they make their surprise bid to win the league.
BIGGEST UPSET
Alaska Fairbanks' 4-3 win at Minnesota on Oct. 14. It was the first game of the season for both teams, and Minnesota was ranked No. 1 at the time. The Nanooks validated the win – the first over a top-ranked team in program history – by earning a tie the next night, but the Gophers clearly had and have the more talented squad. That UAF was ready to go and able to outwork Minnesota on opening night is a testament to coach Tavis MacMillan and his assistants. Runners-up in this category are Western Michigan's home sweep of Ohio State on Oct. 28-29 and the Buckeyes' home loss to Alabama-Huntsville earlier this month.
TOUGHEST ROAD OUT
Michigan State. Out of conference, the Spartans played national powers North Dakota, Wisconsin, Minnesota and at Cornell (twice), and things didn't get much easier in league games. They played at Michigan and Ohio State, hosted formidable Northern Michigan and Nebraska-Omaha and just got back from the draining trip to Alaska Fairbanks. If that weren't enough, MSU contended with injuries to forwards David Booth, Tim Kennedy, Zak McClellan, Jim McKenzie, Drew Miller, Chris Mueller and Nick Sucharski and defensemen Jeff Dunne, Brandon Gentile, Jared Nightingale and Chris Snavely for various amounts of time. Did we miss anyone? Oh yeah, Peder Skinner left for the OHL a month into the season.
TOUGHEST ROAD IN
Western Michigan by a hair over Bowling Green, Nebraska-Omaha, Michigan and Ohio State. The Broncos still have a set at Miami and a home-and-home against Michigan, plus a date against Wisconsin in the Badger Showdown. Mix in road trips to Northern Michigan, Lake Superior State and Alaska Fairbanks and home series against NMU, Nebraska-Omaha and Bemidji State, and things will be difficult for the 10th-place Broncos.
MUST-SEE SERIES
Ohio State at Michigan on Feb. 2-3. With Miami lacking a marquee matchup during its second-half schedule (at Michigan State on Feb. 17-18 is the closest thing), old football rivals Ohio State and Michigan appear to have the winner here. It might be just a battle for second place as far as the league is concerned, but the series at Yost promises to have a major impact on both teams' NCAA Tournament hopes. Plus, if the RedHawks crumble under the pressure this winter, the Buckeyes and Wolverines have to be considered the most likely teams to snatch away the CCHA crown.
BIGGEST QUESTION ANSWERED
How will Ohio State react to being the league favorite? Not well. The overwhelming preseason pick of both the coaches and the media stands at just 6-4-1 in the CCHA and 9-6-2 overall. Mixed in with good wins over Colorado College and Michigan State are bad losses to Western Michigan and Alabama-Huntsville. Coach John Markell was confident in his squad's mental makeup in September, but he quickly realized that the Buckeyes were a little too full of themselves. They've quietly gone 7-1-1 in their last nine games, so maybe Markell's hard-work message is getting through. But is it too late?
BIGGEST QUESTION REMAINING
Can Miami hang on? With a six-point lead right now and, at worst, a five-point edge going into the break, the RedHawks have a little wiggle room, and their schedule down the stretch isn't too menacing. But odds are good that the incredible goaltending in Oxford will cool off at some point, forcing Miami to win games in other ways – scoring explosions, gritty defense or just plain ol' luck. Will they have the fortitude to fight through tough times? Coach Enrico Blasi has assembled a veteran group, so leadership shouldn't be an issue. But Miami still has to prove to everyone that it has staying power in first place.
INCH's First Half All-CCHA Team

Pos.

Player
Of Note

G

Jeff Jakaitis, Lake Superior
The Miami tandem has better numbers, but we like our goalies to be workhorses. Jakaitis has played nearly 200 minutes more than anyone else in the league, and he still has the third-best save percentage (.918) and the fourth-best goals-against average (2.01) in the CCHA.

D

Andy Greene,
Miami
A virtual lock for this team strictly considering his own-zone coverage, Greene leads CCHA defensemen with six goals and is third with 15 points.

D

Matt Hunwick, Michigan
Hunwick gets the nod over defensive partner Jack Johnson because the junior is a more disciplined player than his freshman counterpart at the moment. He also has chipped in 18 points (5 goals, 13 assists), good for second among league blueliners.

F

T.J. Hensick,
Michigan
The most naturally gifted player in the CCHA is third in the league in assists (18) and points (27) at the halfway point. He's the No. 1 reason why Michigan averages a league-best 4.06 goals per game.

F

Jonathan Matsumoto,
Bowling Green
The most feared player on the most productive CCHA line thus far, Matsumoto is fourth in the conference with
25 points (9 goals, 16 assists).

F

Scott Parse,
Neb.-Omaha
The junior has a point in 16 of UNO's 17 games this season and leads the league with 29 points (10 goals, 19 assists). He is second nationally at 1.71 points per game.