December 13, 2006
2006-07 CCHA Mid-Season Report
By James Jahnke
SURPRISE TEAM
Notre Dame. Last year, our Breakthrough Team in the season preview was Miami, and the RedHawks won the CCHA regular-season title. Might a similar fate await this year's Breakthrough Team, the Fighting Irish? With the best balance between offense and defense in the league, it's within reason. At the halfway point, ND is in second place, two points behind Miami with two games in hand. For further validation of Notre Dame's legitimacy, listen to Alaska coach Tavis MacMillan, whose team was swept in South Bend on Dec. 2-3: "They remind me of Lake Superior State from the early '90s," he said. "They cycle the puck, they work hard, they're big, strong, they can skate, and they're very well-coached. That is a really good team."
SURPRISE INDIVIDUAL
David Rohlfs, Michigan senior forward. Maybe this shouldn't be a surprise, considering he's on a line with deadeye passer T.J. Hensick and super sniper Kevin Porter, but Rohlfs has 20 points in 19 games this season after registering just 35 points in 117 games during his first three campaigns. A 6-foot-3 forward-turned-defenseman-turned-forward, Rohlfs has done a nice job taking the physical pressure off Hensick and Porter and allowing them to use their skills. And he has buried 10 of the gimmes his linemates have left him on the goal line.
BEST NEW FACE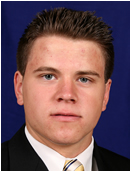 Dion Knelson, Alaska freshman forward. The slick youngster, who turns 18 a few days after the New Year, is the kind of talent who would brighten any CCHA program. What makes him more noteworthy is that he resides in Fairbanks. Nanook faithful are used to their freshmen being grown men with beards and wives and mortgages, not whiz kids for whom NHL scouts are beating down the doors. But Knelson is the latter, and more players like him going to schools like Alaska would help the depth of the league. Unfortunately for the Nanooks, the Alberta native is still feeling the effects of a November shoulder injury, but he averages more than a point per game (13 in 12).
WHAT HAPPENED TO...
Northern Michigan? Stocked with NHL draft picks, the Wildcats seem to be searching for an identity for the second straight year. Tenth place in the league with a 7-10-2 overall record is not where many figured such a talented team would sit. But the 'Cats have won just three of their last 12 contests. Goaltending isn't the problem. Chemistry might be. Or lack of scoring balance. It's tough to say. One thing is for certain, players with names other than Santorelli and Zaniboni need to step up in the second half (which brings a difficult schedule, by the way). NMU freshman Matt Butcher has one point in 19 games after finishing second in the British Columbia Hockey League with 101 points in 57 contests last season. He's not the only problem, but his struggles are representative of the team's plight.
BIGGEST UPSET
The CCHA's biggest head-scratchers happened so early in the season that their context has changed drastically since then. On Oct. 14, Minnesota State Mankato scored with 15 seconds left in overtime to defeat visiting Notre Dame, 3-2. Yes, those are the same Mavericks who have gone 2-10-3 since then, and the same Fighting Irish who have gone 13-2-1. But on Oct. 14, the result didn't garner a second thought. ND's next game, meanwhile, was considered the biggest upset, a 7-1 thrashing of host Boston College, ranked No. 1 at the time, on Oct. 20. While the score still evokes wonder, the result no longer seems as preposterous as it once did.
TOUGHEST ROAD OUT
Michigan State. In the past month, the Spartans have played archrival Michigan three times (twice on the road), traveled to Minnesota and Wisconsin for the College Hockey Showcase, played a home-and-home against Notre Dame and traveled for a set on the Olympic ice at Northern Michigan. Throw in nonconference games against formidable St. Lawrence and Sacred Heart, and single road games in tough CCHA barns at Western Michigan and Ferris State, and the Spartans had a rude introduction into 2006-07. Only twice did MSU spend an entire weekend at Munn Ice Arena.
TOUGHEST ROAD IN
Alaska. Granted, the Nanooks have most of their toughest remaining games at home, but they have to weather quite a storm just to get to that part of the schedule. Opening the second half are six straight road games, with trips to rival Alaska Anchorage (which is trying to win the Governor's Cup for the first time in six years), Ohio State and Michigan State on back-to-back-to-back weekends. The Fighting Tavises return home for a set against Michigan, fly back to the Contiguous 48 for two at Bowling Green, come home to face Miami, fly back to the Midwest for a pair at Western Michigan, then come home for a set against Notre Dame. To cap it off, a home series against ever-dangerous Nebraska-Omaha concludes the regular season.
MUST-SEE SERIES
Miami at Notre Dame (Jan. 26-27). Who would have thought that the biggest series of the season wouldn't include Michigan State nor Michigan? That's the way it's shaping up right now, with the first-place RedHawks holding a two-point lead over Notre Dame in the league standings while U-M and MSU are in third and fourth, respectively. What makes this Miami vs. ND battle for supremacy sort of funny is the dichotomy of the schools' facilities. Miami opened the palatial Steve Cady Arena this year, while Notre Dame is in the middle of a fund-raising drive to escape its half of the cavernous Joyce Center. Naturally, this series will take place at the Joyce Center.
BIGGEST QUESTION ANSWERED
Will Michigan's goaltending hold up? Doesn't look like it. No matter how many goals the Wolverines score, they eventually will be done in by a porous defense and pedestrian goaltending – unless something changes. Sophomore Billy Sauer has a goals-against average of 3.51 and save percentage of .884. His backup, in limited time, has worse numbers. You can't lay it all at their feet, as the U-M defense doesn't seem interested in playing it at times, but difference-making saves by Wolverine goalies have been few and far between.
BIGGEST QUESTION REMAINING
Will Michigan State turn it on during the second half, per usual? During Rick Comley's tenure, the Spartans always seem to muddle through the fall then take off after the holidays. Last season, the Spartans were 6-7-4 in early December before closing the season on a 19-5-4 run, including a CCHA tournament championship and No. 1 seed in the NCAA Tournament. MSU isn't in quite as bad shape this year, but the preseason top-five team nationally is barely in the top five of the CCHA with a 7-5-1 league record (9-7-1 overall). The good news for Sparty is that goalie Jeff Lerg has shown signs of regaining his freshman form.
INCH's First Half All-CCHA Team

Pos.

Player
Of Note

G

Jeff Jakaitis,
Lake Superior State

Both Jakaitis and Notre Dame's David Brown deserve props, and we'd usually go with the bigger workhorse. But while Brown has played more minutes (1,027-725), Jakaitis actually has seen more pucks (427-418). And the Laker senior's goals-against average (1.57) and save percentage (.956) lead the CCHA.

D

Jack Johnson,
Michigan
The mammoth sophomore has been more disciplined this season, in terms of positioning and avoiding penalties. His six goals are tied for second among CCHA d-men.

D

Kyle Lawson,
Notre Dame
The smooth freshman has been the best defenseman on the league's best defensive team. Headed to the world junior tournament this holiday break, Lawson has two goals and eight assists.

F

Nathan Davis, Miami
Davis leads the league and is second in the country in scoring with 35 points (14g, 21a). The junior has established himself as a Hobey Baker front-runner.

F

T.J. Hensick, Michigan
Mr. Playmaker is nipping at Davis' heels in the scoring race with 33 points (7g, 26a). The senior center makes any winger on his line a scoring threat.

F

Scott Parse, Nebraska-Omaha
The defending CCHA Player of the Year hasn't busted out, but he's still tied for fourth in the league with 28 points (11g, 17a). Plus, he filled in on the blue line when the Mavericks had injury problems.