December 13, 2006
2006-07 College Hockey America Mid-Season Report
By Warren Kozireski
SURPRISE TEAM
Without a doubt, it's Niagara. Picked in the pre-season to finish behind Bemidji State in College Hockey America, the Purps have almost run the table in the conference (one road loss) and had impressive road non-conference wins against St. Lawrence, RPI, Colgate and a home victory over Holy Cross. Plus, the four-game season series with favored rival Bemidji State is already complete with a win and three ties.
The top line of Sean Bentivoglio, Les Reaney, and Ted Cook has accounted for 88 points combined (47.5 percent of the offense) and second-liners Matt Caruana and Chris Moran aren't far behind. Sophomore Kyle Rogers has also stepped up his game this season and has become a force on the penalty kill.
"I told the guys after the game, with the sweep of Wayne State we went from a good semester to a great semester," said Niagara head coach Dave Burkholder.
It is the first time a Purple Eagles team went a full semester of a season without a loss at Dwyer Arena.
Newcomers Tyler Gotto and Ryan Annesley with the return from injury of Travis Anderson have stabilized the blueline while sophomore goaltender Juliano Pagliero has stepped into Jeff Van Nynatten's shoes nicely. The scary part is that the team is scheduled to lose just four seniors and only two of those play every game.
SURPRISE INDIVIDUAL
This is between junior transfer Ryan Cruthers of Robert Morris, senior Allen Barton from Niagara and sophomore Travis Winter from Bemidji State with the nod to Winter.
The St. Cloud, Minn. native registered just one goal and four assists in 16 games last season and has already tripled that with five goals and 10 assists in 14 games.
His two-goal, two-assist weekend helped the Beavers overcome their 0-3-1 start with a sweep at Minnesota State in early November. Bemidji has lost only one game since.
BEST NEW FACE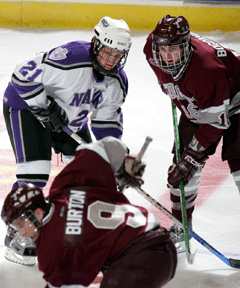 Niagara freshman Chris Moran is setting a scoring pace that will rank him near the top of the Purple Eagles scoring charts by the time he finishes his career.
With apologies to goaltender Brett Bothwell, who has all three of Wayne State's victories this season, Niagara's Chris Moran takes this.
The freshman forward is manning the point on the power play and is fifth on the team in scoring with four goals and 17 assists. That is more than double the point total of the next best freshman in CHA.
He is on a pace to equal the point totals of Ted Cook and Les Reaney from their 2005-06 CHA co-Rookie of the Year season.
WHAT HAPPENED TO…
Bemidji State senior forward Ryan Miller. After leading the team with 17 goals last season, Miller had two goals and three assists through his first ten games.
After scoring a goal in the second game of the season at Maine October 14th, Miller didn't get another until December 2nd at Wayne State. He's been moved from centering the top line to centering the second line and occasionally right wing. Maybe a three assist effort last weekend will kick-start his second half.
He did miss four games during the first half with a leg injury, but more was expected after his breakout junior campaign.
BIGGEST UPSET
Cornell lost only three home games all of last season and just two through the midway point of this season. One of those was a 5-4 win by Wayne State on Thanksgiving weekend at Lynah, spearheaded by Jason Baclig's three-point effort. Even stranger was that the Warriors entered the game with a 2-9 record, had been shutout a team-record four times (now six), and have lost five straight since. That's why they play the games.
TOUGHEST ROAD OUT
For the second year in a row, Wayne State played just four of its first 17 games at home. Trips to top-ranked Minnesota, Cornell, and Lake Superior State were sandwiched around conference trips to Alabama-Huntsville and Niagara.
The road gremlins have made life difficult for the Warriors as they have been shutout in six of their last 12 games. That and injuries to key contributors such as Dan Iliakis, Jon Grabarek, and now senior forward Mike Forgie haven't made bus life much fun. Time to make hay with 11 of their last 17 games, including all six CHA games in February, at the Fairgrounds.
TOUGHEST ROAD IN
With the Air Force defection to Atlantic Hockey, the odd number of teams left in CHA means each team will play one other CHA team six times during the regular season instead of the traditional two-home and two-away.
On top of Alabama-Huntsville drawing Bemidji State for six games this season, the Chargers will make the 1,200 mile trip twice — once this weekend and once in mid-February. The lake should be plenty frozen by then, and so will the men from the south, as they try to get that first-round conference playoff bye.
MUST-SEE SERIES

Alabama-Huntsville at Bemidji State, Feb. 16-17. The Beavers have won their last three home games against the Chargers and have beaten UAH in the playoffs each of the last two seasons. But UAH is 16-10-1 head-to-head with the Beavers since 2000. That, and the Chargers' Marc Narduzzi has started to look like the goaltender they thought they would have.
BIGGEST QUESTION ANSWERED
Niagara's goaltending after the departure of four-year starter Jeff Van Nynatten. Sophomore Juliano Pagliero has stepped in and led the Purple Eagles to the top of the conference standings. Included was his 41 save effort for his first collegiate shutout December 8th against Wayne State.
BIGGEST QUESTION REMAINING
Can Robert Morris meet the pre-season predictions and finish third in the conference? With lots of weekends off during the first half, the Colonials will not have another after Christmas. The toughest four-week stretch comes just prior to the end of the regular season with consecutive weekends home against Niagara and Bemidji State, a home-and-home with nationally-ranked Miami and then at Niagara.
With playoff seedings at stake, barring injury, expect goaltender Christian Boucher to play all but one of the Miami games during the stretch — a test for any goaltender.
INCH's First Half All-CHA Team

Pos.

Player
Of Note

G

Matt Climie,
Bemidji State
5-2-3 with two shutouts and a 2.64 GAA which includes the six he allowed at Maine in game two of the season. That's how well he's played since.

D

Shaun Arvai,
Ala.-Huntsville
The senior has matched last season's goal total and only six away in assists.

D

Mike Salekin,
Ala.-Huntsville
He has already eclipsed his career high in helpers.

F

Ted Cook,
Niagara
Cook leads the country in goals and power-play goals.

F

Les Reaney,
Niagara
19 of his 32 points and 8 of 12 goals have come in conference games.

F

Sean Bentivoglio,
Niagara
The senior is on pace for his best offensive season and regularly kills penalties.