December 14, 2006
2006-07 ECACHL Mid-Season Report
By Joe Gladziszewski
SURPRISE TEAMS
The ECAC Hockey League's travel-partner scheduling is one of the things that makes it special and unique. In keeping with that, we'll name travel partners Brown and Yale as our first-half surprise teams. They've gone about things differently this season, but both have notched impressive wins and are far ahead of where most people expected them to finish.
Yale started out on fire, winning six of its first seven games and earning victories at New Hampshire and Dartmouth. Since then, Yale is 0-4-1, but still has a winning record through its first dozen games.
Brown had an opposite pattern, starting 0-2-2 before winning six of its last eight games. The only Bruno losses in that stretch of prosperity were at Dartmouth and against Clarkson, leaving the Bears with a 6-4-2 overall mark after 12 games.
SURPRISE INDIVIDUAL
When Adam D'Alba announced that he wouldn't return to Brown this season, it must have caused a bit of a concern, especially since D'Alba's last two games of his collegiate career were spectacular goaltending performaces at St. Lawrence in the ECACHL playoffs. Mark Sibbald was given the first opportunity to claim the job, but Brown failed to win in his four starts. Freshman Dan Rosen relieved Sibbald in that fourth game, and then went 5-2-0 in his seven starts, with numbers that would make Ryan Miller jealous. Rosen's goals-against average is 1.44, and he has stopped 95.7 percent of the shots fired on his net.
BEST NEW FACE
Quinnipiac has never lacked for scoring depth, and adding Brandon Wong helped the offense even more. The First Team BCHL All-Star, and two-time team MVP came to Hamden with a reputation for scoring (128 points in 2005-06) and has lived up to those expectations. He has 12 goals and 19 points in 16 games, and has spent most of the year centering a line with classmate Jean-Marc Beaudoin and junior Dan Travis, a Florida Panthers draft pick.
WHAT HAPPENED TO ...
Harvard? The Crimson returned most of their key players from an Ivy League championship and NCAA Tournament team in 2005-06. Goalie John Daigneau might have been the biggest name of the group that left, but you can't blame goals against for Harvard's struggles thus far. The Crimson has scored four goals in four of their 12 games, and has a 3-1-0 record in those. In the other eight games, Harvard has scored one goal three times and two goals five times. All eight of those are losses.
BIGGEST UPSET
Yale's win at New Hampshire on Oct. 28 is the clear choice in this category (with apologies to Harvard's 4-0 win over Boston College). The Bulldogs went up to Durham in just their second NCAA game of the year and pulled out an overtime victory. Yale led 1-0 and 2-1 in the game, but UNH took a 3-2 lead late in the second period. Chris Cahill scored with 3:15 left to tie the game for Yale, and then assisted on Greg Beller's OT-winner at 3:03.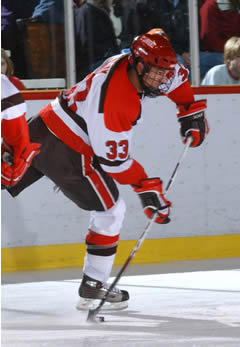 Senior captain Kyle Rank and the St. Lawrence Saints faced a tough schedule, and it doesn't get any easier as the calendar turns to 2007.
TOUGHEST ROAD OUT
St. Lawrence's first-half schedule included a five-game road trip that covered four states. The Saints also faced seven teams currently ranked in the INCH Power Rankings, and has a 2-5-0 record in those games. That means they've taken care of business in their other games, with an impressive 6-2-1 mark. The Saints will stay on that tough road, as its next four games will come against teams in the rankings, and the potential opponent not currently ranked is North Dakota.
TOUGHEST ROAD IN
Cornell begins its second half with a game against New Hampshire, and then potentially meets Maine in the second round of the Florida College Classic. A home date with Sacred Heart can't be taken lightly. Once conference play resumes for the Big Red, the second half features four games against Clarkson and St. Lawrence, a home-and-home with Colgate, and road trips to Union and Rensselaer and Dartmouth and Harvard.
The game at Harvard, or "Lynah East" as Big Red fans affectionately call it, is on the last day of the season. Only Lynah Rink itself would be a better place for Cornell to clinch an ECAC Hockey League or Ivy League title, especially after Harvard's Ivy League-clinching win at Lynah last February.
MUST-SEE WEEKEND
It's the last weekend of the year, because history tells us that playoff seeding will be at stake, as well as the regular-season title. Cornell and Colgate play at Dartmouth and Harvard, but if we had our choice, we'll pick a pair of seats in Quinnipiac's new TD BankNorth Sports Center on Feb. 23-24. The Bobcats host St. Lawrence on Friday night, and then play the final game of the ECAC Hockey League regular season against Clarkson. It's an 8 p.m. start because it's televised on ESPNU, and with both teams residing in the top four of the league standings, will likely impact a number of teams looking to find out who and where they'll play in the postseason.
BIGGEST QUESTION ANSWERED
How will Cornell's goaltending be without Dave McKee? Troy Davenport claimed the starting job and has been reliable for most of the year. His poise in net is noteworthy, as he minimizes the acrobatic and spectacular saves. He's content to play his angle and react to the shooter. An leg bruise in a 3-3 tie against RPI had Davenport on the bench, but freshman goalie Ben Scrivens has also proved to be capable. They may not put up numbers like LeNeveu or McKee, but the current Big Red tandem will almost always give Cornell a chance to win.
BIGGEST QUESTION REMAINING
Which team will produce a lengthy second-half winning streak? Colgate and Dartmouth are lurking in the middle of the pack. Dartmouth closed its league campaign by going 8-1-1 in its final 10 games last year. Could the same be in store this year?
INCH's First Half All-ECACHL Team

Pos.

Player
Of Note

G

David Leggio, Clarkson
The only goalie with better numbers than Leggio (2.28 GAA, .929%) is Brown's Dan Rosen, and Leggio won the head-to-head matchup between the two.

D

Sean Hurley, Brown
Rosen can't get all of the credit for Brown's stellar defense. The junior defenseman contributes at both ends and is showing that his All-Rookie selection as a freshman two years ago was no fluke.

D

Jared Seminoff, Cornell
He leads Cornell's defensemen in points, picking up the slack for the departed Ryan O'Byrne and Sasha Pokulok. He's also been steady in his own zone in guiding a green defense corps for the Big Red.

F

David Jones, Dartmouth
Among many forwards under consideration, Jones gets the nod for his production in the important conference games. He has 13 points in nine ECACHL encounters.

F

Steve Zalewski, Clarkson
The junior forward has found his scoring touch and is a threat to finish plays from anywhere in the offensive zone. His 12 goals and 20 points leads the way for a high-scoring, balanced, Golden Knights team.

F

Brandon Wong,
Quinnipiac
As mentioned above, his impact on the Bobcats has been significant. Wong is tied for seventh nationally in rookie scoring and plays in all situations for Quinnipiac.