December 14, 2006
2006-07 WCHA Mid-Season Report
By Jess Myers
SURPRISE TEAM
The league's coaches picked Alaska Anchorage to finish in the basement again this season. But if the WCHA playoffs started today, there would be tickets for that event on sale at the Sullivan Arena box office. More than a decade after joining the league, Alaska Anchorage is a real threat to finish in the top half of the WCHA for the first time since the Seawolves got their Members Only jackets. Offense used to be in as short supply as winter sunlight in Anchorage, but at the midway point of the season the Seawolves roster boasts five players with a dozen points or more. Perhaps more importantly, they have a winning record at home, and are re-establishing visiting Sullivan as something no opponent wants to do. Especially not in March.
SURPRISE INDIVIDUAL
Those living in the scarred and blackened woods just northwest of Colorado Springs know that forest fires wipe out huge, impressive tress, but their absence gives smaller trees with potential a chance to flourish. Last spring's graduation wiped out two of the biggest offensive names in Colorado College history, but in the absence of Marty Sertich and Brett Sterling, the goal-scoring potential of Scott McCulloch is being realized. A junior who's been drafted by the Blackhawks, McCulloch had just nine goals in his first two seasons at CC, but has scored 14 already this season, helping the Tigers go on a 8-2-0 run after a slow start which had folks lamenting the end of the CC dynasty.
WHAT HAPPENED TO…
A few weeks ago we were wondering what had become of the defending national champs, as Wisconsin proceeded to lose six in a row. But there's wind in the sails, a three-game winning streak and 20 days off to get healthy in Madison, so we'll turn our sights north and inquire about the fate of Minnesota Duluth. Three years ago the Bulldogs made a surprising run to the Frozen Four, and came back from Boston with the Spencer Penrose and Hobey Baker trophies in tow. That team had one NHL draft pick. This season's Bulldogs have 10 players who've been drafted, but are struggling for consistency at every position despite the influx of talent. Since beating Denver on Oct. 27, the Bulldogs are 2-9-1 and fighting Minnesota State to stay out of the WCHA cellar. As the boisterous fans who populate the UMD Penalty Box know, these are the times that try men's souls.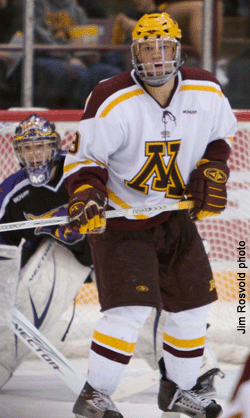 Kyle Okposo leads Minnesota in points, goals, power-play goals, game-winning goals and plus/minus rating.
BEST NEW FACE
All Kyle Okposo has done in his first 18 games wearing a college hockey sweater is lead the nation's top-ranked team in points (23), goals (15), power-play goals (five), game-winning goals (three), plus/minus (+16), shots (63), shot percentage (23.8), and multi-goal games (three). He's already got two WCHA Rookie of the Week awards in his campus apartment and has been kept off the score sheet in just two outings thus far. Okposo is the first African-American to skate for the Golden Gophers, but the color of his skin has been an afterthought for Minnesota fans, what with that bright red light glowing behind the opponents' net so often.
BIGGEST UPSET
Minnesota State 3, Notre Dame 2, OT: It might not have seemed so significant on Oct. 14, when Jon Kalinski carried the puck into the offensive zone, made a neat move and roofed a backhander over David Brown's glove, popping the water bottle atop the Notre Dame net. But with the Irish becoming the talk of college hockey, while the Mavericks have played hard but struggled to find wins, that overtime goal gave Minnesota State its most impressive win of the season, and the league's most surprising win thus far.
TOUGHEST ROAD OUT
Denver is currently four games above .500 and looking like a solid contender for home ice in the playoffs despite a first-half schedule that gives the Pioneers every right to feel beat up and road-weary. After traveling to Ohio for the emotional grand-opening of Miami's new barn, the Pios also had to visit St. Cloud State, Minnesota Duluth, Wisconsin and Colorado College, and had an emotional home weekend with RPI and their long-time assistant coach, Seth Appert. After this weekend's trip to Anchorage, Denver will be at home for 13 of its next 17 games.
TOUGHEST ROAD IN
Anyone still looking for proof about whether St. Cloud State is "for real" will get a definitive answer in the second half of the season. Along with a holiday tournament trip to Vermont, the Huskies will visit Denver, Wisconsin and Minnesota in January and February, and host surprising Alaska Anchorage, dangerous Colorado College and desperate North Dakota. If the Huskies are still barking after that run, look out for them in the playoffs.
MUST-SEE SERIES
Minnesota at Colorado College, Feb. 16-17: Yes, the storylines about Don Lucia and Kellen Briggs returning to Colorado Springs have all been beaten to death. Instead, if current trends continue, this one has the look of the surprising Tigers' last chance to catch the Golden Gophers in the race for the MacNaughton Cup. Of course, if Minnesota keeps playing like it has in the first half (with an 18-game unbeaten streak) the Gophers might have the Cup clinched long before Valentine's chocolates are being purchased.
BIGGEST QUESTIONS ANSWERED
Can Michigan Tech still compete in the WCHA? Although the Huskies have hit the wall in the past few weeks (they're 1-7-2 in their last 10 outings), their sizzling 5-1-0 start had fans buzzing and national polls re-discovering Houghton as a college hockey destination. More offense is a must, but solid goaltending from Michael-Lee Teslak and Rob Nolan (and recent struggles by Michigan, Michigan State and Harvard) has Tech fans dreaming of the school's first Great Lakes Invitational title since 1981.
Will there be a new doghouse in Duluth? On Dec. 12, Minnesota Gov. Tim Pawlenty met with reporters at the State Capitol and said that he'll fulfill the promise he made (and broke) last year to the people of Duluth, and will provide the state's share of money (roughly $40 million) for a new waterfront arena. If construction goes according to schedule, that means Minnesota Duluth will no longer play in the WCHA's oldest rink starting in October 2009.
BIGGEST QUESTIONS REMAINING
Can the Gophers stay healthy? Of all of the blessings Golden Gopher fans are counting in this holiday season, health might be the most important. While other would-be contenders for the WCHA and NCAA titles (North Dakota and Wisconsin come to mind) have dealt with myriad bumps and bruises in the first half, the Gophers have kept their trainer bored and have had more players miss time for team rules violations than for health reasons. If the sick bay starts to fill up in January, there may be trouble on the West Bank.
Will a familiar face be seen behind a WCHA bench next season? Since leaving North Dakota for pro hockey at the end of the 2003-04 season, Dean Blais has had a tough go of things. He's dealt with a lockout, the tragic loss of his wife, and philosophical differences with Columbus Blue Jackets' since-dismissed head coach Gerard Gallant. Blais' emancipation is forthcoming, as his contract with the NHL team expires at the end of the season. With at least one WCHA athletic director rumored to be contemplating a coaching change, and with the Fighting Sioux needing a new women's team coach, one wonders if Blaiser will bring his sizable collection of WCHA and NCAA championship rings back to college hockey.
INCH's First Half All-WCHA Team

Pos.

Player
Of Note

G

Glenn Fisher, Denver
In a mediocre first half for goalies throughout the league, the Pioneers' cagey veteran put up some of the best numbers, and won seven games for a good-but-not-great team.

D

Taylor Chorney, North Dakota
One note of consistency on an otherwise inconsistent team has been Chorney's defense. Relying on him less, and goaltending more, is a key for the Fighting Sioux in the second half.

D

Alex Goligoski, Minnesota
All of that young talent on the Golden Gophers roster needed a veteran leader. Goligoski has filled that role admirably, and has provided a nice dose of offense from the blue line.

F

Andreas Nodl,
St. Cloud State
The speedy Austrian's league-leading offense (23 points in 16 games) is a big reason why the Huskies are in the hunt, and why they haven't lost since before Election Day.

F

Scott McCullogh, Colorado College
Every good team needs a consistent lamplighter. The Tigers are a good team, and with 14 first-half goals, McCulloch has shown the way to the back of the net.

F

Kyle Okposo, Minnesota
On a team filled with young talent, Okposo's hard shot and dazzling moves have stood out. He's tied for the league lead in points and has Islanders fans (both of them) singing "someday my prince will come."