January 8, 2004
Findlay Coach Decries Announcement
By James Jahnke
Findlay coach Pat Ford said the decision to scrap his hockey program – and the Oilers' women's program, too – was made at a Board of Trustees meeting Dec. 9. He didn't find out it, though, until Tuesday morning, hours before the information was released to the public. Ford viewed the lack of communication from university president DeBow Freed as a slap in the face.

"The way things work at the University of Findlay is a bit like the CIA," an obviously disappointed Ford said Thursday morning. "You don't know who, and you don't know when.

"The people who made the decisions (Freed and the Board of Trustees) didn't even have the respect to tell us face-to-face. They sent our athletics director, Steven Rackley, who had nothing to do with it and who I really felt sorry for. I just expect things to be handled in a proper manner, but the meeting with our kids came after the news release. It's hard not to be bitter."

Ford, in his first year as the Oilers' head coach, stressed that he's not leaving on bad terms. He said he enjoyed working with the people in UF's athletics department and the community, but he wishes the announcement had been handled better.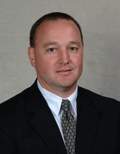 Findlay coach Pat Ford
As for the future, Ford said he'll work on getting his younger players placed into other programs and help his assistants get jobs before he starts looking for a new place to call home. He said no players had yet left the program – most likely because the announcement was made a day before the start of winter classes.

He said the team will play for their pride the rest of the year and will consider itself "The Oilers" (sans "Findlay") because it "doesn't have the commitment from the university."

"I told the players, 'This university doesn't deserve a Division I hockey program,'" Ford said. "We were doing everything in our power to turn this thing around, but I guess I just bought into the vision of our former president, Ken Zirkle (who was resigned in July), who said we'd give this a shot for four years. Obviously, that rings hollow with the new administration."

Ford also questioned the university's assertion that the decision was made because of finances.

"That's the easy way out," said the former Wisconsin and Northern Michigan assistant. "I was told the whole climate was improving. We have our own rink, so we're not renting ice time from anyone. We were building a fan base. We were changing the perception of Findlay hockey.

"But even if we were losing $50,000 a year and the university decided it couldn't handle that, tell me. We're all big boys. When tough decisions are made, the people who make them should look you in the eye and tell you why. That makes it a clean cut. Considering we're a faith-based, private university, I find it very interesting the way this has been handled."

SEEN AND HEARD IN THE LEAGUES

CHA: Now What? – In the wake of Findlay's announcement, College Hockey America finds itself at a crossroads because it can't survive without its automatic bid to the NCAA tournament, which would be taken away if the league can't find a sixth team for next season.

The way Air Force coach Frank Serratore sees it there are two things that can happen from this point: Either the college hockey community steps up and makes a concerted effort to find a replacement for the Oilers, or the CHA crumbles.

Serratore, who helped found the CHA in 1999, doesn't even want to ponder the latter option. His Falcons could probably find a nice home in Atlantic Hockey, but the other four CHA schools probably wouldn't be so lucky.

"There's gotta be a league for an emerging program to go to," Serratore said. "In the West and Midwest, that's the CHA. If you lose the CHA, there's nowhere. There's no room in the WCHA. There's no room in the CCHA for a new team.

"Philosophically, I think college hockey needs this conference. That's why I jumped on board with (commissioner) Bob Peters and (WCHA commissioner) Bruce McLeod to start it up."

The easiest way for the CHA to meet its quota would be to add Robert Morris, which will join the Division I ranks next season and has yet to declare a conference affiliation. Serratore called the Colonials the "trump card" right now. But if the Robert Morris plan falls through, the other option would be to lure a team away from another conference – most likely Atlantic Hockey or the WCHA.

Serratore speculated that some Atlantic Hockey teams might be intrigued by the CHA because they could increase their scholarship limit from the AHA maximum of 11 to the NCAA max of 18. A team from the WCHA – or even the CCHA – would probably have to be lured by the possibility of being a big fish in the smaller pond of the CHA, and thus having an easier road to the NCAA Tournament.

Whatever eventually happens, Serratore hopes it's soon enough to keep the CHA afloat.

"We've got to get this rectified and save the conference," he said.

It's a Playoff Atmosphere – If you'd rather think about actual on-the-ice hockey (how boring!), your best bet is the Bemidji State-Niagara showdown this weekend in western New York. It seems almost inevitable that the CHA crown will be claimed by one of these two squads, and the winner this weekend will get a big leg up.

The Beavers (7-1-0 in the league) lead Niagara (6-0-0) by two points. Third-place Alabama-Huntsville (3-3-0) looks like a speck in their respective rearview mirrors. In all likelihood, this weekend's series will come down to an intriguing clash between Bemidji's sturdy defense and Niagara's revved-up scoring attack.

One Purple Eagle who won't be on hand, as most of us know by now, is Jeremy Hall. The Mays Landing, N.J., native, who had 11-7-18 in the first half, left the team during the holiday break to return to his junior team, the Danville Wings. Niagara coach Dave Burkholder said his charges have already put the incident behind them, pointing to the Purple Eagles' 1-1-1 record in three games – all against competition from the Big Four conferences – since Hall left.

Freshman Sean Bentivoglio (1-12-13) will move into Hall's plum spot on the right side of star center Barret Ehgoetz for the Bemidji series, and Burkholder doesn't expect a drop-off.

"Whoever plays on Barret's right wing will score 11 goals in a semester," the coach said, referring to Hall's total. "Barret has really been the story of our season."

Bentivoglio said it's an "honor" to play on a line with Ehgoetz – who was sixth in the nomination phase of the online Vote for Hobey at press time – and senior left wing Chris Welch (7-14-21).

"They both get open pretty good, so I can usually find them for an assist," Bentivoglio explained. "But I get a fair amount of chances, too. I just have to start scoring on them."

Niagara and Bemidji will meet again during the last weekend of the regular season in the Beavers' barn. That makes this weekend even more crucial for Niagara.

"This is a 'Where are we at, guys?' series for us," Burkholder said. "We have got to take care of our home ice."

Brother Blues – Apparently, Coleraine hadn't changed a bit. Serratore said everything went well in his return to his Minnesota hometown Saturday night, except for the fact his Falcons lost to brother Tom Serratore's Beavers, 5-1. A good crowd (1,750) turned out to watch the two native sons go head-to-head on the Iron Range, and the Serratores' father, Frank Sr., got to drop the ceremonial faceoff.

"The game was a fundraiser for the youth hockey program in the area, so it was nice to give something back to my hometown," Frank said. "I saw a lot of old friends."

He also had high – very high – praise for his brother's squad. Nepotism, perhaps?

"His junior class is as good as anyone's in the country," Frank Serratore said. "It's a strong statement, but I mean it. With Brendan Cook and Riley Riddell and Andy Murray, those guys are good. Bemidji's just so deep. They keep coming and coming and they all can make plays.

"We've played Colorado College and Denver and Miami, and I think Bemidji is the deepest of all. Maybe they don't have that top line like those other schools, but they've got players."

Blown away – We all know that Atlantic Hockey and CHA teams have registered some big-time wins over prestigious opponents this year, and those upsets go a long way toward building up the reputation and credibility of the leagues. Unfortunately, the impressive victories are often balanced (or exceeded) by ugly losses, such as these results from last weekend: Providence 7, Quinnipiac 1; Colorado College 7, Wayne State 1; Clarkson 8, Mercyhurst 2 (Clarkson hadn't scored more than four goals in a game before this).

The cloud overhead gets darker when you realize the Bobcats, Warriors and Lakers are some of the top teams the AHA and CHA have to offer.
Great Weekend Getaway

Holy Cross at Northeastern (Saturday): I'm bucking the trend of only selecting AHA or CHA home games because this matchup gives me a little tickle. Holy Cross finally got its first non-conference win last weekend at the expense of Alabama-Huntsville. Beating the red-hot Huskies would certainly be a bigger boost for the Atlantic Hockey front-runners. Northeastern has won five straight after going 0-9-2 in its first 11 games of the season. I can't put my finger on it, but it has the aura of a doozy.

While you're there: After the final buzzer, find a watering hole and watch the second half of the Patriots-Titans playoff game. Leave your Eddie George jersey at home.

Stick Salute

Mike Polidor now has 2,025 saves in his Air Force career, placing him third on the all-time list behind Eric Dickerson and Jamal Lewis. Or something like that. Polidor eclipsed the MM mark in the second period of Friday's loss to Bemidji. He has been Air Force's pillar this season, registering a 2.82 goals against average and .896 percentage in 19 games. He also earned some high praise from coach Serratore after Friday's contest: "The game was a track meet, up and down the ice. Mike Polidor was good again tonight and he has been very, very good recently."


Bench Minor

We realize this is a big deal for schools in the Little Two conferences, but we still got a chuckle when two Bemidji State press releases trumpeting the fact the Beavers received a single vote in each of the national polls came across our desk this week. Hopefully, more
votes are to come in the future, and getting just one will become a cause for dismay – not celebration – in north-central Minnesota.

FRIES AT THE BOTTOM OF THE BAG

• Now that Findlay's going under, no Division I hockey school will share a nickname with an NHL team. Weird, eh? The Oilers' tiara will be passed on to Miami, though, for its unique blend of the Red Wings' and Blackhawks' monikers.

• It's probably not too much of a stretch to assume that Bemidji beat Air Force on Friday because of the second period. During those 20 minutes, the Beavers scored three times as many goals (3) as the Falcons had shots (1). Bemidji goaltender Grady Hunt stopped that lone attempt by the Academy, and the Beavers went on to win 3-1.

• It ain't time for neaner-neaner told-you-so gloating yet, but INCH's preseason pick for the Best Newcomer in the CHA is playing pretty darn well. Wayne State freshman Jason Baclig has three goals and three assists in his last six games and leads the Warriors with 7-6—13 for the season.

• Former Niagara starting goaltender Rob Bonk hasn't played in ages, as he's slipped behind Jeff VanNynatten and freshman Allen Barton on the Purple Eagles' depth chart. But Burkholder hasn't completely given up on the senior's season yet. The coach gave Bonk a copy of a Boston newspaper article that harped on the need for Felix Potvin to stay sharp even though he's been relegated to an unfamiliar backup role. Burkholder's point: We might need you later on. Like, if Koy Detmer gets hurt.

• Brendan Cook is the only player on the Beavers' current roster who scored 10 goals or more last year. He's the first on the team to reach double-digits this year, too, totaling 10-7—17 thus far.

• Think Mercyhurst coach Rick Gotkin's worried about his team's 7-9-1 overall record? Don't bet on it. The Lakers were 4-9-2 in early January last year and went on to finish 22-13-2 with an NCAA Tournament appearance. The tough (non-league) part of their schedule is now behind them, and only 17 Atlantic Hockey games separate the Lakers from the start of the league tournament. Also, Mercyhurst just wrapped up 10 straight games away from home. The Lakers welcome league doormats Bentley and American International to Erie the next two weekends.

• Bemidji State's school record for consecutive games with at least one power play goal ended at 12 on Friday. The Beavers' power play conversion rate is 19.2 percent, 17th best in the country.

• Wayne State sophomore forward Derek MacKay (4-4—8) and freshman defenseman Matt Boldt (0-1—1) both sustained injuries during the Grand Forks holiday tournament and missed last weekend's games. They won't play in this weekend's Air Force series, either.

• Defensemen Mike Hoffman, who left UConn three games into his sophomore season in October, recently latched on with the ECHL's Peoria Rivermen. At 6-feet-6, 253 pounds, he's the weightiest player in team history.
"I was the heaviest player in (AHL) Worcester's history, too," Hoffman told the Peoria Journal Star. "Pretty much, I'm the heaviest player anywhere I go.'' Hoffman also clarified that his decision to leave the Huskies earlier this year was based on playing time.