January 8, 2004
Newest Badger Makes a Quick Splash
By Jess Myers
Until hitting the ice for the Wisconsin Badgers last weekend in Mankato, freshman Ross Carlson was at risk of becoming the answer to a trivia question. Namely, "Name the only Badger whose college hockey career ended due to a volleyball injury."
Carlson, a native of Duluth, Minn., and a product of the powerful Duluth East High School program, toiled three seasons in the USHL before being invited to walk on with the Badgers. But in June, Carlson suffered a serious knee injury during a pick-up volleyball game with some friends. Instead of going to training camp in Madison, Carlson spent the fall rehabbing the injury and didn't enroll at Wisconsin until the winter semester.
Carlson began practicing with the team in December. With the Badgers short-staffed due to injuries and players at the World Junior Tournament, Carlson made his college hockey debut in the win and tie at MSU, Mankato, and recorded a goal and two assists over the weekend.

Ross Carlson
"That worked out nice," said a beaming Carlson after the Badgers' 6-2 win on Saturday night. "All of the guys on the team have been great, and have certainly helped me figure out our team systems and other things."
With the Badgers' trailing 1-0 early in the game, Carlson took advantage of a loose puck near the Mankato net, snapping off a low wrist shot that beat Mavericks goalie Kyle Nixon and tied the game. Wisconsin put the contest out of reach in the second, scoring three times, including a Tom Gilbert goal set up by Carlson.
"We started a little slow, but the team came out with guns blazing in the second," said Carlson, who was named the WCHA's rookie of the week for his efforts. "I think we kind of caught them back on their heels and kept them there."
Badgers assistant coach Troy Ward, who ran the team while Mike Eaves was off mining gold in Finland, said he was pleased but not really surprised by Carlson's immediate contributions to the team.
"Maybe we didn't expect this much from him right away, but we definitely knew he had this ability," said Ward. "He definitely made a strong statement tonight, and he's going to be an important part of this team for a long time."
SEEN AND HEARD IN THE WCHA
Conner Turning Heads as Huskies Struggle – The only time Michigan Tech has had a finalist for the Hobey, he came from a last-place team. Goalie Jamie Ram was one of the nation's 10 best in 1994, when the Huskies were 13-27-5 overall. (In fairness, it should be noted that the '94 Hobey winner, forward Chris Marinucci, played for seventh-place Minnesota Duluth, so apparently team success didn't weigh heavily on voters minds that year.)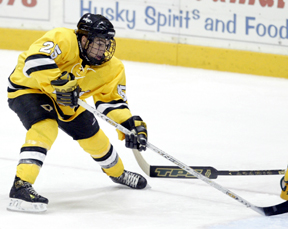 Chris Conner shares the national lead with 15 goals.
A decade later, the Huskies are again struggling to find a way out of the WCHA cellar, and start the season's second half at Wisconsin on a 1-9-3 streak. But just like '94, they might be headed for another Hobey finalist, as sophomore forward Chris Conner continues to impress.
Several published reports have noted the show Conner put on at the Great Lakes Invitational, earning a spot on the All-Tournament Team despite his team's 7-2 and 6-2 losses to Michigan State and Michigan. The Detroit-area native apparently felt right at home versus the Spartans at Joe Louis Arena, scoring a cut-to-the-net-and-shoot goal that was one of ESPN's top 10 highlights of the day.
Tech's athletic communications director, Dave Fischer, has already begun work on a promotional campaign, hoping that despite the team's struggles, Conner's efforts will earn the school its second Hobey finalist.
Great Weekend Getaway

Minnesota at Colorado College (Fri.-Sat.)
One wonders if there will be any "our trophy's bigger than your trophy" trash talk going on this weekend in Colorado Springs as the defending conference champs host the defending national champs. And whether or not Tigers fans will taunt Don Lucia about his hair (as they've done without pause every time the ex-Tigers coach has brought his Minnesota club to CS World Arena) is another question that remains to be answered. If the WCHA playoffs started today, both of these teams would be on the road, so to call the four points up for grabs "critical" would be a huge understatement.

While You're There: Keep in mind that this season there's a direct link between Colorado Springs World Arena and the Frozen Four, as Colorado College will host the NCAA West Regional in late March. So this would be a good weekend to do some scouting of the bar, restaurant and hotel scene in the vicinity. As four teams will find out come playoff time, you'll never make it to Boston if you're not prepared to give it everything you've got in Colorado Springs.

Stick Salute

To Wisconsin coach Mike Eaves for his efforts assembling and coaching Team USA at the World Junior Championships. He comes back to Madison with a gold medal, his sons playing for one of the top teams in the country, and his Badgers in first place in the WCHA. How sweet is life, and hockey, for the Eaves family right now?


Bench Minor

To St. Cloud State officials, for refusing Internet TV broadcast permission to the folks from North Dakota for last Friday's game. While it was done for reasons that are, on some levels, understandable (Victory Sports owns broadcast rights to Huskies home games), we still don't think college hockey is dying from too much media exposure. Kudos to the cooler heads that prevailed on Saturday and allowed the Internet broadcast to go forth.
PUCKS TO PICK UP AFTER PRACTICE
• While a two-goal lead is renowned to be the most dangerous lead in hockey, a three-goal advantage is generally safe, right? Well, apparently not when you're playing North Dakota this season. Last Friday, St. Cloud State stormed out to a 3-0 lead just 3:06 into their game with the Sioux, only to see the visitors rally to lead 4-3 in the third period. The teams settled for a 4-4 tie. In October, the Sioux trailed Boston College (then the top-ranked team in the nation) by three goals in Grand Forks, before rallying for a 6-4 win.
• Here's a good sign for Pioneers fans if Denver makes it to the NCAA playoffs: By beating St. Lawrence and Wayne State last weekend at Magness Arena, the Pioneers finished their non-conference schedule with a 10-0-0 mark.
• While former Fighting Sioux Chris Fournier is likely to get plenty of attention from North Dakota (and plenty of love from the Sioux fans) this weekend when Alaska Anchorage visits Grand Forks, the Sioux would probably be making a mistake to key on any one Seawolf. While going 7-7-2 in the season's first half, UAA has gotten game-winning goals from seven different players.
With that said, the Seawolves' offense lost a key cog over the team's month-long holiday break when forward John Hopson left the team. According to published reports, Hopson surprised teammates and coaches when he withdrew from school and returned home to Prince George, B.C., after complaining about playing time. Hopson's departure, along with the recent announcement that sophomore defenseman Matt Hanson is academically ineligible, leaves coach John Hill with just 19 eligible players available. Don't be surprised to see fliers for mid-season walk-on tryouts posted in the UAA student center sometime soon.
• Congratulations to 1984 Hobey winner Tom Kurvers on his recent engagement, and kudos to the former Minnesota Duluth star for his inventive proposal. Kuvers, who scouts for the Phoenix Coyotes, has two daughters from a previous marriage. Before Christmas, Kurvers gave his daughters Coyotes sweaters with "KURVERS" and his college number (22) on the back. He took the girls and his then-girlfriend, Heather Estby, to a skating party at his hometown rink, Bloomington (Minn.) Ice Garden, on Christmas Day. While sitting on one of the team benches and watching his daughters skate in their Coyotes sweaters, Kurvers gave Heather a matching Coyotes sweater, with "KURVERS" on the back. After she donned the sweater, he said, "If you're going to wear a sweater with that name on it, you should probably wear this too," and presented her with a diamond engagement ring.
• When southern Minnesota viewers tune in to see local broadcasts of Minnesota State, Mankato hockey, they get to hear a Mavericks legend calling the action. Steve Carroll, the school's one and only Hobey Baker finalist, is donning the headset for Mavericks hockey broadcasts on Mankato-area cable this season. Carroll was the team's star goalie in 1980 when MSU claimed its only Division III national title, and was one of the 10 finalists for the first Hobey (won by Minnesota's Neal Broten) a year later. A former Twin Cities sportscaster and onetime editor of Let's Play Hockey, Carroll now works in communications for the Minnesota Department of Natural Resources and conducts goaltending schools in his spare time.