January 8, 2004
A Rosa by Any Other Name
By Nate Ewell
The common perception of Merrimack, the only Hockey East team never to win a conference Player, Rookie or Coach of the Year award, is of a gritty, hard-working, well-coached team that just can't match the talent of its opponents.
As long as you've got some space left on the marquee, however, head coach Chris Serino has a name you could put up there the next time the Warriors come to town.
"I think Marco Rosa is one of the elite forwards in college hockey," Serino said of his senior captain. "He just, for some reason, doesn't get the credit he deserves. I don't know, maybe it's because of the small school that we are. He plays the game at both ends of the ice. You see a lot of the big scorers who don't exert the kind of energy he does in the defensive end. He's a complete player, and I think one of the top players in college hockey."
This praise, for a player Serino is convinced will play in the NHL someday, probably isn't a surprise to people who have watched the Warriors closely over the last two seasons. Rosa was solid last year, playing especially well in the second half before he broke his wrist and missed the last five games. This year his 10-5—15 totals in 21 games leads the Warriors in goals, and his assist number hides his excellent playmaking ability.
But as Serino notes, players from Merrimack – which, in addition to the aforementioned individual awards, has never had a first-team All-Hockey East player – never seem to get credit.
Rosa doesn't help with self-promotion. He talks passionately about getting offense from good defense, the importance of forechecking, and the contributions of his teammates, especially linemate Brent Gough. He practically sounds ready to become a coach, although Serino expects him to find a career in the NHL. Rosa is also aware that a North Andover address doesn't have the same cache in Hockey East circles as one in Chestnut Hill, Orono or Durham.
Top Billing?
Could Marco Rosa become the first Merrimack Warrior to earn first-team all-conference honors? With the likes of Ben Eaves, Ryan Shannon and Tony Voce up front it's a tough group to crack – and that's just on BC. Throw in Steve Saviano and the surging Elias Godoy, who has to be considered a top candidate right now, and there probably isn't room for Rosa. The bet here is that a defenseman will be the first Warrior to be named to the first team – either Bryan Schmidt or Jeff Caron a year or two from now.
"The seniors are used to that and the coaches are used to that," Rosa said of the lack of recognition. "We don't want to accept it. Every year we try to make a name for ourselves. Merrimack is a good small school, and we have a good program. We have good people around it, and we want to show that. We just have to have a good year, and people will recognize it."
With wins in three of their last four games headed into Friday's meeting with Boston College, including an impressive 7-2 victory at New Hampshire, the Warriors appear to be hitting their stride. Serino was apprehensive about the team's long break after that game, but they turned in two very strong performances at Princeton before a 5-2 loss to Maine Tuesday night.
"To be honest with you there was (some nervousness about the break), because we played pretty inconsistent in the first half," Serino said. "We played some very good games and some very poor games. I thought we were turning the corner there at the end of the half, but when you are playing that well there's always concern about taking time off."
Key to the continued strong play, of course, is Rosa, who is sure to draw more attention if he keeps scoring and the team keeps winning.
"I think a lot is put on points, and like I explain to them, a lot is put on winning," Serino said. "I think now, after four years, Marco's starting to get some credit. I had four or five guys come up to me after the New Hampshire game and say, 'You know what, he can play for any first line in the country.' And he could."
SEEN AND HEARD IN HOCKEY EAST
Panic Button? – There's no simple answer for New Hampshire's slump, but there have been no shortage of theories. A Yale player told Roger Brown of the Portsmouth Herald that he thought the Wildcats relaxed against the Bulldogs. Mike Ayers hasn't been at his best, and the defense hasn't shown the same intensity as it did early in the season. And the biggest problem in the current 1-4-1 stretch, in which the Wildcats have scored 13 goals: a lack of offense.
"The top lines need to generate more scoring opportunities," head coach Dick Umile told Brown. "I don't think (the scoring chances) have been as numerous as we would like – and our power play has fallen off lately."
This weekend the Wildcats face a Providence team that put a touchdown on the board in UNH's last visit. The Friars also scored seven goals in their last game, a 7-1 win over Quinnipiac. Ayers will get a break Friday night in favor of sophomore Jeff Pietrasiak, with the senior presumably back in the nets Saturday night.
Beyond all the theories about their troubles, most around the UNH team – including coaches, players and even the Union Leader's Allen Lessels – are preaching patience above all.
"If we keep doing what we're doing, I think we'll be fine," Saviano told Lessels. "I honestly believe that. I really do. I honestly believe that with the guys we have giving 100 percent, there's no way we're going to not score goals.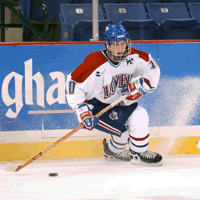 Elias Godoy stands second in scoring in Hockey East with 13-13—26.
All Grown Up – When I asked Blaise MacDonald before last weekend's two-game sweep of Massachusetts why he planned to take his team out to East Lansing this weekend, instead of playing a couple of easier Eastern games, he replied quickly: "It gives us another opportunity to grow."
But just like kids – and MacDonald's familiar with this analogy, since his wife gave birth to their third recently – sometimes hockey teams grow up before you know it. The twin shutouts of the Minutemen signaled that if the River Hawks aren't all grown up, they're at least ready to borrow the car. They enter the series in East Lansing in fourth place in Hockey East (6-3-1), one point behind Massachusetts with two games in hand.
Sophomore Elias Godoy, especially, has been terrific of late, with 4-4—8 in his last five games and 13-13—26 on the year. He stands second in Hockey East and seventh in the nation in points.
The River Hawks have benefited from a difficult schedule that has sent them to tournaments in Alaska, Buffalo and Wisconsin already. They're no strangers to airplanes, although that's not to say this weekend's trip will be routine. Travel adventures, like long flight delays, bus rides through blizzards, and missing plane tickets have plagued the team as if they were John Candy and Steve Martin, but they've gotten better for it.
"That's one of the reasons we put together the schedule that we did," MacDonald said. "It's a way to really challenge our young team, and let them grow over the course of the season."
In a Minute – It's been a wildly up-and-down season for Massachusetts, with a 9-2-1 start followed by an 0-4-4 stretch. Then, with that winless stretch and an 0-18-0 record at Walter Brown Arena, things turned around just like that – in a Minute, it seemed – with a 2-1 win against Boston University Wednesday night.
''If they kept playing us, sooner or later they were going to lose to us,'' Cahoon said. ''I'm really happy for our guys. It couldn't have come at a better time for our program given the struggles that we've been in.''
This week the breaks seemed to start heading back UMass's way. Consider:
• Stephen Werner returned from his impressive performance at the World Junior Championship and posted two assists despite travel-weary legs;
• It appears as though Chris Capraro, off the team recently for undisclosed reasons, will be back on the ice shortly; and
• Greg Mauldin, sidelined after suffering a concussion on a frightening play against UMass Lowell over the weekend, will get another week to rest before returning to action.
The suddenly rejuvenated Minutemen play an exhibition game Saturday and return to conference action with two games at Maine next weekend.
FRIES AT THE BOTTOM OF THE BAG
Great Weekend Getaway

Dartmouth vs. New Hampshire (Tues. in Manchester)
We skip ahead of the weekend for Tuesday's Granite State showdown. It's a matchup that captures the imagination of the state, although perhaps not as much as the Jan. 27 primary. Last year Mike Ayers and Dan Yacey dueled to a 1-1 tie; lately both teams have been giving up more goals than they would like, so some more offensive fireworks could be in order.

Stick Salutes

Hearty congratulations go to Patrick Eaves, Greg Moore and Stephen Werner for bringing home the gold medal with the U.S. National Junior Team. While much is made of this country's lack of appreciation for the event, hopefully these guys and their teammates know how much College Hockey Nation thanks them for their efforts.

Congrats to Maine's Michel Leveille, who scored his first goal – to go with 16 assists – Tuesday night at Merrimack. Leveille stands tied for 16th in Hockey East in points, but 154 players in the league scored goals before he did. While obviously he would have liked to have dented the twine sooner, if he has half the patience in life that he shows when the puck is on his stick, he'll be fine.

Bench Minor

It's outside the league, but since a Hockey East ref called a game between CCHA and WCHA teams last week, I'll claim jurisdiction: bench minor to Findlay's administration, for cutting the sport, crushing the hopes of two teams worth of college students, hurting the long-term health of college hockey, and doing so with a distinct lack of tact, according to head coach Pat Ford.
• Hockey East administrators and athletic directors deserve praise for their quick work with the Vermont situation. The decision – which most thought would drag until the Hockey East Tournament or the coaches meetings in April – was made remarkably quickly, especially since it came around the holidays. When I spoke with Joe Bertagna three weeks ago, the day Vermont submitted its letter of inquiry to the conference office, it was clear that he had no roadmap to follow for the process. Given that, he and the A.D.s covered ground with amazing speed.
• Do you think Northeastern cared whether they were playing the Boston College Eagles or the Toronto Maple Leafs Saturday night? Probably not, according to what Jason Guerriero said last week (in case you missed it). Guerriero and the Huskies were winless in conference play before handing the Eagles their first loss of the year.
Now Northeastern carries its best-in-the-nation five-game winning streak into Friday's game at Boston University. (Seriously, the next-to-last team in the nation to get a win now has the nation's longest winning streak. It's like something out of a bad sports movie.) The Terriers, meanwhile, are 0-3-1 in their last four Hockey East games, without a win in nearly two months (Nov. 15 vs. Merrimack).
• Boston University finally got the goal scoring part of its game right in Minnesota, playing two tremendously entertaining 5-5 ties. The big ice surface seemed to suit the Terriers, especially on the power play. But they got home and fell back into their offensive rut, with one goal, 23 shots, and an 0-for-5 power play against Massachusetts.
• Keep an eye on how Hockey East's World Junior Championship participants play when they return – some players come back with bolstered confidence, while others can be fatigued. Stephen Werner played well with two assists in his first game back for UMass; Patrick Eaves makes his return for BC against Merrimack Friday night, while Greg Moore and Maine face Sacred Heart on Saturday.
• Schneider Arena looked sharp on television Friday night for the Quinnipiac-Providence game – somehow it always seems brighter on TV than it does in person. The NESN cameras are back for Friday night's Friar game against UNH.
• Providence welcomes Merrimack, Union and Holy Cross to next season's Dunkin' Donuts Coffee Pot, according to Travis Barrett in the Woonsocket Call. Merrimack took the holidays off this year, but last season captured the title at the Rensselaer Holiday Tournament.
• We mentioned early on this year about how balance would be a key for the Friar attack. Now, as they head into a stretch of five key Hockey East games looking to improve upon their 2-5-2 conference record, they have six players within between 14 and 19 points atop their scoring chart.
• Ryan Shannon (and all of his teammates) were held scoreless in Boston College's shutout loss to Northeastern Saturday, snapping Shannon's 12-game point-scoring streak. He hadn't been held scoreless since the Eagles' previous loss, 1-0 to Notre Dame. Two of BC's three losses this season have come by shutout, while the third was the 6-4 third period implosion to start the fantastic series at North Daokta.
• Junior Scott Mifsud had two goals against Dartmouth, the second two-goal game in the last four outings by a Vermont player. Wait a minute ... I'm getting word that apparently Joe Gladziszewski will still be bringing you Vermont notes for the time being.
A variety of sources were utilized in the compilation of this report.