January 8, 2004
Rocket Man?
By Mike Eidelbes
The Western Hockey League's Kelowna Rockets acquired the rights to Michigan's Jeff Tambellini from the Spokane Chiefs Thursday in a trade deadline deal.
"It's really a flyer on our part," Rockets president and general manager Bruce Hamilton told me shortly after the deal had been completed. "We host the [Canadian Hockey League] Memorial Cup this year, so a guy knows if he's coming here he'll be playing until the end of May."

In order for Tambellini to be eligible to suit up for Kelowna this season, Hamilton says he can't play for Michigan after Jan. 10 (better known as Saturday). The Wolverines host Ohio State in a key CCHA series this weekend and Tambellini is expected to be in the lineup for Michigan both nights.

"The timeline is in his hands," Hamilton said, noting that Tambellini, who turns 20 in April, could play for the Rockets as an overager next season.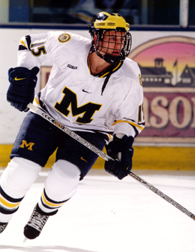 The WHL's Kelowna Rockets now own Jeff Tambellini's major junior rights after a trade-deadline maneuver.
Tambellini, a first-round pick of the Los Angeles Kings in last year's NHL Entry Draft, has scored nine goals and three assists in 16 games for the Wolverines this season after picking up a team-high 26 goals and 45 points in 2002-03. The Port Moody, B.C., native is back in Ann Arbor after spending more than three weeks with Canada's national junior team, where he recorded two goals and three assists at the World Junior Championships in Finland as Canada finished second to the United States.

Kelowna has had recent success in luring college players to the major junior ranks. Defenseman Duncan Keith left Michigan State to join the Rockets in December 2002, while former Boston College forward Chuck Kobasew jumped to Kelowna after winning an NCAA championship with the Eagles in 2001.

Michigan, meanwhile, is no stranger to losing players to the Canadian Hockey League dating back to 1999, when defenseman Mike Van Ryn bolted for the Ontario Hockey League's Sarnia Sting. This summer, blueliner Danny Richmond passed up his final three seasons of college eligibility to play for the OHL's London Knights.

SEEN AND HEARD IN THE CCHA

JUNIOR ACHIEVEMENT – No more than six weeks ago, Michigan State coach Rick Comley said his team's inconsistencies were partially due to uneven play from the large junior class. Outside of leading scorers Jim Slater and Mike Lalonde, none of the third-year players had lived up to expectations. And while it's too early to state Comley's problem is solved, there are signs that it could be quickly resolved.

The all-junior line of center Ash Goldie and wings Kevin Estrada and Brock Radunske has provided MSU with an offensive spark in the team's last four games, scoring a combined 18 points and recording more than a third of the Spartans' goals (eight of 21) since the holiday break.

"Things are going good right now," said Goldie, who snapped a nine-game goal drought with a pair of markers in a loss to Northern Michigan Saturday and narrowly missed a hat trick when a shot clanged off the crossbar. "We just click on and off the ice. It's a good thing."

Over the past four games, the three have taken turns in the spotlight starting with Radunske, who scored two goals and two assists in an opening-round win against Michigan Tech at the Great Lakes Invitational last month. Last Friday belonged to Estrada, as the Chilliwack, B.C., product – who had scored one point in his first 11 games – notched the first hat trick of his MSU career in a 7-2 rout of NMU with Goldie taking center stage in the series finale.

"I think Ash has played real well all year. He just hasn't scored," Comley said Saturday. "Kevin Estrada has come alive. When we get everybody back, we'll have three lines that can be productive."

Estrada's spike in productivity is particularly heartening. A third-round pick of the Carolina Hurricanes in the 2001 NHL Entry Draft, he led the British Columbia Hockey League in scoring in 2000-01 with 118 points in 59 regular season games. In his first two years at Michigan State, however, he managed just 11 goals and 11 assists.

"When we knew we were playing together, we just said, 'Let's go have fun out there' and we did," Estrada said. "Brock had that unbelievable weekend [at the GLI] and it's exciting to play with guys that…have a chemistry with you."

Estrada and Goldie have played on the same line frequently in the past, and Goldie and Radunske have been linemates on occasion. But the two wingers have rarely been paired together.

"Whenever Brock and I played together, we've actually done pretty well," Estrada said. "We did well last year at the GLI and different shifts here and there. Brock and I have that chemistry and where we know where we're going and he can find me. With Ash, it's been like that all the time."

Continued contributions from MSU's all-junior line – coupled with consistent scoring from Lalonde and Slater and sophomore forward David Booth's return from the World Junior Championships – will make the Spartans a harder team to defend. If nothing else, the Estrada-Goldie-Radunske line can provide the lift the team needs as it embarks on the remainder of its schedule.

"It gives you confidence when you do get a couple goals and it gets your team rolling," said Goldie. "That's the main thing…to get the team rolling."

OLVER! – While you may not have seen or heard much about him so far this season, Northern Michigan freshman forward Darin Olver has certainly generated a buzz amongst Upper Peninsula hockey fans and professional scouts.

The winger from Burnaby, B.C., leads the Wildcats with 16 points (eight goals, eight assists) in 18 games and Olver, who is eligible for this year's NHL Entry Draft, is a fast-rising prospect according to Red Line Report, an independent scouting newsletter.

"He has a gift you can't teach," NMU coach Walt Kyle said of the six-foot, 175-pound rookie. "He's got great speed, great vision and presence and poise with the puck. He's most successful when he competes hard on the puck…and he's really taken steps defensively."

Kyle and Olver's father, John – a former player at Michigan and current coach of the ECHL's Idaho Steelheads – are good friends. Still, the younger Olver had to earn Kyle's confidence…and did so quickly.

"He's just given me all the chances I've needed to succeed," Olver said of his coach. " Playing in the big situations – 5-on-4, 5-on-3, with the goalie pulled."

Crediting that confidence and his linemates – he's been on center Dirk Southern's unit most of the season – Olver has been the team's most consistent scoring threat. He burst out of the gate with two goals against Bowling Green in his first game and added a goal and three assists against Michigan Tech a week later. Olver has played in 16 of NMU's 18 games this season and has scored at least one point in 10 of them.

"Most of it is a result of my linemates getting me the puck," Olver said. "You don't score when you try to put points on the board. If you're playing every shift hard and forechecking hard, that's when the points will come."

Expect to see Olver's role expand during the second half of the season. He's proven he can score in the defensive-minded CCHA – seven of his eight goals have come in league player – and will have to maintain his productivity as the Wildcats jockey for playoff position.

"He's probably the one freshman in the league that is the go-to guy on his team," Kyle said. "That's a lot of responsibility and he's responded well and he's going to continue to grow in that role."
Great Weekend Getaway

Ohio State at Michigan (Fri.-Sat.): Coach Red Berenson regains the services of three World Junior Championships medal-winners including Al Montoya, who should be brimming with confidence after being named the tournament's top goaltender. Of course, no one would be surprised if Montoya experiences a post-WJC hangover, given his workload and travel schedule over the past two weeks. Ohio State goalie Mike Betz is fresh – he sat out Tuesday against Quinnipiac in favor of Dave Caruso. By playing the Bobcats this week, coach John Markell has just two days to prepare for the Wolverines and Yost Ice Arena, a place the Buckeyes haven't won in nearly five years.

While you're there: If you're a outdoors enthusiast or just a fan of capitalism run amok, make the short drive south on U.S. 23 to Dundee, Mich., and the Cabela's retail store, which offers the finest camouflage for both social and formal occasions anywhere in the United States. Seriously, the store boasts an overwhelming taxidermy display, an incredible aquarium featuring various species of fish and a free-standing, indoor rock formation complete with mountain streams stocked with monster rainbow trout.

Stick Salute

After getting the chance to see Northern Michigan for the first time this season, memories of Scott Beattie, Brad Werenka and Billy Pye came rushing back as the Wildcats skated out of the tunnel wearing their vintage white sweaters with "Wildcats" spelled out diagonally across the front and "NMU" tucked at the bottom right. In a nod to old school minimalism, the jerseys had no names on back. Then again, maybe it's just a ploy to spark program sales.

Bench Minor

Here's my beef with composite sticks – they break way too easy. At Saturday's Northern Michigan-Michigan State game, I saw the sticks of three players shatter for no apparent reason. For example, Wildcat defenseman Geoff Waugh tried to hold a puck in the MSU zone during a power play and his stick snapped right in the middle of the shaft. No other skater was within two strides. And at a Plattsburg State-Oswego State game last month, I watched the branch of an Oswego player fall apart in two on a breakaway before he had taken a shot. There's something to be said for a trusty Paul Coffey-model Sher-wood.
FRIES AT THE BOTTOM OF THE BAG

• Three departures from CCHA schools to report. In Omaha, coach Mike Kemp's young team got a little younger as senior goaltender Brian Haaland and senior forward Scotty Turner left the Mavericks for the professional ranks. Turner, who had 1-4—5 in 17 games this season, signed with the ECHL's Peoria Rivermen prior to Christmas. Haaland, meanwhile, earned his bachelor's degree last month and decided to sign with the Muskegon Fury of the United Hockey League. Haaland played in seven games for UNO this year and posted a 1-3-1 record, a 3.07 GAA and .899 save percentage.
Meanwhile, Michigan State sophomore forward Nenad Gajic has returned to his junior team, Alberni Valley in the British Columbia Junior Hockey League. Gajic, the brother of Michigan junior forward Milan Gajic, was held scoreless in four appearances this season.

• Mononucleosis rears its ugly head once again, this time knocking Michigan State freshman Tom Goebel to the sidelines for the time being. The time table for his return hasn't been set, but the freshman from Parma, Ohio – who ranks fourth among the nation's rookies in scoring with 19 points – isn't expected to return to the lineup until later in the month. Among the CCHA players who've been sidelined by mono in the past few years are Michigan State's Colton Fretter, Michigan's Andy Burnes and former Wolverine Mike Cammalleri.

• Changing gears to talk about guys who are back in the lineup, Alaska-Fairbanks welcomed co-captain Jared Sylvestre back into the fold for last weekend's series at Ferris State. The junior forward broke his ankle in the Nanooks' first game of the year against in-state rival Alaska Anchorage. Sylvestre picked up an assist in UAF's 4-0 win Saturday. The win, the Nanooks' first at Ewigleben Ice Arena, snapped FSU's eight-game unbeaten streak.

• Hockey isn't usually a game of buzzer beaters, which makes Tuesday's Ohio State-Quinnipiac contest at Value City Arena unique. Despite outshooting the Bobcats 50-14 – including a 24-6 disparity in the third period – the Buckeyes needed a goal from freshman Andrew Schembri with one second left in regulation to send Quinnipiac packing with a 1-0 loss.
"I looked up, saw the net and fired," Schembri said after the game. "I wanted to get as close as I could to the net and if it goes in, it goes in. It was lucky."

• Notre Dame senior forward Rob Globke scored the lone goal in his team's 1-0 win against Findlay Saturday for his fourth game-winning goal of the season and the 12th of his career. With his next game-winner, he'll pull into a tie atop the school's all-time list with Brian Urick and – surprise! – Dave Poulin.

• This week's Obscure Bowling Green Note of the Week – and it's not a pretty one – comes from last weekend's sweep at the hands of Minnesota-Duluth. The Falcons, who entered the series ranked third nationally in penalty killing, saw their PK success rate plummet from 89.4 percent to 85.0 percent after the Bulldogs converted on six of its 13 man-advantage opportunities.

A variety of sources were utilized in the compilation of this report

Send this to a friend
About Us | Advertiser Info | Site Map | Privacy Policy
© 2004 Inside College Hockey, Inc., All Rights Reserve