November 13, 2003
Wolverines Trying to Get Even
By Mike Eidelbes
With 39 goals in 10 games, Michigan leads the CCHA in scoring. No surprise there. And the Wolverines are converting at a 26 percent clip on the power play, also tops in the conference. Again, not a shock. So why is coach Red Berenson so concerned about his team's goal scoring at the season's quarter pole?

Of the Maize and Blue's 39 goals, just over half (20, to be exact) have been scored at even strength. Only Miami boasts a worse percentage of even-strength goals to total goals scored. Last weekend's split with Ferris State serves as a microcosm of Michigan's season – the Wolverines scored eight goals in two games, six coming with the man advantage.

"You can't keep playing as an even team five-on-five and expect to be above .500," Berenson explained. "It just doesn't work. We can't rely on our power play and our penalty killing every night to bail us out."

Take a quick scan of the CCHA scoring leaders and one can get a good idea of the issue facing the Wolverines (8-2-0 overall, 4-2-0 CCHA). Only one player – sophomore forward Jeff Tambellini – is among the league's top goal scorers. Five U-M skaters rank in the conference's top 10 in power-play tallies. Then there's junior Brandon Rogers. He's off to a great start, with a goal and eight assists...but hasn't scored an even-strength point thus far.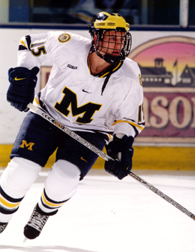 Forward Jeff Tambellini is one of the few Michigan skaters who've had success scoring in five-on-five situations.
Putting a finger on the root of the problem isn't easy. In trying to explain the Wolverines' relative lack of success at even strength, Berenson touched on factors such as confidence around the net, taking advantage of fortunate bounces and puck movement. The most pressing issue, however, is for players to take personal responsibility for making better plays with the puck.

"If you keep shooting the puck over the net, you're not going to score a goal," Berenson said. "It's shooting a goal rather than shooting to shoot when you do get your chances."

Berenson feels the team's efforts in its own end also presents cause for concern –"When you're cheating defensively, you come up short offensively," he stated – but added that he and his staff are doing their best to keep the players from squeezing their sticks too tight.

"We've got some guys who know they should have better numbers," Berenson said. "But we're not putting a ton of pressure on them."

SEEN AND HEARD IN THE CCHA

BEAR MARKET – It's been quite a week for the Alaska-Fairbanks hockey program.

First, the Nanooks swept visiting Western Michigan last weekend to improve to 5-5-0 overall, 4-2-0 in the CCHA and join Michigan in a fourth-place tie in the conference standings. Sophomore forward Kelly Czuy (pronouced "chewy") earned INCH National Player of the Week honors after scoring four goals and four assists in the series, including 2-3—5 in Friday's overtime win against the Broncos.

"Sometimes I'm just too busy gawking at him to do anything," UAF forward Cam Keith told Fairbanks Daily News-Miner writer Richard Larson following Saturday's game. "He's got the quickest hands, the hardest shot and he can skate. He's the total package."

The offense didn't dominate the headlines however. On Saturday, senior goaltender Preston McKay made 24 saves as UAF recorded its first shutout of a CCHA foe – a span of 234 games that started in 1995 – with a 4-0 blanking of WMU.

"With a couple minutes left in the third I started thinking about it," McKay admitted. "It's just human nature, especially when the team has never had a CCHA shutout before."

Perhaps the biggest news came Tuesday, when College Sports Television unveiled the remainder of its hockey broadcast schedule. Included on CSTV's docket is a foray to Fairbanks on Feb. 6, when the Nanooks welcome Michigan – and a legion of curious fans in their homes, no doubt – to the Carlson Center.

"It's a huge game," UAF coach Guy Gadowsky said. "It is always a big game when you play Michigan and add to the fact that it will be on national television. I think we'll put on a great show and fans nationally can see that we have the best...fans in college hockey."

There's a lot of hockey to be played between now and February, but the Nanooks can put themselves in position to play for a home-ice berth in the first round of the CCHA playoffs by capitalizing on a favorable near-term schedule. UAF has six games remaining prior to the Christmas holiday (a series at Miami, two games with struggling Nebraska-Omaha and two at Lake Superior State) and, on paper, should wrap up the first half of the season with no fewer than seven league wins. That's 14 points before the break in a league in which 29 points is usually good enough to earn home playoff games.

50-50 FRESHMAN – Steve Hartley and Brandon Crawford-West are freshmen at Miami University. They live in the same dormitory. They're both members of the RedHawks hockey team.

In fact, the pair receive equal playing time in coach Enrico Blasi's current goaltending rotation. And while Crawford-West and Hartley would like nothing better than to become full-time starters, they've adjusted to the system and become each other's biggest supporters.

"We're pretty much best friends...even though there's that competition going on," Crawford-West said following Wednesday's practice at Goggin Ice Arena. "When we're on the bench, we're hoping the best for the other guy and for the team."

Both Crawfowd-West and Hartley have been steady, if unspectacular, for the RedHawks (5-5-2 overall, 3-2-1 CCHA) so far. Hartley, a textbook butterfly goaltender who plays on Saturdays, is 2-4-1 with a 2.56 goals-against average and an 88.9 save percentage while Crawford-West, an acrobatic scrambler who makes Friday's starts, is 3-1-1 with a 2.76 GAA and an 89.1 save percentage.

While they split time on the ice, they've come together off it to become best friends. Both admit that having a fellow freshman goalie to lean on has been a blessing in many respects.

"We know how each other feels, so we can rant and rave to each other if something's going wrong," said Hartley, the son of Atlanta Thrashers' head coach Bob Hartley. "If everything is going good, we have a great time together."

"Those first couple weeks of intense practices, we were really good for each other," added Crawford-West, a 2002 Pittsburgh Penguins draft pick. "We were able to sit back at the end of the day after whatever we did – ice sessions, running stairs, bike rides – and say to each other, 'I'm exhausted. You're exhausted, too?'"

The pair share information on opponents and offer constructive criticism on a regular basis. They've also found that their nights off can be learning experiences, too.

"It's good to watch sometimes," Crawford-West said. "Just little stuff that you notice as a goalie that maybe no one else notices...things like [this team] tries to shoot low or on the power play they're holding up on shots."

For now, Crawford-West and Hartley have embraced the rotation and are saying the right things – "Lots of freshmen don't get to play 50-50," Hartley said – even though it's only natural for both to want to unseat the other guy and become the full-time starter.

"We both don't think 50 percent of the games is enough," Crawford-West said. "That's how any goalie would think. But it's not an issue right now."
Great Weekend Getaway

Michigan at Ohio State (Fri.-Sat.): Granted, it's still early in the season, but Michigan has one win in three road contests thus far. Three of Ohio State's seven wins, meanwhile, have come away from Value City Arena. Something's gotta give. The Buckeyes boast the CCHA's top penalty-killing unit in league play – they've allowed three goals in 35 shorthanded situations. The Wolverines, on the other hand, are scoring power play goals against conference foes at a 26 percent clip. OSU is a little better defensively, allowing 2.27 goals per game as compared to U-M's 3.0 goals per game. The Maize and Blue are scoring 3.9 goals a contest, while the Bucks are averaging 3.36 goals a game. Did we mention something's gotta give?

While you're there: A crowd of more than 105,000 is expected for Saturday's Purdue-Ohio State football game at Ohio Stadium, so odds are you're not going to find an affordable ticket. You can hang with the cast of ESPN's College GameDay – including former Buckeye quarterback Kirk Herbstreit – broadcasting live from outside the stadium prior to that morning. The fact that we're an ESPN affiliate had nothing to do with that plug.

Stick Salutes

• You've gotta walk before you run, so hats off to Bowling Green, in the midst of a four-game unbeaten streak (2-0-2), the Falcons' longest since March 2001. Coach Scott Paluch's troops have a prime opportunity to extend that stretch to six games with two games at Lake Superior State this weekend.

• Ohio State forward Dave Steckel has been one of the CCHA's most maligned players over the past three seasons and in some respects, the criticism was warranted. Still, the hulking forward is quietly off to a solid start with seven points in 11 games. He had 18 points in 36 contests last season.


Bench Minors

• Former Michigan standout Mike Comrie has rankled the ire of Edmonton Oilers' fans for his obstinance in the face of a contract dispute with his hometown club. Comrie fired the latest salvo Saturday during a feature on Hockey Night in Canada, telling a reporter that the Oilers' negotiating ploys are an insult. Dan Barnes of the Edmonton Journal offered a scathing – but accurate – assessment of Comrie's tactic earlier this week. It's a must-read.

• Providence removed the Skating Friar from the front of its sweaters a couple weeks ago. I'm just saying...
FRIES AT THE BOTTOM OF THE BAG
• Michigan will be without the services of steady defenseman Andy Burnes, who suffered a strange – and painful – injury during last weekend's series with Ferris State. A senior from Battle Creek, Mich., Burnes separated his shoulder. In most instances, the separation occurs on the outside of the shoulder near the joint, but in Burnes' case, the clavicle separated from the sternum in the middle of his chest. He's expected to miss six-to-eight weeks.

• The Spartans welcomed junior pivot Lee Falardeau back to the lineup last weekend. A second-round pick of the New York Rangers in the 2002 NHL Draft, Falardeau had missed seven of MSU's first eight games with a knee injury.

• Miami fans would be wise to show up for Saturday's game against Michigan State a little early in order to get a prime seat for festivities at Goggin Ice Arena honoring former Redskin standout Brian Savage. A forward who scored 109 points for the Red and White from 1990-93, the school is retiring Savage's number this weekend. The Sudbury, Ontario, native, who now plays for the National Hockey League's Phoenix Coyotes, helped the squad to its first CCHA regular-season championship and a berth in the NCAA Tournament in 1993. Savage earned CCHA Player of the Year honors and was a second team All-America selection and Hobey Baker Award finalist that same season.

• Brett Smith's overtime goal against Michigan Friday propelled goaltender Mike Brown to the top of Ferris State's career wins list. The 6-5 extra session triumph marked the 43rd victory in Brown's two-plus seasons with the Bulldogs. The previous record was held by Rob Hughston, who went 42-53-7 in 117 games from 1981-85. Brown topped Hughston's wins total in just 75 games.

• As reported in this space one week ago, both Lake Superior State and Nebraska-Omaha were looking to end dubious streaks at Qwest Center Omaha last weekend. And although Frank Anzalone and Mike Kemp probably aren't all that thrilled with a series split, we're happy to report that the Lakers got their first conference road win in nearly three years by posting a 4-1 win against UNO Saturday. The previous night, the Mavericks ended a school-record, 14-game winless streak with a 7-1 rout of Lake Superior State.

• Speaking of ending lengthy droughts, when Western Michigan's Jeff Campbell scored with goaltender Scott Foster pulled in favor of an additional skater late in the third period of Friday's overtime loss at Alaska-Fairbanks, it was the Broncos' first extra attacker goal in nearly eight years. WMU assistant coach Scott Brooks remembered the previous extra attacker tally well – he scored it on Jan. 26, 1996, against Colgate in a game the Broncos went on to win in overtime.

• Plus-minus numbers are often misleading. Still, it's interesting to note that Michigan State's top forward line of juniors Jim Slater and Mike Lalonde and freshman Tom Goebel own a combined plus-minus rating of +38 throught 10 games this season. The team's remaining 18 skaters are a combined +3 on the season.

• This week's obscure Bowling Green fact: The Hockey News has released a special "Best of Everything" issue available at newsstands across North America. Among those highlighted is Mike Emrick, selected by a panel of NHL beat writers as the best play-by-play announcer in the game today. Emrick, who is the television voice of the New Jersey Devils, earned a Ph.D. in Radio, Television and Film from Bowling Green in 1976, hence his on-air nickname, "Doc." Incidentally, his broadcast partner, former goaltender Glenn "Chico" Resch, played at Minnesota-Duluth before embarking on a lengthy NHL career.

A variety of sources were utilized in the compilation of this report