February 26, 2004
Is the Cup a Curse?
By Jess Myers
The MacNaughton Cup, which is 90 years old this season, is one serious piece of hardware. Weighing 40 pounds, the trophy sometimes takes as much effort to lift as it does to win. In fact, the effort required to hoist the big silver chalice seems to leave some WCHA title teams too tired to win many games afterwards.
That's one theory anyway. Crazy explanations are what one is reduced to in trying to explain how the last team to win the MacNaughton Cup outright and win the NCAA title in the same season was in 1991. And the Northern Michigan Wildcats, who accomplished that feat, haven't even been members of the WCHA for the past seven seasons.
So with that record out there, and with several scary good MacNaughton Cup-winning teams failing to even make the Frozen Four in recent years (North Dakota '99, Wisconsin '00, Denver '02 and Colorado College last season come to mind), does anyone want to win the Cup anymore?
Minnesota coach Don Lucia won three Cups at Colorado College, but failed to win the NCAA title. With the Gophers, he's failed to win the Cup in his five seasons, but has claimed two NCAA titles in that same span.
"You still definitely want to win the Cup, but you don't want to do it at all costs," said Lucia, acknowledging that the increased importance of the NCAA title has lessened the luster of winning the WCHA's regular season crown. "You're not going to rush a player back from an injury in the final two weeks of the season in hopes of winning the Cup. You're better off getting your guys healthy and putting yourself in a better position for the playoffs."
In his two decades at Wisconsin (during which he won two MacNaughton Cups and two NCAA titles), Jeff Sauer said the national title was always his team's focus, and the Cup was an added bonus if they got it.
"It's very difficult to win both trophies for whatever reason, and I never put a lot of focus on winning the MacNaughton Cup because of that," said Sauer. "It may be the most beautiful trophy in sports – even nicer than the Stanley Cup in some respects – and it's nice to have in your office, but the NCAA trophy looks better."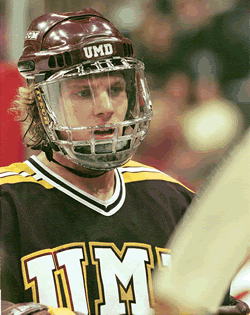 T.J. Caig and the Minnesota Duluth Bulldogs could clinch the MacNaughton Cup this weekend – assuming they want it.
Minnesota Duluth has a chance to clinch the MacNaughton Cup for the fourth time in school history this weekend, and the Bulldogs clearly have their sights set on a run deep into the NCAA playoffs. It was suggested to UMD sports information director Bob Nygaard that history says the Bulldogs would be better off finishing second if they want to make their first Frozen Four appearance since 1985.
"Forget that," said Nygaard. "We want to raise a banner."
So to whichever team wins the Cup this weekend or next weekend, we offer our congratulations, and this advice: don't expend too much energy and effort hoisting the big silver bowl. You're going to need that strength in March, and possibly in April.
SEEN AND HEARD IN THE WCHA
Four Years Later, a Promise to Fulfill – April of 2000 was a busy and glorious time for Minnesota Duluth coach Scott Sandelin. He had just accepted the Bulldogs' head coach position, then had returned to his post as the top assistant coach for North Dakota, and was prepping for the NCAA championship game versus Boston College, which would be his last game working for his alma mater.
At the time, the Bulldogs were a mess, having won just 14 WCHA games in the previous two seasons. Outside the Sioux locker room in the Providence Civic Center, after North Dakota's practice on the Friday afternoon before the title game, Sandelin talked about how hard it was to leave North Dakota after playing there for four years and coaching there for another six. Those emotional struggles were offset by the excitement of getting to run his own D-I college program for the first time.
Sandelin talked of the good-natured ribbing he'd endured from Sioux players, who threatened to treat his team harshly in the future when they faced the then-lowly Bulldogs.
"I told the guys that my first three years in Duluth, they'd probably win, but in my fourth year, when I've got all my own recruits, I'll take them," said Sandelin on that sunny Friday afternoon in Rhode Island.
In his fourth season at the helm of the UMD program, with all his own recruits on the roster, Sandelin is 0-3 versus his alma mater in three games played in Grand Forks, and he's 4-10-1 versus the Sioux since taking over in Duluth. But the Sioux visit the DECC this weekend, and a sweep by the Bulldogs would clinch the MacNaughton Cup.
One wonders if the coach remembers the promise he made.
Great Weekend Getaway

North Dakota at Minnesota Duluth (Fri.-Sat.)
It's fitting that these two teams end up battling for the WCHA title with two weeks to play, because they're alike in so many ways. The Sioux and Bulldogs have probably the most overall talent at forward of any two teams in the western half of the college hockey world, with Parise, Bochenski, Stafford, Murray, Genoway and Fylling on one side, and Lessard, Schwabe, Caig, Stauffacher, Stapleton and Brosz on the other. And both teams feature sizeable if not spectacular defense. The key difference may be found in goal, where the Sioux netminders have seemed a bit rattled in the past month, while UMD's Issac Reichmuth, who struggled in November and December, has been solid in 2004, and the key to the Bulldogs' school-record 14-game unbeaten streak. The MacNaughton Cup will be in the DECC this weekend. Whether anyone gets to hoist it on Saturday night will be determined on the ice.

While You're There: Take a walk along the creek in Chester Bowl Park. The oasis of nature is just a few blocks down the hill from the UMD campus in the heart of the east Duluth hillside. There's a small parking lot off Skyline Parkway (near the base of the ski jumps), and with a comfortable pair of boots, you can hike along the creek all the way down to Fourth Street, then cross the footbridge and come up the other side. Then in the bottom of the steep, wooded ravine, the trickle of the falling stream will make you feel like you're 100 miles from civilization, when it reality, one block away you can catch a city bus to the DECC.


Stick Salute

To Denver goaltender Adam Berkhoel. As the talented senior from suburban St. Paul heads into the final month or so of his college career, one thinks he's probably deserved a better fate this year. A rash of defensive injuries and inconsistent play in front of him have left Berkhoel hanging out to dry too many times this year, which is why the Pioneers look to be headed out on the road in the WCHA Tournament for the second season in a row. But when Berkhoel puts together a series like he did last weekend, stopping all but one of the 54 shots he faced in a win and tie at Michigan Tech, you suddenly remember that Wade Dubielewicz had some help in bringing the WCHA title to Denver two years ago.


Bench Minor

To St. Cloud State's forwards. The Huskies have overachieved this season, and are a good bet for their fifth consecutive NCAA invite, which is best among WCHA schools. But when you're fighting for playoff positions and you're desperate to grab third place in the league, scoring just one goal during a weekend trip to Wisconsin just ain't gonna cut it.
PUCKS TO PICK UP AFTER PRACTICE
• Alaska Anchorage coach John Hill is used to seeing Anchorage Daily News reporter Doyle Woody, and nobody else, after games at Sullivan Arena. So after last Friday's game at Minnesota, the media throng of five print reporters, three Internet reporters and a radio crew waiting for him in the bowels of Mariucci Arena was a little overwhelming Hill. "Wow," he exclaimed upon sighting the horde. "This is about a month's worth of media for me!"
• Minnesota freshman Kellen Briggs has started the last 17 consecutive games between the Gopher pipes, and some suggested that the rookie might be getting tired after the Gophers gave up 10 goals at Minnesota Duluth a few weeks ago. Asked about possible fatigue, Don Lucia said he's taken a lesson about handling goalies from a friend in Ann Arbor. "Michigan's played the same goalie for about the last 16 years, and they've done OK," said the coach. "One guy graduates and they stick another guy in net for four years, so there's no worry about fatigue."
• Nobody can accuse the hockey ticket-buying populace in southern Minnesota of being fair-weather fans. If anything, the folks filling the Midwest Wireless Civic Center this season could be more appropriately labeled foul weather fans. To wit, the Minnesota State, Mankato Mavericks are doing better at the box office this season, with a 3-9-4 home record, than last season, when they were 15-2-4 at home. With one home game left, crowds have averaged 3,911 this year (the best in school history) as opposed to 3,759 last season.
• The WCHA got its second female athletic director this week when former Colorado College women's basketball coach Julie Soriero was named to the top athletics job at CC. "I think Julie's addition as director of athletics is a real plus for the department and the school," said Tigers hockey coach Scott Owens. "Julie brings continuity and a true understanding of what CC and CC athletics are all about." Soriero becomes one of only 175 female athletics directors at the NCAA's 1,200 member colleges and universities, and joins Denver's Dr. M. Dianne Murphy among female athletic directors in the WCHA. Soriero was the school's acting athletic director during the key NCAA vote about D-III/D-I athletics this winter.

• After freshman Bryce Luker got the majority of the starts in goal for Michigan Tech earlier this season, Huskies coach Jamie Russell seems to have opted for experience in recent weeks. Junior Cam Ellsworth has started Tech's last seven games and has a respectable 3-3-1 mark to show for it.
• Bargain-hunting Badger backers may be in for a good deal if they come to St. Paul for the WCHA Final Five. The folks at the Minnesota Wild's official team store, the Hockey Lodge, seem to have ordered a few too many All-Star Game replica sweaters, and as of early this week there was still a pretty big pile of them for sale at the Xcel Energy Center. A replica Eastern Conference sweater with former Badger Brian Raflaski's name and number on the back could be had for just over $100. Heck, it's even red and white.
• Mavericks fans looking for a silver lining in this season filled with dark clouds should focus their attention on rookie defenseman Kyle Peto. Despite Minnesota State, Mankato's struggles this season (the Mavs are 2-10-2 in 2004, and are allowing more than six goals per game over that stretch), Peto's offensive numbers are best among WCHA defensemen. Peto is actually in his second year with the Mavs, but suffered a separated shoulder in the third game last season and sat the 2002-03 campaign out with a medical redshirt. To put a further damper on the Mavericks spirits, however, Peto won't be traveling to this weekend's games at Michigan Tech, according to the Mankato Free Press, due to a sprained ankle.
• Congratulations to Alaska Anchorage senior goaltender Chris King, who became a father recently. On Wednesday, February 11, Alayna Marie Elise King was born in Anchorage, causing Seawolves coach John Hill to switch his goalie rotation for one weekend. King, who normally starts on Fridays, got the Saturday home start versus Michigan Tech after the busiest week of his life. "It's kind of calmed down now, but things were pretty exciting for a while," said King, who gave up five first period goals in his initial start after becoming a father. "I'm not going to use that as an excuse, but maybe I wasn't as focused as I could've been."