February 26, 2004
Catamounts on the Prowl
By Joe Gladziszewski
For the first time all season, a scan of the ECAC standings shows the Vermont Catamounts in 11th place. It's an improvement, as you know, because UVM started its season with an 0-11-2 overall mark and lost its first seven conference games. Vermont's first win of the year didn't come until Dec. 20 (a 4-3 overtime win against Connecticut) and its first ECAC win followed on Jan. 10 against Dartmouth.
Not that Vermont was getting blown out in those early-season games, mind you. These were close games. Two-goal losses to Boston College, Harvard, Brown, and UMass were a part of the slump. Vermont's young team, which dresses just two seniors on a nightly basis, had to learn how to win. At the same time, there was a period of adjustment as Kevin Sneddon assumed the head coaching job following Mike Gilligan's retirement last summer.
Over the last two months, Vermont has put those lessons to good use. They've been a .500 hockey team (8-8-2) beginning with that win over UConn, and have rattled off four straight wins in the ECAC to climb over Princeton into 11th place.
Experience, confidence, and a winning attitude have all contributed to Vermont's recent surge.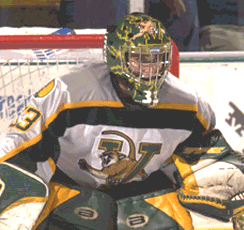 Travis Russell and the Catamounts are rolling along on a four-game winning streak. Photo by William DiLillo, University of Vermont
"We knew there was going to be a turning point. We were playing a lot of close games; we just didn't have a lot of confidence. We would get down by a goal and get down on ourselves a little bit," sophomore goaltender Travis Russell said.
"I think we're maturing. Having 11 losses in a row does that to you pretty quick."
Several individuals have stepped up their performance in recent weeks, but none more than Russell has. He was named INCH National Player of the Week following a stellar weekend in the North Country two weekends ago, and backed up that performance with a pair of wins against Yale and Princeton this past weekend. His stellar play and an all-around improved team defensive effort have Vermont riding high. The Catamounts are 5-2-1 over their last eight games and have allowed just 12 goals in that stretch.
"Defensively, I think we've improved greatly since the beginning of the season. During the Christmas break we stressed defensive zone coverage and that's been a big key for us. We're a young team defensively, and a young team overall," Russell said.
Vermont looks to carry its momentum on the road, where it faces Harvard and Brown, and continues preparation for the upcoming playoffs.
"This weekend should be a good test for us to play some of the top teams in the league. There's not a team in the league we're afraid of," Russell said. "We feel confident going into anyone's barn."
SEEN AND HEARD IN THE ECAC
Powerless – Brown's power play was a big reason why the Bears led the ECAC for most of the season. During a recent four-game winless streak, the Bears were 1-for-25 with the man advantage. Brown fell out of the league lead into second place behind Colgate.
Brown's power play conversion rate was one of the best in the nation, but a recent slump has seen the man-advantage success slip to third in the league. Freshman winger Brian Ihnacak has seen how important a good power play can be in the ECAC.
"We've got to get that passion back when we're on the power play. We weren't realizing how important that is, because five-on-five goals are hard to come by," he said.
Ihnacak has recorded 22 of his 28 points this year on the power play.
Brown's recent struggles have instilled a sense of urgency as the Bears close the regular season with home games against Dartmouth and Vermont this weekend.
"Every championship team goes through its ups and downs during a season, and right now we're in a stretch where we'll see how we respond. We've had a good week of practice, and we know what it takes to be successful. Friday's a big game," Ihnacak said.
Future Watch – The Hockey News recently released its annual Future Watch issue, which ranks the NHL's organizations and prospects (minor leaguers and draft properties). THN consulted with the head scouts from each of the 32 NHL teams and compiled a list of the top-75 overall prospects, and the top-10 prospects in each NHL organization.
The ECAC was well represented by current and former players. Four current players appeared in the rankings, and four former players appeared in the top-five in their respective organizations.
Leading the way was Dartmouth's Hugh Jessiman, ranked 42nd overall and No. 2 in the New York Rangers organization. Harvard defenseman Noah Welch was 63rd overall and No. 2 in Pittsburgh's system. Rensselaer goalie Nathan Marsters (No. 8 by Los Angeles) and Cornell's Shane Hynes (10th by Anaheim) rounded out the ECAC representation.
Among former ECAC players, Chris Higgins and David LeNeveu rated very well. Higgins, formerly of Yale, was 28th overall and third in Montreal's list. LeNeveu was Phoenix's top prospect and 62nd overall. Matt Murley (RPI) was fifth for Pittsburgh and Dominic Moore (Harvard) was fifth for the New York Rangers.
Great Weekend Getaway

Union at Yale (Fri.): Admit it, you knew all along that one of the big games on the ECAC's last regular-season weekend was going to be Union's trip to Yale. Well, maybe not, but it's shaping up to be a huge game for both teams. Should St. Lawrence and Clarkson stumble on the road at Colgate and Cornell, Union could pass both teams and earn the last home-ice playoff spot for next weekend's opening playoff round. It'll take a Friday win at Yale to keep those hopes alive for the Dutchmen.

While you're there: Visit the appropriately named "BAR" on Crown Street near campus, which caters to every crowd. The Front Room is a spot to hang out and play pool, the Bru Room features home-brewed beer, while the Back Room features dancing to DJs spinning the latest tunes.

Stick Salutes

Union senior Brent Booth grabbed the microphone during last Saturday's Senior Night festivities at Messa Rink and promised the Union fans in attendance that they'd be back in the building: "This is not the last game of the season here at Messa Rink. We're going to get it done on the road this weekend and come back home."

Bench Minor

Regular readers of this section of the ECAC Notebook know our stance on throwing things onto the ice. Kudos to Dartmouth College for attempting to put an end to the tennis ball tradition at Thompson Arena, yet some bozos decided to disobey the team's wishes. Following Dartmouth's game-tying goal on Friday night with 2:06 to play, a few tennis balls and a cup of soda were thrown onto the ice. The Big Green was forced to kill off a bench minor penalty, because of the ill-advised actions of a few so-called fans.
FRIES AT THE BOTTOM OF THE BAG
• Every team in the league (other than Colgate) can improve its position for the playoffs heading into the final weekend of the regular season. But travel partners Rensselaer and Union clearly have the most to gain this weekend on the road at Yale and Princeton. With some favorable results in other games around the league, fifth place RPI can grab a top-four spot and first round bye. Union, currently 10th, can leapfrog Clarkson and St. Lawrence into eighth, and get home ice for next weekend's opening round.
• The Detroit Free Press featured Dartmouth's Eric Przepiorka as its College Hockey Player of the Week in Wednesday's "The Puck" section. Przepiorka is a native of Grosse Pointe, Mich., and an Economics major at Dartmouth. In the article, Przepiorka weighs in on the academic rigors involved with playing at an Ivy League school, Dartmouth's nine ties, his favorite NHL player (hint: Grapes would be proud), and the most enjoyable road trip in the league.
• There may not be a better example of a heart-and-soul player in the ECAC than Harvard's Tyler Kolarik. His enthusiasm for the game is unmatched, and it shows on the ice and in media interviews. Kolarik was particularly disappointed with his line's defensive effort in a Beanpot consolation loss to Northeastern. At the time, he was on a line with Tim Pettit and Tom Cavanagh. Since that time, Kolarik's been moved on to a wing with freshmen Kevin Du and Steve Mandes, and seems to be a happier hockey player, as was detailed in The Harvard Crimson earlier this week.
Kolarik's old linemates are now joined by Ryan Maki. The emerging trio of Brendan Bernakevitch, Dennis Packard and Rob Fried gives the Crimson three stable and productive lines as the playoffs approach. The return to health of centerman Charlie Johnson is also good news in Cambridge.
• In Canton, lineup selection problems are the concern, as St. Lawrence's second-leading scorer, T.J. Trevelyan, suffered a concussion during the first period of last Saturday's game against Harvard and did not return to action. His status for this weekend is still up in the air.
• Time Warner Sports channel 26 in central and northern New York will televise both of this weekend's games from Lynah Rink. Friday's contest between St. Lawrence and Cornell will be shown on a 90-minute tape-delay basis, with the broadcast beginning at 8:30 p.m. Saturday's Clarkson-Cornell game will be on a two-hour delay. The broadcast starts at 9 p.m.
• Friday's game between fourth-place Dartmouth and second-place Brown will be broadcast in New England by Cox 3 TV, live at 7 p.m. from Brown's Meehan Auditorium.
A variety of sources were utilized in the compilation of this report.