February 26, 2004
Upset Special?
By Nate Ewell
It may not truly be an official designation, and it's certainly no reason to hang a banner, but there's no doubt who is this year's Lower Seeded Team Nobody Wants to Play in the Hockey East Tournament: Boston University.
I'm reminded of one reason whenever I look at the bulletin board that sits to the right of my desk. That's where I posted the Sean Fields flyer that arrived at the beginning of the year with Boston University's media guide.
Things may not have turned out the way Fields had hoped – the flyer bills him as an All-America and Hobey Baker candidate. But although he won't be one of the 10 finalists for the Hobey, there are four highly-ranked Hockey East teams that are hoping his name isn't announced during the visiting team's starting lineup in two weeks.
Here are four other reasons, in addition to Fields' talents, that nobody wants to play the Terriers in the first round:
• They've underachieved all year
This could be considered a reason you'd want to play BU, but potential opponents know this much: there's a reason the Terriers were the coaches' preseason pick to finish third in the conference. If they start to live up to that potential, as they did in Friday's 6-1 win over Massachusetts, they could definitely be dangerous.
• Lately, they've played better than their record
For most of the New Year, head coach Jack Parker has been consistent in his praise of the Terriers.
"The last 15 games or so, with one or two exceptions, we've played very well," he said. "We just haven't been getting the results that we would have liked. I like the way we've been playing. We've certainly kept our focus, our intensity, and our work ethic, and we're not feeling sorry for ourselves."
That doesn't sound like the coach of a team with five conference wins on the year.
• Once they start scoring goals, they may come in bunches
The search for goals on Babcock Street has seemed as long and frustrating as the Big Dig. OK, maybe not that long, but it's been a struggle all year to turn on the red light, and Parker knows, if anything in hockey is cyclical, it's goal scoring.
"I don't think there's any question we were spiraling down in terms of offense," Parker said. "Hopefully our guys can gain some confidence and start to spiral up a little bit."
Last weekend, with eight goals in two games, could spark something, especially on the power play. The Terriers had gone four games without a power-play goal before posting five-for-14 numbers last weekend.
• History is on their side
The Terriers know how to win in the playoffs, as evidenced by their surprising run to the Hockey East title game last year.
Meanwhile, the freshest image of this year might be BU's offensive ineptitude in the Beanpot final – a game they nearly won, by the way. But going back further, this is still the team of Drury, Grier, Sacco and Amonte. The familiar scarlet-and-white sweaters are the same, and it's still Parker on the bench. If mystique counts for anything in hockey, it's in the postseason.
SEEN AND HEARD IN HOCKEY EAST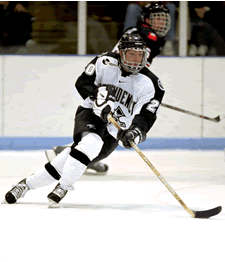 Peter Zingoni shares the Providence lead in scoring with 30 points in 30 games.
Learning Experience – Although they lost back-to-back games, the trip north to Orono proved to be an instructional journey for Paul Pooley and the Providence Friars.
"Until you play a team like this, you don't get it. Now we get it," Pooley told Travis Barrett of the Woonsocket Call. "We know what a top-three team in the country is like. It's BC and Maine, and we struggled with both of them because we couldn't keep the game simple enough."
A few weeks ago in this space, we pointed out that finishing in the top seven seemed almost as important as making the playoffs, to avoid a first-round series at Boston College. For the Friars, top six has to be the goal. While they've struggled against BC and Maine – going 0-6-0 against those teams, combined – they have shown that they can skate with Massachusetts and New Hampshire, the teams that figure to occupy the No. 3 and 4 spots.
The Friars currently stand in fifth, and in good position to hold that spot if they play well this weekend. They've got a home-and-home with Merrimack Friday and Saturday, which is one point behind them, followed by a single home game against UMass Lowell next weekend.
A strong power play has been key for the Friars' success. They stand second in the conference and sixth in the nation at 20.8 percent. Chris Chaput, Jonathan Goodwin, Stephen Wood and Torry Gadja all have four or more power-play goals, putting each of them among the top 20 in Hockey East.
Better than His Numbers – It's usually third- and fourth-line muckers and grinders who coaches urge you not to judge on statistics – not elite offensive defensemen.
But Boston College's J.D. Forrest has been much better than his numbers indicate, according to Jerry York.
"His points don't reflect how valuable he is to us offensively," York said. "He's an offensive and defensive defenseman – he does both. And bringing the puck out of our zone, making that first pass, he's been terrific. He's down numbers-wise, but he has contributed.
Forrest has missed games due to academic troubles this year – "he got lazy," York said – but is out of the woods now and playing his best hockey of the season. Supplanted by Andrew Alberts on the first power play earlier in the year, Forrest is back on the top unit now and carries a four-game point-scoring streak into this weekend's series with New Hampshire.
His totals through 27 games – 4-10—14 – are less than half his season numbers from last year (6-25—31 in 34 games), but as York said, that doesn't tell the whole story.
Future Watch – BU's Ryan Whitney and BC's Patrick Eaves lead an impressive collection of 10 current Hockey East players listed as top NHL prospects in the recent "Future Watch" issue of The Hockey News. Five of the nine Hockey East teams were represented in the rankings.
Whitney, rated 34th among all NHL prospects, was the No. 1 entry in the list of those players drafted by the Pittsburgh Penguins. Three spots behind him in the overall rankings and second in the Ottawa Senators organization was Eaves. Both were first-round NHL draft picks – Whitney in 2002 and Eaves in 2003.
Also noted in the organizational lists were: Stephen Werner of UMass (third for Washington), Mike Morris of Northeastern (sixth for San Jose), Andrew Alberts of BC (seventh for Boston), Jim Howard of Maine (eighth for Detroit), Greg Mauldin of UMass (eighth for Columbus), Greg Moore of Maine (10th for Calgary), Frantisek Skladany of BU (10th for Colorado) and Ben Eaves of BC (10th for Pittsburgh).
FRIES AT THE BOTTOM OF THE BAG
Great Weekend Getaway

New Hampshire vs. Boston College (in Chestnut Hill Fri., in Durham Sat.)
New Hampshire is 6-0-2 in its last eight meetings with Boston College, dating back to February of 2001, when BC was on its way to the national championship. What's more, UNH goaltender Mike Ayers has never lost to BC (4-0-2). Among that streak was a three-point UNH weekend to close out last season, keeping BC from winning the Hockey East title outright. The Wildcats were outplayed in the first meeting between these two teams this season, but came away with a 2-2 tie. Can they continue their good fortunes against the Eagles? Or can BC secure the conference crown all to themselves?

Stick Salute

The Hockey East office saluted 20 Special Friends earlier this week, a fantastic idea to help commemorate the league's 20th anniversary. Sift through the list for an instant reminder – it's the people that make this game so enthralling. And I'd bet it's the great people in the game that have kept these 20 Special Friends involved for so long.

Bench Minor

Except for some jockeying for position here and there, the last weekend of the regular season could easily become a yawner. Boston College could easily clinch the regular-season title this weekend (with any combination of four points gained or points lost by Maine), and BU could eliminate Northeastern from playoff contention. With home-ice locked up by the top four seeds last week, there may not be much drama to go around – which shifts attention to the ECAC rinks, where playoffs begin next week.
• Everybody, it seems, has Red Sox fever. In the Boston Herald last week, Boston College head coach Jerry York compared Ben Eaves' return to the addition of Curt Schilling to the Sox staff – a line, we happily noted, that first appeared in last week's INCH Power Rankings. Then UMass Lowell head coach Blaise MacDonald, in advance of his team's series with Maine, compared Jim Howard and Frank Doyle to Schilling and Pedro Martinez.
Hot stove indeed. I'm just glad Hockey East doesn't have any Grady Littles.
• The hottest player in Hockey East right now is New Hampshire's Preston Callander, who has averaged more than two points per game during his four-game goal-scoring streak (5-4—9). He had two goals and an assist in the Wildcats' impressive four-goal first period on Sunday, the same day Ray Duckler of the Concord Monitor wrote an article calling him "Mr. Clutch." Callander's impressive performance lately has helped soften the blow of Nathan Martz' injury, which has left Callander between freshman Jacob Micflikier and Brett Hemingway on the team's second line. Martz is still out of the lineup, so Callander will remain in that spot for UNH, at least for Friday night.
• Was that Northeastern's last gasp Sunday at New Hampshire? Bruce Crowder's club mounted an impressive comeback, but UNH had too much of a head start. Now the Huskies need a sweep this weekend to pull even with Boston University for the eighth and final playoff spot.
• New Hampshire has decided against narrowing the ice surface at the Whittemore Center, according to Allen Lessels in the Union Leader. Athletic director Marty Scarano and head coach Dick Umile had explored the possibility, but found it to be cost-prohibitive.
• Very sad news from Simcoe, Ontario, this week, where former UMass Lowell goaltender Dwayne Roloson's father, Albert, died at 72 of a stomach aneurysm. It comes in the same month that Roloson appeared in his first NHL All-Star Game.
"He was one of those guys that everybody loved. He'd do anything for anybody," Roloson told Brian Murphy of the Pioneer Press. "He made sure I got to the rink anytime I had to be, sometimes before dawn. He had a great influence on my life. He taught me how to work hard and to treat people properly."
• This may prove to be a very fortuitous weekend off for Massachusetts. The Minutemen are 0-4-1 in their last five and haven't scored more than two goals in any of those games. They went into their last week off, about a month ago, with a 2-5-4 record in their previous 11 games and promptly won three straight. With a 16-9-6 record overall, counting two forfeits against UMass Lowell, head coach Don Cahoon's team will probably need at least another trip to the FleetCenter to sneak into the NCAA Tournament picture.
• Merrimack sophomore Matt Johnson returned to the ice Friday for the first time since suffering a broken jaw in November that was initially expected to keep him out of the lineup for the season. He added an exclamation mark on his return with a goal, his first of the season and the second in a Merrimack flurry that produced a 4-0 Warrior lead midway through the second period against Northeastern. Eric Pedersen had his first goal of the year to start the scoring and Brent Gough had a goal and two assists.
• Two of the nation's three longest unbeaten streaks belong to Boston College (13 games) and Maine (8 games). Only Minnesota Duluth (14) has a longer stretch without a loss. The Bulldogs face a stiff challenge against North Dakota this weekend, meaning that if all goes well for the Eagles and Black Bears, they could have the nation's longest unbeaten streaks on the line when they meet next week.
A variety of sources were utilized in the compilation of this report.