February 26 , 2004
Little Big Man
MSU's Goebel brings top line to life
By Mike Eidelbes
Michigan State junior forwards Jim Slater and Mike Lalonde are among the CCHA's top offensive talents, as evidenced by Slater's conference-best 44 points and Lalonde's league-leading 19 goals. It's a freshman generously listed at 5-7, 161 pounds, however, keeping the Spartans' top line humming as the team jockeys for position in the CCHA standings and eyes a possible NCAA Tournament berth.
Tom Goebel's Jan. 23 return from a three-week bout with mononucleosis neatly coincides with a stretch that has seen MSU win seven of its last 10 games. More directly, he's boosted the fortunes of his linemates. In six games without Goebel, Lalonde and Slater combined for three goals and four assists. In the Spartans' last six games – five of them wins – the juniors have picked up seven goals and 12 assists between them.
"He makes a lot of plays for Mike and me," Slater said. "He's one of those guys who makes a play out of nothing."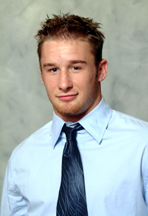 MSU freshman Tom Goebel has 27 points in 29 games.
Goebel was named CCHA Rookie of the Week after scoring five points in last weekend's sweep of Nebraska-Omaha in East Lansing. Not bad for someone who says he has yet to get back to top form.
"I still don't think I'm playing hockey the way I should be playing," said Goebel, a Parma, Ohio, native. "I'm a little disappointed in myself."
"At the start of the season, I had a lot more jump on the ice and could play physical and still put up a few points. I've felt a little run down, I've been playing sloppy and making stupid decisions with the puck."
Goebel is a little too critical of himself. He made a terrific play on the Spartans' second goal Saturday, just seconds into the second period. Slater won a battle for the puck along the wall in the MSU defensive end, carried it out of the neutral zone and passed it to Goebel, who was also near the wall. Slater drove to the net, pulling the UNO defenders with him and allowing Goebel set up on the half boards. Instead of forcing the puck to Slater, Goebel found the trailing Lalonde, who barreled into the slot and flipped a quick wrister over the shoulder of the UNO goalie.
"I've got great guys on my line," Goebel says. "They're both big guys and good in the corners which opens up a lot of ice for me. Mike's good at making the cross-ice pass and gives me a chance to beat the defenseman and get some speed."
Goebel says he's just getting back to normal, good news for the Spartans and not so good for their opponents. He adds that with linemates like Slater and Lalonde, one doesn't necessarily need to be at 100 percent in order to be productive.
"Even when I wasn't feeling good," Goebel admitted, "you still get tons of scoring opportunities just being on the ice with them."
SEEN AND HEARD IN THE CCHA
THE FUTURE IS...IN THE FUTURE – The Hockey News issued its annual Future Watch report earlier this month and the CCHA has a formidable presence among the top 50 prospects. Unfortunately for the conference's fans – and coaches, too – the bulk of those players are skating for dollars these days.
Four CCHA players are included in the top 50, and all left school early to pursue professional careers. Former Michigan State goaltender Ryan Miller is rated third overall while ex-Ohio State standout Ryan Kesler is 14th. Two former Michigan skaters round are also mentioned – Mike Komisarek is 20th and Mike Cammalleri is 44th.
Just two players who are currently in the league – Michigan State's Jim Slater (46th) and Michigan's Eric Nystrom (50th) – appear in the top 50. The WCHA, meanwhile, has three players in the top six with Minnesota's Thomas Vanek, Zach Parise of North Dakota and Wisconsin's Ryan Suter occupying spots four through six.
Moreover, Hockey East has two players – Boston University's Ryan Whitney and Patrick Eaves of Boston College – rated ahead of Slater. In the ECAC, Dartmouth's Hugh Jessiman, No. 42 on the THN list, appears ahead of Slater as well.
What does it all mean? First, it's clear that no other league has been hurt by early departures more than the CCHA. THN also rates each NHL team's top 10 prospects and in addition to the aforementioned four, other early departees featured prominently include former U-M defenseman Danny Richmond, ex-Michigan State rearguard Duncan Keith, UNO three-time letterwinner Dan Ellis and former Ohio State forward R.J. Umberger.
"It speaks a lot for what the CCHA is doing and the players [the coaches] are bringing in," Slater said. "There's still a lot of great talent and guys who can play at the next level."
True to Slater's word, the CCHA is bursting with young (read: yet-to-be drafted) talent. Check the Future Watch next year, and there is a strong possibility that Slater and Nystrom will be joined on the top 50 list by probable first-round draft picks Al Montoya of Michigan, Michigan State's David Booth and – if the NCAA's stance on the opt-in rule changes – Wes O'Neill of Notre Dame and MSU's A.J. Thelen.
Great Weekend Getaway

Michigan at Notre Dame (Fri.-Sat.): This series means much more to the Irish, battling for home ice in the first round of the CCHA playoffs and squarely on the NCAA Tournament bubble, than it does to the Wolverines. A sweep for Michigan, however, enables them to clinch the league's regular season title. Jeff Tambellini broke out of a prolonged scoring slump last weekend; if he's back on track, the Wolves are going to be that much tougher to beat from here on out.

While you're there: It's natural to assume that hockey is Canada's official national sport when it is, in fact, lacrosse. Some Canadians go as far to refer to hockey as the country's official winter sport and lacrosse as the official summer game. You can combine the two activities this weekend as Notre Dame hosts Penn State at the Loftus Sports Center Sunday at 1 p.m. in the season opener for the two teams. Keep an eye on Irish sophomore Patrick Walsh – the Inside Lacrosse pre-season All-American scored 52 points as a freshman.

Stick Salute

Kudos to CCHA.com for its "Masked Men" feature, which tells the stories behind the artwork found on the helmets of one goalie from each of the league's 12 teams and includes color photos of the masks from the front and the side. The best mask thus far? Give me BGSU goalie Jordan Sigalet's bucket. The artwork is fantastic and the story behind it is even better.

Bench Minor

Bobby Henderson's punishment for touching off the skirmish in the third period of Saturday's UNO-MSU game should have been much more severe than the mandatory one-game suspension he received along with his fighting major and game disqualification. Henderson's hit, while borne of frustration, was thoughtless, malicious and unwarranted. He should be benched for multiple games.
FRIES AT THE BOTTOM OF THE BAG

• Even though they won handily, Michigan State's 5-0 victory against Nebraska-Omaha could be a costly one for the Spartans. The Mavericks' Bobby Henderson drilled Drew Miller from behind shortly after the Spartans' Lee Falardeau had scored the team's fifth goal. The hit sparked a melee, during which two players from each team – Henderson and Dan Hacker from UNO, and MSU's Miller and Kevin Estrada – were given fighting majors and game disqualifications. Henderson and Hacker will miss Friday's game against visiting Alaska-Fairbanks. The Spartans, however, are off this weekend, so Estrada and Miller will sit out MSU's game against Michigan in East Lansing March 5.
• It was a tough weekend for UNO, but hockey fans in Omaha had something to smile about when former Maverick netminder Dan Ellis made his National Hockey League debut Feb. 18, backstopping Dallas to a 4-3 win over Los Angeles. Ellis, who bypassed his final year of college eligibility to sign with the Stars last summer, was returned to the team's AHL affiliate in Utah later in the week.
• We go from a guy who's just embarking on an NHL career to one who's being honored for his lengthy years of service: Notre Dame coach Dave Poulin will be enshrined in the Philadelphia Flyers Hall of Fame in a ceremony prior to the Flyers' game against Nashville March 3.
"It really came very unexpectedly," Poulin said earlier this week. "Every day…you just reminded yourself that you were sitting between Bobby Clarke and Darryl Sittler or Billy Barber was across the room, so you never had those kind of thoughts that this is where it would end up one day."
Poulin spent eight seasons with the Flyers (1982-90) and served as captain for six seasons. He won the Selke Trophy for best defensive forward in 1987 and earned the King Clancy Memorial Trophy for leadership and humanitarian contribution in 1993.
• Here's a sure sign you're doing something right, or the opposing goaltender is doing something really, really wrong. In its 5-2 win over Upper Peninsula rival Northern Michigan last Friday, Lake Superior State scored three first-period goals on six shots, then notched a pair of second period goals on five shots. For those of you scoring at home – or by yourself – that's five goals on 11 shots. I'm no Scotty Bowman, but my hunch is that if you score on 45.5 percent of your shots, you'll most likely win the game.
• Sports fans are fascinated by numbers starting with a figure between 1 and 9 followed by two or more zeroes, which leads into the Obscure Bowling Green Note of the Week. First, forward D'arcy McConvey needs two points to become the 67th player in school history to reach the 100-point plateau. He currently has 29-69—98 in 148 career games. Meanwhile, our old fave Jordan Sigalet is three saves shy of 1,000 for the season. In fact, with 48 saves in team's three remaining games – two vs. NMU this weekend and one at Western Michigan next week – Sigalet will surpass the number of stops he made in his first two seasons at BGSU combined.
The smart money says that Sigalet will reach his milestone sooner than McConvey. That is, unless the Falcons score on 45.5 percent of their shots.

A variety of sources were utilized in the compilation of this report.

Send this to a friend
About Us | Advertiser Info | Site Map | Privacy Policy
© 2004 Inside College Hockey, Inc., All Rights Reserved