February 26, 2004
Conference Call
By James Jahnke
With all due respect to College Hockey America and its Robert Morris-for-Findlay transaction earlier this winter, perhaps no conference's future is as cloudy as Atlantic Hockey's. Question marks hang over everything from scholarship limits to league enrollment to the new conference tournament format to its very existence.
So, with the college hockey offseason in the not-too-distant future, INCH asked AHA commissioner Bob DeGregorio, Jr., to clear up as many of these uncertainties as possible. And away we go...
1. The league's self-imposed limit of 11 scholarships – seven short of the NCAA max – will be up for debate at the league meetings in May.
Quinnipiac and Mercyhurst have been among the schools calling for an increase in grant money, while others, such as Holy Cross, don't award athletic scholarships and, thus, might be hampered by an increase for its competitors. DeGregorio said it will ultimately be up to the nine athletics directors to make a decision on the scholarship issue, and the earliest something could change would be for the 2005-06 season.
"Everybody's budget for '04-'05 will be set by the time we meet, so we can't fool with that," DeGregorio said. "At the end of the day, we just want to make sure we make the league better for the student-athletes."
2. As for conference enrollment, DeGregorio is confident the same nine teams will comprise Atlantic Hockey next year. Almost half the league has been rumored to be jumping to one conference or another, but DeGregorio doesn't see anything happening for a little while.
"Unless the people I've met with or talked to are hiding something, I don't think we'll see anyone leave for a couple of years," he said. "Of course, it's institutional preference. If, say, Holy Cross wants to go to the ECAC, and they're accepted, that's their right to make that decision."
Most national speculation about conference realignment has predicted that schools will leave Atlantic Hockey for greener pastures, like the Holy Cross example. But during his conversation with INCH, DeGregorio brought up the possibility of league expansion several times. He even said the new league member(s) would most likely already have a varsity hockey program (meaning a school already playing in the CHA, ECAC or Hockey East), as opposed to the conventional wisdom that an Atlantic Hockey expansion team would be a start-up like Robert Morris.
"If we lose one, we'll find one," DeGregorio said. "Hopefully, we won't lose one and we'll find one. I'd love to get to the number 10."
3. This year's Atlantic Hockey tournament will include every team and be played at a single site – Army's 2,746-seat Tate Rink. Officials believe the event will draw a significant audience, given strong fan base in West Point and the fact that friends and family of players from all nine schools will descend on one arena. And despite the fact that this is the league's inaugural postseason, DeGregorio doesn't foresee any snafus.
"I just hope that we send forward our best team to the NCAA tournament," he said.
4. Atlantic Hockey has six core Division I schools – everyone except Mercyhurst, Bentley and American International. Six is the minimum number for a conference to get an automatic bid to the NCAA tournament (the WCHA and CHA, which don't satisfy the criteria, were grandfathered in when this rule passed. But because Atlantic Hockey/MAAC was in compliance at the time, it wasn't). So, what if Holy Cross were to leave after this season? Or Quinnipiac? Or Connecticut? Would Atlantic Hockey lose its automatic bid?
Yes, unless proposed legislation to amend the NCAA rule passes. The Hockey Commissioners Association unanimously put forth such legislation earlier this year, and the organization believes the NCAA will accept it. The minimum of six DI schools – with the added mandate that they must have played together for at least two years – was devised primarily for multi-sport conferences, not single-sport leagues like in hockey.
"This legislation is something that's needed to protect the integrity of college hockey," DeGregorio said. "If Atlantic Hockey were to lose one of our six DI teams to another conference, we would still have eight teams here that have played together two years. Why should they be punished because somebody left? They've invested thousands of dollars in facilities, scholarships and travel to make hockey work.
"So far, we've gotten favorable response to everything."
SEEN AND HEARD IN THE LEAGUES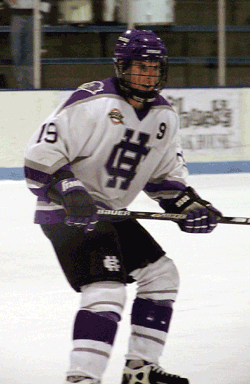 Greg Kealey and Holy Cross could wrap up the Atlantic Hockey title this weekend.
Holy Championship! – Holy Cross is close enough to taste the Atlantic Hockey regular-season championship, but coach Paul Pearl won't give a review of the meal until he's had time to digest it.
"It's a bit of coach-speak, but it's true," said Pearl, whose squad can clinch the outright title with a tie against Mercyhurst on Friday. "It would be a big mistake if we looked beyond the next game we're playing."
Do his players feel the same way?
"They've been told and told and told," Pearl chuckled. "Hopefully, it's getting through."
It's hard to believe the nonchalance toward the league title being displayed in Worcester, especially considering where the Holy Cross program has come from. The Crusaders went 16-46-5 from 1999-2001 and finished a game under .500 last year. But Pearl has maintained all along that the Crusaders aren't getting swept up in the conference chase this season.
After all, if they don't win the subsequent league tournament and the automatic NCAA bid it entails, the regular-season title won't mean much.
"We've been very consistent all year, without a lot of peaks or valleys," Pearl said. "I think that's a direct reflection of the eight seniors on our team. But all along, I've never thought we're an outstanding juggernaut or that the other teams in the league are bad. It's very even. We've just been consistently able to get our share of points."
One is the Happiest Number – Bemidji State is clinging to a one-point lead over Niagara in the CHA standings, but the Beavers could have just as easily fallen into a tie last weekend. They needed a dramatic empty-net goal by defenseman John Haider with 57 seconds remaining to eke out a 3-3 tie against visiting Alabama-Huntsville on Friday.
The Beavers put themselves in the precarious position by surrendering three straight goals to the Chargers in the third period. You could say they were a bit lucky to come back and grab the all-important point. Coach Tom Serratore did.
"The effort wasn't there," Serratore said. "We were fortunate. To give up a 2-0 lead in your own house, it's just disappointing. Give full credit to Huntsville. They dictated and played the style they wanted to play."
Great Weekend Getaway

Mercyhurst at Holy Cross (Fri.), Holy Cross at Quinnipiac (Sat.)
Holy Cross can wrap up the Atlantic Hockey regular-season championship with a single tie this weekend. But, perhaps fittingly, the Cross will have to do it against the two perennial league powerhouses. The Crusaders swept Mercyhurst on the road in the fall, but they lost their only previous contest against Quinnipiac this year. The second-place Lakers and fourth-place Bobcats are in the unfamiliar roles of chasing instead of being chased this season. Should they combine to sweep Holy Cross, and if the Lakers defeat Bentley on Saturday, Mercyhurst would still be alive heading into the final weekend of the season. But just barely.

While you're there: We couldn't think of any place better than a medieval armor repository to spend an afternoon before a late-season college hockey game. So, while you're in Worcester on Friday, swing by the Higgins Armory Museum. Look, but don't touch.

Stick Salute

Quinnipiac had been struggling of late, but the Bobcats mustered a tie against Connecticut on Saturday to retain undisputed possession of the Heroes Hat traveling trophy. Quinnipiac won the season series against the Huskies by a count of 1-0-2. The Bobcats have claimed the Heroes Hat, which honors those lost on Sept. 11, all three years of its existence. A nice feather in the cap and a worthy tribute, to be sure.

Bench Minor

Man, you've gotta feel bad for American International coach Gary Wright. The Yellow Jackets showed tremendous discipline in taking just one penalty against Quinnipiac on Friday, but the AIC penalty-killers still allowed a goal on that lone disadvantage. Now, that's really freakin' annoying. Overall, the Yellow Jackets have killed just 78.7 percent of opponents' power plays this year.
FRIES AT THE BOTTOM OF THE BAG
• Will you see UConn jump to Hockey East any time soon? Maybe, but don't hold your breath. "It's been kicked around a little bit (in the media)," Huskies head coach Bruce Marshall said. "We mirror some schools in that league, in that we're a land-grant university. But we're really just trying to work our way up in Atlantic Hockey. Nothing is imminent."
• Two streaks ended, while two continued, in Atlantic Hockey action last weekend. After an impressive win (and season sweep) by Sacred Heart at Mercyhurst on Friday, the red-hot Pioneers saw their winning streak end at seven games with a surprising loss at Canisius the next night. Those same Golden Griffins won both of their dates last weekend, halting their dubious eight-game winless streak in the process.
Meanwhile, UConn kept on rolling. With a win and a tie during the weekend and a draw with Sacred Heart on Tuesday, the Huskies are unbeaten in their last seven (5-0-2). Finally, UConn leading scorer Tim Olsen kept alive a personal streak: He has won three straight Atlantic Hockey Offensive Player of the Week awards. He might make it four, after tallying the game-tying goal with six seconds left in the third period Tuesday night. Olsen has 11 goals in his last eight games.
• Two prominent goalies were on the mend instead of in the crease last weekend. Grady Hunt missed Bemidji's series because of a stomach virus, while Bentley's Simon St. Pierre sat for the third straight weekend with a sore knee. School officials said St. Pierre is day-to-day, but the solid play of backup Geordan Murphy means he won't be rushed back. In St. Pierre's absence, Bentley senior Bill Bridge got some rare time Friday. The Billerica, Mass., product played the third period of a 4-1 loss to Canisius, marking his first game action in two seasons. He played nine games as a freshman and four as a sophomore, but hadn't appeared since then. He stopped all three shots he saw Friday.
• Senior blueliner Bryce Methven became the all-time leader for games played by a defenseman at Bemidji when he suited up for No. 133 on Friday. His school record is now 134 and growing.
• UAH moved its Saturday contest forward an hour – to 3:05 p.m. central time – to accommodate a postgame third-jersey promotion this weekend. The Chargers will wear special third jerseys for the game, and the sweaters will be sold to fans for $750 a pop afterward. The extra postgame time is needed for on-ice photo ops with the buying boosters. A silent auction for the remaining jerseys is also scheduled.
• Here's the good the bad and the ugly (in that order, in case you couldn't tell) from Wayne State: 1. The woeful Warriors are 3-0-3 in overtime games this year. 2. They failed to register a shot on goal in the first period of Saturday's 5-0 loss to Findlay. 3. Wayne State took its first lead since Jan. 10 (a.k.a. 586 minutes or 11 games) with the first goal of Sunday's 1-1 tie against the Oilers.
• Findlay sophomore Andrew Radzak scored in his first game this season – an upset of Michigan State in October. But he didn't tally again until going on a scoring bonanza last weekend. The Elmhurst, Ill., native netted a hat trick plus an assist Saturday, then assisted on Findlay's only marker Sunday. His three goals and five points on the weekend raised his season totals to 4-8—12. But Radzak is still way off the 15-9—24 pace he managed as a rookie last year.
• Findlay embarks on its final road trip of the regular season when it travels to Niagara this week. Let's hope the commute goes better than the Oilers' adventure to Bemidji last month. The team's original flight on the Thursday before the series was canceled because of a snowstorm. So half the team got on a different plane and flew to Minneapolis, where they spent the night. The other half spent Thursday night in Findlay before bussing to Detroit on Friday morning. They then flew from Detroit to Minneapolis to join the rest of their party.
From there, the Oilers bussed five hours north to Bemidji, where they were smoked 4-0 and 5-3 by the Beavers.
Coach Pat Ford was "really mad" at the outcomes and his team's effort until his mother talked some sense into him. "'How the heck can you be mad at them with what they went through?'" Ford remembers his mom asking. "And she was right. She really calmed me down."
• Ken Daneyko called his first game as a color analyst on YES when Holy Cross beat Army on Sunday. I didn't see it, but, by all accounts, the three-time Stanley Cup-winning defenseman did a fine job at the mic.