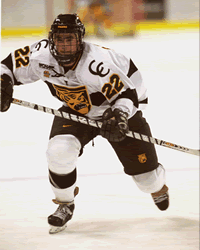 Marty Sertich
Colorado College
Statistics: 42 GP, 27-37—64
A year ago, the Colorado College Tigers watched the NCAA Regionals from the stands in their own rink, then saw their arch-rivals capture the national title. It was a painful way to end a trying 2003-04 season.
Talk about a reversal of fortune. This year, the Tigers have been one of the nation's best teams since the puck dropped. After claiming a share of the WCHA regular season title, they won the NCAA Midwest Regional on hostile ice and now have a chance to beat their arch-rivals in the national semifinals.
Leading every stride of the way has been junior center Marty Sertich, our 2004-05 Inside College Hockey Player of the Year.
Sertich has made the Tigers' season a resounding success on the ice despite facing challenges off it. His mother, Patty, is suffering from brain cancer.
Hockey and family have always been intertwined for Sertich. His younger brother, Mike, is also a Tiger forward. Their father, Steve, and grandfather, Tony Frasca, both played for CC. Frasca, a two-time All-American, was also the Tigers' coach from 1958-63. The municipal rink in Colorado Springs, Sertich Ice Center, is named after their paternal grandfather, Mark "Pa" Sertich. Their uncle, Mike, was a longtime coach at Minnesota Duluth and Michigan Tech.
Marty Sertich has developed a brother-like bond on the ice with wing Brett Sterling, the runner-up for our Player of the Year honors. Their games fit together perfectly – Sterling, the scorer, perfectly complements Sertich's style. Both are among the three finalists for the Hobey Baker Award.
"They are both very talented and unique players," said Colorado College coach Scott Owens. "They are only juniors. Marty has been able to do it with some adversity in his personal life. Brett has been a pure goal scorer."
Sertich's style may not be as easily defined as Sterling's role as the gritty goal scorer – Sertich is a playmaker, a hard worker, a penalty killer, and a scorer. It's a combination that has been magical for CC, erasing a lot of bad memories in Colorado Springs.
Runner-up: Brett Sterling, Colorado College