INCH UPDATE DESK
March 31, 2006
McKee Leaves Cornell for Anaheim

Add Dave McKee's name to the rapidly growing list of early departures for the NHL. TSN.ca is reporting that he has agreed to terms with the Anaheim Mighty Ducks on an entry-level contract.
McKee, a 2005 Hobey Baker finalist, was a junior at Cornell this season. A first-team All-America selection during his record-breaking sophomore season, his numbers slipped slightly this year, but he was still a sought-after free agent.
As a free agent signee, McKee will report to Anaheim for the remainder of the season, although it remains to be seen whether he will make his NHL debut.
March 31, 2006
UNH's Winnik to Sign with Phoenix

New Hampshire center Daniel Winnik, a ninth-round pick of the Phoenix Coyotes in 2004, will forgo his final season of college eligiblity and sign with the Coyotes, Inside College Hockey has learned.
Winnik recorded 41 points (15 goals, 26 assists) in 39 games as junior, tied for second on the Wildcats in points and tied for first in assists. He was a second-team All-Hockey East selection after finishing tied for fourth in conference scoring.
Linemate Brett Hemingway, a Colorado draft pick, led UNH in scoring and is also a potential offseason loss for a team that also loses defenseman Brian Yandle to graduation.
March 29, 2006
Potulny Leaves Minnesota for Philadelphia
Minnesota's Ryan Potulny has signed an entry-level contract with the Philadelphia Flyers of the NHL, forgoing his final season of college eligiblity. Potulny was a third-round pick of the Flyers in 2003.
"With the year that Ryan had, I can fully understand that he feels ready for the next level," Minnesota head coach Don Lucia said in a statement. "He has elevated his play in each year that he has been at the University of Minnesota. After scoring 38 goals this season, I think Ryan has proven that he is ready to take the next step in his hockey career. He has been a tremendous asset and ambassador for Gopher hockey, and we wish him nothing but the best as he embarks on his professional hockey career."
Potulny was a first-team All-WCHA honoree and a finalist for the Hobey Baker Memorial Award after posting career-high totals in points (63), goals (38) and assists (25). Potulny ranks first in the WCHA in points, points per game (1.54), goals, goals per game (0.93), and power-play goals (17), fifth in game-winning goals (4), sixth in power-play points (17-9--26), 11th in assists and 13th in assists per game (0.61). His points, goals, points per game average, goals per game average and power-play goals all rank first in the nation. He was a three-time WCHA Offensive Player of the Week this season and earned National Player of the Month honors for February.
March 27, 2006
UNO's Thomas Signs with Phoenix
Nebraska-Omaha's Bill Thomas has signed an entry-level contract with the Phoenix Coyotes of the NHL, forgoing his final two seasons of college eligiblity.
"We are very pleased with this free agent signing," said Coyotes general manager Mike Barnett. "Bill Thomas has been a dominant player for the past two seasons. Finding more scoring power is a priority in our organization. Consequently, we've had people watching him play many games over the last 12 months. Because of his free agent status, scouts were always abundant at his games. We feel fortunate that Bill is now in our fold."
"I'm real excited about the opportunity and hope everything works out well," said Thomas. "It was a tough decision to leave school. I will be forever grateful to the school and my coaches there. Once I made the decision to turn pro, the Coyotes were one of the teams that immediately showed a great deal of interest in me. I had a real good feeling in talking with everyone within the Coyotes organization and felt this was the right fit for me. And obviously the opportunity to play for Wayne Gretzky was a big factor in my decision. It will be a huge honor for me to play for the Phoenix Coyotes."
Thomas, who was a sophomore with the Mavericks this season, could play for the Coyotes as soon as this week. His Maverick season ended Friday with a 9-2 loss to Boston University in the NCAA Tournament. Thomas led Nebraska-Omaha in goals (27) and was second in points (50) in 41 games this season and was a first-team All-CCHA selection.
March 22, 2006
Rochester to Host Atlantic Hockey Tournament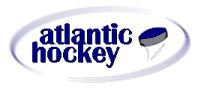 The Atlantic Hockey Association and SMG, owners of Blue Cross Arena in Rochester, N.Y., have reached an agreement to hold the league's playoff championship at the venue through 2010.
"Bringing Division I Atlantic Hockey to the Blue Cross Arena affords our schools the opportunity to experience a city that has a long-standing tradition of great support for hockey," Atlantic Hockey commissioner Robert DeGregorio said in a prepared statement.
Blue Cross Arena, which also serves as the home of the American Hockey League's Rochester Americans, holds 11,200 for hockey. The building will also host the 2007 NCAA Tournament East Regional.
Next year's AHA Tournament will mark the first time in the league's brief history that the event will be held at a neutral site.
March 22, 2006
BC's Collins Wins Walter Brown Award

Boston College senior forward Chris Collins has been named winner of the 2006 Walter Brown Award, presented annually by the Gridiron Club of Greater Boston to the best American-born college hockey player in New England.
The Fairport, N.Y. native, who enters this week's NCAA Tournament as the nation's third-leading scorer with 30 goals and 28 assists in 38 games, was previously honored as Hockey East player of the Year and is one of 10 finalists for the 2006 Hobey Baker Memorial Award.
Collins is the first Boston College player to win the award since Brian Gionta in 2001.
March 21, 2006
ECACHL's Bellmore's Status Uncertain

ECAC Hockey League Supervisor of Officals Butch Bellmore's status with the league is uncertain as the NCAA Tournament begins.
After sources told Inside College Hockey that Bellmore had resigned his position during the ECACHL's championship game on Saturday night, INCH contacted the league commissioner and Bellmore regarding Bellmore's employment status with the league.
Bellmore had no comment on the situation and directed questions toward the league office.
When asked if Bellmore was still an employee of the league, ECAC Hockey League commissioner Steve Hagwell did not give a yes or no answer, saying, "I spoke with him today." Hagwell said that he will be meeting Bellmore next week. Hagwell will be in Minneapolis this weekend for the Women's Frozen Four. St. Lawrence is participating in the tournament.
March 19, 2006
Carle Leaves Denver for San Jose
Just hours after Denver learned with certainty that it had not been invited to the 2006 NCAA Tournament, defenseman Matt Carle signed with the San Jose Sharks of the NHL. The Hobey Baker finalist and WCHA Player of the Year will forgo his senior season with the Pioneers.
Carle will not suit up for the Sharks Sunday against Colorado, but has been issued No. 25 with the club. His NHL debut could come as early as Tuesday at St. Louis.
"We are excited about Matt joining the San Jose Sharks," said Doug Wilson, the club's general manager. "His accomplishments over the past several years speak for themselves. He has made tremendous progress in the last few seasons and that is a testament to the program at DU and guidance and leadership provided by head coach George Gwozdecky and his staff. We are looking forward to taking his development to the next level."
Carle stands tied for fifth among all NCAA scorers with 53 points (11 goals, 41 assists) in 39 games and first in assists. Overall, he led all NCAA defensemen in goals (11), assists (42), points (53) and is second in points per game (1.36). Carle ranks first in the NCAA in assists per game (1.08) and is tied for 10th in points per game (1.36).
March 17, 2006
Rolston to Lead 2007 U.S. Juniors
Ron Rolston, a head coach of the U.S. National Team Development Program and former assistant in college hockey, will be the head coach of the 2007 U.S. National Junior Team, USA Hockey announced today.
"Ron is one of the bright young coaches in the United States," said Dave Ogrean, executive director of USA Hockey. "He's done an excellent job as a head coach in our National Team Development Program over the last two years and we know our National Junior Team will be in more than capable hands with Ron as head coach."
"It is exciting and humbling to be given the opportunity to lead any group of players representing our country on the international stage," said Rolston. "The stature of American hockey continues to rise and I look forward to the challenge of putting a staff and team together that will give us the best chance to win a gold medal at the World Junior Championship."
Rolston is in his second season with USA Hockey's NTDP and this season is serving as the head coach of the U.S. National Under-17 Team. His college experience includes stints as an assistant coach at Boston College, Harvard, Clarkson and Lake Superior State.
March 15, 2006
Backes Leaves Minnesota State Mankato
Minnesota State Mankato's best player, David Backes, won't be back in a Maverick sweater as a senior, as he signed Wednesday with the NHL's St. Louis Blues. He will close this season with the Blues' AHL affiliate, the Peoria Rivermen.
Selected by St. Louis in the second round (62nd overall) in the 2003 draft, Backes missed one game in his three-year collegiate career and posted 46-73—119 in 115 games. His career totals stand third in MSU scoring during the Division I era, with only Aaron Fox (MSU 1996-00) and Shane Joseph (1999-04) ranking ahead of him.
Backes led the Mavericks in scoring the past two years (he tied for MSU's 2005-06 scoring lead with 13 goals and 29 assists for 42 points). His 42 points were a career-high and the Blaine, Minn., native also led the Mavericks with a career-high 29 assists and 150 shots on goal this year. He ranked second on the team with seven power play goals and was third in goals (13) and game-winning goals (two). MSU's captain this past year, Backes was named MSU's 2004-05 MVP, was a member of the 2003-04 WCHA All-Rookie team and was a 2004-05 All-WCHA Third Team selection.
UPDATED: March 9, 2006
Foster Leaves Bowling Green

Alex Foster, who led Bowling Green in scoring as a sophomore, has decided to leave school and sign a professional contract.
Foster had 11 goals and 40 assists (51 points) in 38 games as a sophomore for the Falcons, whose season ended last weekend with two losses at Nebraska-Omaha. Foster, the son of former NHLer Dwight Foster, will sign a two-year contract with the Toronto Maple Leafs that will include the maximum signing bonus allowed under the NHL collective bargaining agreement, approximately $170,000.
"When I came to BG the situation I was put in allowed me to develop me into the player I am now," Foster said in a statement released by the school. "The coaching staff allowed me to play in all situations, five-on-five, penalty kill and power play. Bowling Green, the city and coaches were awesome. I would not have changed a thing my last two years."
"Alex has been a tremendous player for us the last two years," said BGSU head coach Scott Paluch. "He is a major loss to our program, but it is great to see Alex continue his dream. We wish him nothing but the best."
In two seasons the forward posted 82 points (19 goals, 63 assists) in just 72 games. He scored at least one point in 48 of 72 contests and had 25 multiple-point games in his career.
Foster's departure leaves his classmate, Jonathan Matsumoto, as Bowling Green's top returning scorer, provided that he returns for his junior season.
March 9, 2006
Rosters Announced For Frozen Four Skills Challenge
The NCAA announced the participants and alternates for the inaugural Frozen Four Skills Challenge. The event is scheduled for Friday, April 7 – the day before the NCAA championship game – at the Bradley Center in Milwaukee.
Men's and women's players will be divided into East and West teams and compete in a variety of events including puck control relay, fastest skater, hardest shot, rapid fire shooting and penalty shot.
The rosters and alternates for the Frozen Four Skills Challenge:
East men: Chris Collins (Boston College), Justin Cross (Niagara), Derek Damon (Maine), Matt Moulson (Cornell), Jaime Sifers (Vermont), T.J. Trevelyan (St. Lawrence), John Daigneau (Harvard), Brad Roberts (Army)
East women: Lindsay Hansen (New Hampshire), Allison Paiano (Colgate), Jennifer Raimondi (Harvard), Margaret Ramsay (Brown), Sam Shirley (Mercyhurst), Karen Thatcher (Providence), Marisa Hourihan (Northeastern), Sarah Love (Yale)
East alternates: Adam Dann (Bowdoin), Torry Gajda (Providence), Josh Gartner (Yale), Ben Kemp (Plattsburgh State), Andrew Martin (UMass Lowell), Keith MCWilliams (Rensselaer), Mike Ouellette (Dartmouth), Tony Quesada (Holy Cross), Bryan Schmidt (Merrimack), Kyle Wilson (Colgate), Kurt Wright (Robert Morris), Brian Yandle (New Hampshire), Caitlin Barnes (Vermont), Becky Irvine (Colgate), Dani Jo Lansing (Mercyhurst), Ashley Payton (Providence), Rosina Schiff (Rensselaer), Carrie Schroyer (Harvard)
West men: Marty Sertich (Colorado College), Adam Burish (Wisconsin), Colton Fretter (Michigan State), Gabe Gauthier (Denver), Brandon Kaleniecki (Michigan), James Shipley (Milwaukee School of Engineering), Dave Caruso (Ohio State), Adam Hanna (St. John's , Minn.)
West women: Nikki Burish (Wisconsin), (Sharon Cole), Devon Fingland (North Dakota), Jana Harrigan (Ohio State), Randie Jelinski (St. Cloud State), Kristy Oonincx (St. Cloud State), Meghan Horras (Wisconsin), Jill Luebke (Bemidji State)
West alternates: Nick Anderson (Michigan Tech), Andy Contois (Northern Michigan), Andy Cote (St. Norbert), Tom Gilbert (Wisconsin), Jon Horrell (Bowling Green), Nick Licari (Wisconsin), Tom Mueller (Ferris State), Marcus Reszka (St. Mary's, Minn.), Mike Walsh (Notre Dame), Brent Walton (Western Michigan), Anne Girtz, (North Dakota), Grace Hutchins (Wisconsin), Cyndy Kenyon (Wisconsin), Meghan Mutrie (North Dakota)
March 1, 2006
Ouellette Leads All-Ivy League Team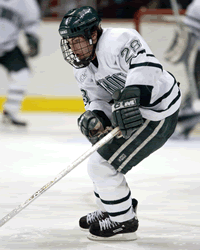 Captain Mike Ouellette was one of three Big Green players named first-team All-Ivy.
Dartmouth senior Mike Ouellette was named the Ivy League Player of the Year and was one of three Big Green players to be named first-team All-Ivy, the league announced today.
Ouellette was joined by teammates David Jones and Grant Lewis on the first team. Also honored were Harvard's Kevin Du and Dylan Reese, Cornell's Matt Moulson and Ryan O'Byrne and Princeton's Eric Leroux.
Yale forward Mike Karowski was named the Ivy League Rookie of the Year.
First Team
F: Kevin Du, Harvard
F: David Jones, Dartmouth
F: Matt Moulson, Cornell
F: Mike Ouellette, Dartmouth (unanimous)
D: Grant Lewis, Dartmouth
D: Ryan O'Byrne, Cornell
D: Dylan Reese, Harvard
G: Eric Leroux, Princeton
Second Team
F: Grant Goeckner-Zoeller, Princeton
F: Jeff Hristovski, Yale
D: Bill LeClerc, Yale
G: David McKee, Cornell
Honorable Mention
F: Byron Bitz, Cornell; Nick Johnson, Dartmouth; Jeff Prough, Brown; Joe Zappala, Yale
D: Brian Carthas, Princeton
G: Mike Devine, Dartmouth; John Daigneau, Harvard
INCH Update Desk Archives: February | January | December | November | October | September | August | July | June | May | April