February 16, 2005
Don't Blink in Atlantic Hockey
By James Jahnke
Atlantic Hockey/CHA Notebook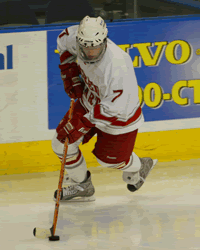 Garrett Larson stands second on the Pioneers in scoring.

If you went away for a long weekend, you might have missed it:
Sacred Heart in first place in Atlantic Hockey.
It lasted just a couple of days – from Saturday's win over American International until Holy Cross beat Connecticut on Tuesday night – but with five teams separated by five points at the top of the standings, two-and-a-half days in first place might be about average for the next couple of weeks. In fact, if you're reading this on Friday night, the league leader will probably change several times before you finish the last Fry.
Three of the five – first-place Holy Cross, fourth-place Quinnipiac and fifth-place Mercyhurst – are all fulfilling their expectations by battling for this season's AHA crown. They were supposed to be in this race in one way or another. Third-place Canisius is the most surprising school in the mix. Then there's Sacred Heart, kind of a cross between the perennial powers in Worcester, Hamden and Erie and the upstart squad in Buffalo.
The Pioneers were picked to finish second in the league in the preseason coaches' poll after advancing to the AHA tournament title game last year. But the best way to describe Sacred Heart during this campaign is "quiet." They don't grab headlines like Quinnipiac and Canisius (OK, so the Griffins' headlines aren't necessarily hockey-related. Whatever). And they don't have the championship pedigree of Mercyhurst and Holy Cross.
But if they beat the Crusaders on Friday in Milford, they'll be where all those other schools want to be – alone in first place.
"We haven't been one of the teams that has represented our league in the (NCAA) tournament, and we might be overlooked a little bit because of that," Pioneers head coach Shaun Hannah said. "But we're not worried about that kind of stuff. We have a calm group, a mature group that is just going to focus on our goals."
If one of the team's goals was to win a nonconference game this year, it failed. Sacred Heart's travails outside of the league (an 0-10-0 record with a 51-11 goal differential) have been well-documented. But rather than dwell on those shortcomings, Hannah praises his squad's ability to move on and succeed in league play.
"That's the number one characteristic of this hockey team, bouncing back from adversity," Hannah said. "We looked at our nonconference experience as just that. An experience. We were able to work on things, and, it didn't show up in the win column, but we did have success in improving our game to where we could compete better in those games."
That said, Sacred Heart's home stretch is as tough as anyone's in the league. The Pioneers host Holy Cross on Friday and American International on Saturday, then finish up with a home-and-home against Quinnipiac and a series at Mercyhurst. It's the kind of schedule Hannah says he likes heading into the one-and-done playoffs. But it will make it awfully difficult to grab and hold on to that hot-potato top spot in the Atlantic Hockey standings.
SEEN AND HEARD IN THE LEAGUES
Mulling it Over – Air Force is still deciding whether to accept Atlantic Hockey's conditional invitation to join the league starting in 2006-07. The AHA made the offer to the academy after a conference call of league athletic directors last Friday, but still hasn't received a response from the school.
The exact nature of the offer isn't known, but sources have confirmed that it includes stipulations of an unbalanced schedule – something along the lines of 10 home games and 17 road games – for the first three years of the deal. That is believed to be the major sticking point causing all of the uncertainty at Air Force.
Academy officials have refused to share their feelings on the proposal, citing ongoing administrative discussions. Atlantic Hockey officials say they're just waiting to hear back.
Better Apart – Niagara has clawed its way into third place in the CHA, partly because coach Dave Burkholder separated his team's two most dangerous offensive threats. Ryan Gale, who can thank playmaker Barret Ehgoetz for setting up more than a few of his 19 goals this year, was moved off Ehgoetz's line to create more balance during the Wayne State series last weekend.
The switch seemed to work, as Ehgoetz had a goal and an assist in a 2-2 tie on Saturday, and Gale set up one of new linemate Justin Cross' two markers in a 3-1 win Sunday. Cross had been on a 10-game goal-scoring drought coming into the game.
"We did it so teams can't key on the Ehgoetz line," Burkholder said. "We've been firing blanks on offense, often out-chancing teams with nothing to show for it. Hopefully, this will springboard us."
FRIES AT THE BOTTOM OF THE BAG
Great Weekend Getaway

Lovely Connecticut
Holy Cross at Sacred Heart (Fri.), Canisius at Quinnipiac (Fri.-Sat.)
With the top four teams in the ultra-tight Atlantic Hockey standings facing off against each other this weekend, Connecticut is the place to be. First-place Holy Cross and second-place Sacred Heart meet in the rubber match of their season series Friday in Milford. Obviously, the winner will have a major advantage if home ice in the league tournament comes down to tiebreakers. Meanwhile, third-place Canisius and fourth-place Quinnipiac will play a pair in Northford. The teams tied in their previous meeting. Just four points separate these four teams, and Mercyhurst is lurking just one point behind Quinnipiac with a winnable home series against Connecticut on this weekend's docket.

While you're there: You had might as well make it a real Tour de Constitution State and hit up something at UConn on Saturday afternoon. Our best bets? Women's hockey against New Hampshire or women's basketball against Syracuse. Both games start at 2 p.m., leaving you plenty of time to get to Northford for the main event.


Stick Salute

INCH is on the Tim Madsen bandwagon. The Niagara freshman forward from Elk River, Minn., embodies all that is great about college hockey: speed, feistiness, creativity, the desire to finish checks. At 5-feet-8, 170 pounds, he won't have NHL scouts drooling, but coach Dave Burkholder is going to love penciling him into the lineup for three more years. He's the kind of player who makes things go.


Bench Minor

Army is in danger of having to go on the road for the AHA tournament's play-in game because of a damning inability to finish. Before being shut out Saturday by Mercyhurst, the Black Knights had held third-period leads in each of their previous four games – and lost all four. Two were in overtime. Brad Roberts was the goalie in each contest, and all four times, he allowed the game-tying or game-winning goals with less than five minutes left in regulation.

• The last time Air Force won at Alabama-Huntsville (Feb. 25, 1989), Falcons sophomore Theo Zacour was barely 3 years old. On Saturday, Zacour helped end the academy's 14-game losing streak at UAH with a goal and an assist in a surprising 3-2 victory. Zacour, freshly back from a semester-long academy suspension, a groin strain and a game misconduct penalty, has added some zip to the Falcons' forward corps.
Saturday's win was a big one not only because it got the Alabama-size monkey off Air Force's back, but also because it lifted the Falcons out of a tie with Robert Morris at the bottom of the CHA standings. On the other hand, it took some of the luster off of this weekend's series between UAH and Bemidji State in Minnesota. The first-place Beavers now have a five-point lead over the second-place Chargers with just a few weeks to go. UAH does have two games in hand on BSU, but if it doesn't get at least a split this weekend, it will be tough to catch Bemidji for the regular-season championship.
• Robert Morris' leading scorer, Jace Buzek, is still cradling his arm in a sling as he recovers from a fractured collarbone. He might not be back in the lineup until the CHA tournament. In other Colonial news, goalie Jamie Flury got his first start since late November on Friday and nearly stole a win. He made 40 saves in a 2-1 overtime loss to Bemidji State. Christian Boucher, who had started the previous 14 games for RMU, was back in net Saturday.
• Atlantic Hockey attracted 4,055 fans to its doubleheader at the FleetCenter last weekend – a couple thousand fewer than what officials had hoped. Nonetheless, the league hopes to stage a similar event next season, with Army likely to join Holy Cross, Bentley and Connecticut on the docket.
• The Quinnipiac at American International game that was bumped by the FleetCenter event has been rescheduled for 8:30 p.m. Feb. 23 at the Olympia Ice Center in West Springfield, Mass.
• In the wake of Aaron Clarke's dismissal from the team and several nagging injuries, Niagara is so thin up front that it played two defensemen – Brian Hartman and Jason Jones – at forward Sunday against Wayne State.
• Two individual performances stood out from Mercyhurst's sweep of Army last weekend. Lakers sophomore Scott Champagne assisted on seven consecutive Mercyhurst goals – the final four of a 5-4 OT win Friday and the first three of a 4-0 victory Saturday. The outburst put Champagne (8-17—25) within a point of the team scoring lead held by David Wrigley (12-14—26), who scored on four of Champagne's assists and added two helpers of his own last weekend.
• Two of the most dangerous lines in the CHA were stymied last weekend, but the teams' results still weren't that bad. Bemidji State managed to sweep Robert Morris despite not getting a single point from the Luke Erickson-Andrew Murray-Brendan Cook line all weekend. It was the first time the trio had been blanked for an entire series this season. Before the RMU series, the Beavers were 0-2-1 when the EMC line didn't score. Down in Huntsville, UAH's top line of Jared Ross, Craig Bushey and Bruce Mulherin was held to one Bushey goal on each night of the team's split against Air Force. Ross had just one assist, but, in his defense, he sat out Friday's game because of a suspension for spearing. Meanwhile, it was Mulherin's first weekend without a point all season.
• Despite going 1-1, Quinnipiac goalie Jamie Holden had a rough go last weekend. In the first period against AIC on Friday, he allowed more goals (2) than he had saves (1). Still, the Bobcats came back for a 6-3 win. On Saturday, he allowed a season-high five goals in a damaging loss to Holy Cross.
• Wayne State had a true "bye" this week. The Warriors haven't practiced since before last weekend's Niagara series, because the team needs to mend some injuries, coach Bill Wilkinson said. Most notable of those ailing are senior captain John Grubb (knee) and junior defenseman A.J. Bozoian (leg). Grubb is the lone senior on the Warriors' roster. Though not practicing, WSU did manage to cross one thing off its to-do list this week – retaking the team picture.