February 17, 2005
Great Expectations
By Joe Gladziszewski
ECACHL Notebook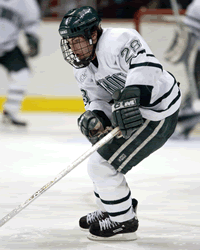 Mike Ouellette and Dartmouth travel to Princeton and Yale this weekend.

It's easy to make broad sweeping statements during the early part of the fall before a puck has been dropped or a fight song has been played. Back then, when the weather made golf more likely than a school cancellation, a lot of people were calling Dartmouth the best team in the ECAC Hockey League.
The Big Green was picked to finish first in the league by writers, and second in the league by coaches.
It's not so easy to say that Dartmouth is the best team in the league in mid-February. There are standings and national rankings that everyone can see. Looking at those, you find out that the Big Green might not even get a first-round playoff bye. So why is it that two league coaches recently told me that Dartmouth is the best team in the ECACHL? Are they nuts? Or are they correct?
"We had a lot of pre-season hype about us but never lived up to it until the last month or so. We're starting to put it together and it's given us a ton of confidence," junior centerman Mike Ouellette said.
Maybe those coaches are right. Looking at Dartmouth over the last 10 games, you'll find a team with an 8-2-0 record. The two losses came at Cornell, and at Harvard where the game-winning goal was scored with 58 seconds left. The Big Green is averaging 4.5 goals per game in that stretch and allowing just 2.5 goals per game.
Of course, this discussion isn't fair without mentioning Cornell's 9-0-1 record in the last 10, including that victory over Dartmouth. But Dartmouth beat the Big Red earlier in the season.
Junior defenseman Garret Overlock, a stalwart on the Big Green blueline and the reigning ECACHL Player of the Week, doesn't feel the need to categorize one team or another as the best, but he's happy with how things are going right now.
"We feel very good about how we're playing but to say that we're the best team might be a bit of a stretch. We're hitting our stride right now but there are so many other good teams in the league," Overlock said.
Dartmouth's fourth-place standing is largely due to some early season struggles. There were losses to Princeton and Clarkson early on. Throughout the year, coach Bob Gaudet has steadfastly stated how much he likes the chemistry and attitude of this team and it's paying off now. The team is mixing its talent with hard work, which is a tough combination to beat.
"We're playing our best when we keep the plays simple. We can't get too far ahead of ourselves. We've got to take things one play, one shift at a time, and win with hard work," Overlock said.
The key to the Big Green turnaround was pretty simple, according to Ouellette. They eliminated the big mistake in a game, and capitalized on chances. It's got the Big Green poised for a run at the ECACHL title and berth in the NCAA Tournament.
"Anything short of going to Albany is a disappointment, and anything short of making the NCAA Tournament is a disappointment," Ouellette said.
Those venues will truly determine if Dartmouth is the best team in the ECACHL.
SEEN AND HEARD IN THE ECACHL

From the League Office: An update on some of the things that are being talked about and acted upon by the ECACHL:
CSTV has already committed to broadcast the ECACHL championship game on March 19. There has been some active discussion between ECACHL Interim Commissioner Steve Hagwell and CSTV about showing the semifinals, and it appears those discussions have paid off. A check of CSTV's programming schedule for March 18 shows that they'll have a live broadcast of the second semifinal. More exposure can only help the league, and it appears that the afternoon programming for CSTV on March 18 could be freed up to also show the early semifinal. Hagwell did say that the league would consider changing the starting times for the games to accommodate television.
Hagwell's one-year appointment as Interim Commissioner expires on June 30, and it's up to the league's board of directors and executive committee including Wayne Dean of Yale, Tom Bold of Brown, and Margie Strait of St. Lawrence to determine whether or not his contract will be extended. Those decisions will likely take place after the season.

Freakout! Follow Up: Rensselaer's magical run in the Big Red Freakout! continued and Kirk MacDonald became the latest hero. He scored the game-winning goal with 8.3 seconds left in front of a sold-out Houston Field House crowd that had been on its feet for the last 90 seconds of regulation. His goal gave RPI a 3-2 win over Brown and gave the Engineers an 11-0-4 record in the last 15 Freakout! games. That's a record to rival BU's 9-for-11 run of Beanpot titles.
Earlier in the third period, RPI coach Dan Fridgen shuffled his lines to get MacDonald playing with wingers Jonathan Ornelas and Kevin Broad. Oren Eizenman moved up to center the team's top line with Kevin Croxton and Nick Economakos. The Eizenman group matched up against Brown's top line and held it scoreless. The MacDonald unit accounted for the game-winning goal. Nice job coach.
Great Weekend Getaway

St. Lawrence at Brown (Fri.)
Clarkson at Brown (Sat.)

Once again, the travel-partner schedule system gives us a great weekend set. The Saints and Golden Knights, currently tied for seventh place, visit Meehan Auditorium, and the sixth place Brown Bears. The host Bears hold a three-point lead over the Saints and Knights, with a game in hand. But the North Country visitors have a chance to pick up ground in Brown's barn.

Stick Salute

For this outsider, the aura surrounding the Beanpot has been a mystery. Not being from Boston, or having attended one of the participating universities, the Beanpot didn't seem that special to me. I still don't know that I'm awed by the atmosphere and history, but this past week's trip was a positive experience due to seeing two great games.

Bench Minor

Affordability is a major topic surrounding the NHL lockout situation. It's downright expensive to go to NHL games, and you tend to forget about that when college hockey games occupy your winter nights. I'll admit to experiencing a bit of sticker shock when forking over $22 a night to park at the FleetCenter for the Beanpot. Some of the street-level parking lots were charging $26 or more.
FRIES AT THE BOTTOM OF THE BAG

• Kudos to St. Lawrence head coach Joe Marsh. It's easy to see why he's one of the best-liked and most-respected coaches in the nation. After his team lost 6-2 to Dartmouth on Friday, Marsh visited the Dartmouth dressing room and was the first to congratulate Big Green coach Bob Gaudet on Gaudet's 200th career coaching victory, a gesture that meant a lot to Gaudet.
• Harvard alums Tim Pettit and Dennis Packard were in attendance to watch the Crimson compete in Monday's Beanpot third-place game against Boston College.
• Clarkson extended its winning streak to four games with a win over Vermont, before falling to Dartmouth. Golden Knights goaltender Dustin Traylen let in a soft shot from long range just eight seconds into the Vermont game, but held steady the rest of the way.
• All reports are that video evidence clearly showed that Vermont's Torrey Mitchell was in the crease and tangled with Traylen as Jeff Corey scored what would have been the game-tying goal with 14 seconds left. The disallowed goal and referee John Murphy's tardy arrival to the game were the main points of Vermont coach Kevin Sneddon's post-game commentary for which he later apologized and suspended himself for Saturday's 4-1 win over St. Lawrence.
• Kevin Sneddon wasn't the only ECACHL coach missing from the bench last weekend, as Cornell's Mike Schafer missed all of Friday's win over Princeton and the third period of Saturday's game against Yale due to the flu.
• Cornell scored five goals in each win, and each night there were five different goal scorers.
• INCH sponsor SportDesigns.com, longtime producer of great Hockey East merchandise, now has a merchandise relationship with the ECAC Hockey League. Currently, ECACHL apparel is available through the league's official Web site. In the near future, SportDesigns.com will be producing merchandise for the member schools.
• Brown's Brian McNary was the ECACHL Rookie of the Week and Steve Silverthorn of Colgate was the Goaltender of the Week.
• Princeton defenseman Luc Paquin continues to rack up the points. He leads all ECACHL defensemen in scoring and trails only teammate Dustin Sproat among all scorers.
• Union and Rensselaer make their last road trip of the season this weekend with games at Colgate and Cornell.

A variety of sources were utilized in the compilation of this report.
Other Notebooks: Atlantic Hockey/CHA Notebook | CCHA Notebook | Hockey East Notebook | WCHA Notebook