February 17, 2005
Fresh Thinking
By Nate Ewell
Hockey East Notebook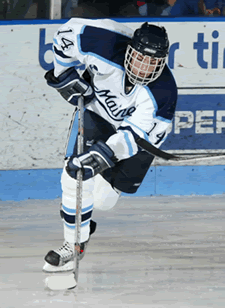 Billy Ryan had the first two-goal game of his career skating with two other freshman at UNH. (Photo by Michael York, University of Maine Athletics)

The thought of three freshmen on the ice at one time – unless it's after practice, picking up pucks – can be enough to send any coach reaching for his bottle of Tums. That's one reason the Maine coaching staff was pleasantly surprised while reviewing the play of their all-freshman forward line two weeks ago at New Hampshire.
"(Assistant coach) Grant Standbrook came down from the press box in the second intermission and said, 'I think Billy Ryan is our most reliable forward in the defensive zone,' " head coach Tim Whitehead said after the Black Bears' win that night at UNH. "That's a statement that never could have been made in the first half of the season."
The defensive prowess of Ryan and his two classmates and linemates, Keenan Hopson and Rob Bellamy, was one reason to get excited about Maine's new freshman line. The fact that the rookies were on the ice for all three Maine goals in that win over the Wildcats was a bonus, as far as Whitehead was concerned.
Still, success for all-freshmen lines isn't unheard of. Beyond the Maine example, BU found success early this year with Chris Bourque, Boomer Ewing and Pete MacArthur skating together (Brian McConnell has since supplanted MacArthur on the line). And last year, Providence had great success down the stretch with Bill McCreary, Colin McDonald and Tony Zancanaro skating together.
Maine's experience with Bellamy, Hopson and Ryan is telling in terms of how all-freshmen lines can develop. Hopson and Ryan, in particular, came to school with reputations as offensively gifted players, but their commitment to defense was lacking, especially by Maine standards. The coaches worked closely to emphasize positioning and tenacity away from the puck.
"Those are big steps for a player who is offensively gifted," said Whitehead, whose team visits Providence for two games this weekend. "(Ryan) is a great guy to work with because he doesn't fight you. We had very similar issues with Keenan, who is a gifted offensive player who has worked very hard to improve."
The coaches went so far as to sit Hopson down for the series prior to the trip to UNH, hoping the freshman would pick up his intensity level. He responded, and earned playing time not only with Ryan and Bellamy, but also in four-on-four situations and at the point on the power play.
"I wasn't angry at anyone but myself (for not playing)," Hopson said after assisting on one of Ryan's two goals at UNH. "The coaches wanted me to get more involved with the game, and control the game a little more."
The result is a combination that throws a bit of everything at an opponent.
"We were fired up all week," Ryan said. "We knew we were going to be a good line. Keenan and I have the opportunity to do our thing offensively, and Rob just runs around and hits everything he sees."
Whitehead still had some concerns before sending the group out there for the first time, especially on the hostile Whittemore Center ice against rival New Hampshire.
"We talked about (our concerns) a lot," he said. "We debated it, and in the end it was just a gut feeling. There's good chemistry there among the freshman class. It's a chance we decided to take, and you have to take some chances to win."
In the end, it paid off with a win, and Whitehead never had to reach for the antacid.
"I really wasn't very worried when they were out there," Whitehead said. "That kind of surprised me."
SEEN AND HEARD IN HOCKEY EAST
High-Flying Wildcats – How balanced is New Hampshire's offense? The 20 goals the Wildcats have scored in the last three games shows it pretty clearly, but in case that's not enough, here's another tidbit:
UNH has seven players with 25 or more points on the year. The rest of Hockey East combined has only 11, and three teams have none.
It's a remarkable note, and shows the reasoning behind Preston Callander's answer when I asked the senior captain to identify an unsung star among his teammates.
"You can't really single anyone out," he said. "We can roll four lines, and on any given night, each one of them can score. It's kind of tough to pick out a specific player."
FRIES AT THE BOTTOM OF THE BAG
Great Weekend Getaway

Boston College vs. UMass Lowell (at BC Fri., at Lowell Sat.)
UMass Lowell's hopes for home ice are slim at best, but these games could end up even more important for Boston College. New Hampshire's surge to the top of Hockey East jeopardizes BC's chances of a third straight regular-season title. Compounding matters for the Eagles are not only their injuries, but also their schedule. This starts six straight games against ranked teams (UMass Lowell, New Hampshire, Maine) to close out the season.

Stick Salute

BU's ongoing dominance in the Beanpot gets plenty of well-deserved attention. It's easy to dismiss as something annual, like Groundhog Day, but unlike the animal's shadow, you can't shrug off its significance.

Bench Minor

We raised a stick to Sports Illustrated earlier this year, so we don't mind sending the mag to the penalty box now. It's certainly deserved after this week's issue cited five Hobey Baker Award candidates, but not one from East of Ohio. Patrick Eaves, anyone?
• There are still three weeks left in the regular season, but all four home-ice spots could conceivably be wrapped up this weekend. All eight playoff spots could be secured as well, but don't worry – there will still be some intrigue after this weekend because both of those things can't happen. The latter would require Providence sweeping Maine to eliminate Merrimack from playoff contention, while the former would require Maine to sweep Providence (plus points lost by UMass Lowell and Northeastern).
• Northeastern's gritty performance in the Beanpot – a microcosm of much of the Huskies' season, really – left the players hoping for another opportunity to play at the Fleet.
"Obviously that's our goal right now," said senior center Jason Guerriero, who may have earned enough attention this week to shed his most underrated player in Hockey East tag. "It's in guys' minds that we lost the Beanpot but tomorrow's another day and that's what we're here for. It's the college game and we have a lot more to do. We play (BU) two more times so I don't think they got away that easy."
• As Lowell and Northeastern jockey for team-nobody-wants-to-play status entering the Hockey East playoffs, it's quite the opposite in Amherst. Massachusetts has secured a spot in the postseason, but after their 8-1 and 6-1 losses to UNH last weekend, the Minutemen have only one win in Hockey East since Dec. 3, and none all year against a team in the top four.
• If Merrimack misses the playoffs – and the Warriors are five points behind Providence after Wednesday's loss to New Hampshire – it would be the first time since 1995-96 that they missed the postseason. Merrimack has one league victory and three points in the standings through 20 games and is in danger of setting the league marks in those categories. Several teams have finished the year with just three wins, while the 1989-90 Merrimack team had the fewest points (six).
The Warriors are at Northeastern Friday before meeting Providence twice next weekend.
• Dick Umile earned hearty congratulations for passing his former coach, Charlie Holt, on UNH's career wins list, but he deflected the praise with trademark class.
"It's an honor to be associated with him," said Umile. "He was a great coach. He was a well-respected coach. I don't look at it as breaking coach Holt's record. Just to be associated with him is what's special."
• Umile has given freshman Kevin Regan four straight starts in goal, all wins for UNH. Regan has won his last six starts in all, and is 11-1-0 on the year.
• UMass Lowell's John Yaros came back from a broken collarbone – an injury more than a few hockey players have called the most painful in their careers – to post a shutout in his first start back, 2-0 over Providence. Yaros, who figures to back up freshman Peter Vetri the rest of the way for the River Hawks, made 26 saves in the game.
• In a little more than a calendar year since last Valentine's Day, New Hampshire sophomore Jacob Micflikier has 44 points in 42 games, including 6-4—10 in his last three outings.
• Jamie Carroll, the former Iona forward who has been one of the few bright spots for Providence this season, saw his six-game point streak end Sunday in the Friars' shutout loss to UMass Lowell.
• Providence has further evidence not to mess with the Skating Friar: "The Friars are 0-3-0 in their three games wearing their gray third jerseys with the large 'P' on the front," wrote Travis Barrett in the Woonsocket Call after Sunday's loss, "and they've been outscored 10-2 in those three games."
A variety of sources were utilized in the compilation of this report. Special thanks to Joe Gladziszewski.
Other Notebooks: Atlantic Hockey/CHA Notebook | CCHA Notebook | ECACHL Notebook | WCHA Notebook