February 17, 2005
Instant Replay is Under Review
By Jess Myers
WCHA Notebook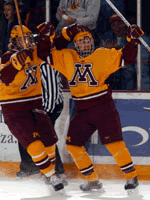 Instant replay might have cost Gino Guyer a chance to celebrate last weekend.

If WCHA officials get their way next season, each game's on-ice officials will have the same viewing advantage as the thousands who watch games on TV. They'll get to see instant replay. Perhaps the most interesting bit of news to come out of this week's news conference announcing the upcoming College Hockey Breakaway Weekend came when WCHA commissioner Bruce McLeod revealed that his league is planning to ask the NCAA to allow video goal reviews in all 10 of the league's rinks next year.
This season, the league has been allowed to have video replay available to on-ice officials in two rinks, Colorado Springs World Arena and Magness Arena in Denver. Just in those two sites, there have already been some interesting calls made with the aid of the video review. Most notable is the overtime-winning goal officials granted to Denver, after reviewing a shot on goal that had crossed the goal line, a few weeks ago in a game with Alaska Anchorage.
Last weekend in their Friday night game at Minnesota, the Seawolves were seemingly punished by the lack of video review at Mariucci Arena, when TV replays showed that a Gopher goal credited to Gino Guyer had been directed into the net by a deft turn of Guyer's skate. The goal turned out to be inconsequential in the Seawolves' 3-2 victory.
While many coaches and league officials favor video review as a way to hopefully ensure that goals are called correctly, it's not an inexpensive technology. McLeod told reporters tuning in to the conference call that the league expects the necessary equipment to cost $20,000 per arena. Original league estimates had it costing $14,000 per arena to install the replay systems league-wide, but upgrades like digitizing the video added to the cost.
The WCHA will use the existing NHL system installed at the Xcel Energy Center in St. Paul to employ video review at its upcoming Final Five tournament.
SEEN AND HEARD IN THE WCHA

Not Bad, for a Starter: Alaska Anchorage goaltender John DeCaro admits he felt a little uneasy on the first 10 shots or so that he faced last Friday at Minnesota. But he seemed to handle the next 47 shots just fine.
DeCaro accompanied his teammates to Minnesota having not started in nearly three months and having hardly played at all in that time. But when it became clear before the series opener that regular goalie Nathan Lawson would be unavailable due to a pulled groin muscle, DeCaro got the call to fill the gap between the pipes. Sixty minutes and nearly as many saves later, DeCaro was the owner of a WCHA win and a school record for most saves in a game.
DeCaro stopped 57 of the 59 shots he faced in the Seawolves' 3-2 victory – their first win at Mariucci Arena since 1999. Things got particularly hectic for DeCaro in the third period, with the Seawolves clinging to a 3-1 lead and doing next to nothing offensively. The visitors had just three shots on goal in the final 20 minutes, while the Gophers had 19. DeCaro said that while his body was ready to play throughout, his head took more time to get into the action.
"It was hard mentally to get into it, having not played in three months, but once I got into a groove it went great," he said. "This was my biggest game. Nothing even comes close. Especially in a big building like this full of fans. It was nice to quiet them down and take two points."
DeCaro, who transferred to Alaska Anchorage after playing 14 games over two seasons at Ferris State, said the record-setting night was made even more special via the miracle of satellite TV. He got a call from his parents, watching at home in suburban Seattle, congratulating him on the win and the record shortly after the game ended. Asked if he realized that he's stopped nearly 60 shots, DeCaro was surprised, with the Gophers reputation for offense, that the shot total was so low.
"It felt like more," he said. "I hadn't played for a while so it took me about a period to get set. And in that third period everything was coming from everywhere, but our defense played really well tonight."
By contrast, DeCaro had a quiet night in the second game of the series, finishing with just 51 saves in a 5-5 tie.
Great Weekend Getaway

Colorado College at Wisconsin (Fri.-Sat.)
The MacNaughton Cup round-robin continues this weekend at the Kohl Center as two huge crowds of red-clad roughnecks await the Tigers. With Denver taking three points from Wisconsin last weekend, and with the Pioneers holding two games in hand on the Tigers, this weekend's series looks like it's for second place. We'll be bold and say that a split this weekend in Madison means that you can just as well ship the Cup to Magness Arena and polish it up nice and shiny-like. A bonus story line involves Sports Illustrated naming CC's Marty Sertich and Brett Sterling on its five-man list of Hobey candidates this week. A bad weekend by one or both of them, and there may be something to this "SI jinx" idea.

While You're There: Some say that after a hard weekend of watching hockey, the perfect way to unwind is by watching curling. You can find out if that's true this Saturday as the Madison Curling Club hosts its Olympic trials. Madison has already sent two women's rinks to past Olympics, and the winning men's and women's teams from this event will advance to the 2005 World Curling Championships and have a shot at the 2006 Winter Games in Torino, Italy. Tickets are just $5 at the door of the Madison Curling Club, located at 4802 Marsh Road in McFarland.

Stick Salute

For the fourth season in a row, the Denver Pioneers find themselves at the top of a national poll. Congrats to coach George Gwozdecky, first for re-tooling the defense-crazy Pioneers that won the NCAA title last season into an offensive juggernaut this time around, and second for rallying the team from a mediocre start to a 16-1-2 mark it its last 19 games. That WCHA coach of the year trophy should look good next to the 2004 NCAA trophy and the MacNaughton Cup in Gwozdecky's office.

Bench Minor

Yes, we're partial to the college version of the game, and yes, the NHL usually only really gets good during the Stanley Cup playoffs. With that said, what happened this week, as pro hockey became the first league ever to lose an entire season to a labor impasse, is an international disgrace. One can't help but think of the scores of young American kids who are looking to choose a sport to try this year, and will pick basketball, or baseball, or lacrosse, or Australian rules football because there's no pro hockey being shown on national TV to draw their attention. A generation of potential stars may be lost because of greed and bull-headedness on the part of labor leaders and owners. Shame on both your houses.
PUCKS TO PICK UP AFTER PRACTICE

• Minnesota Duluth goaltender Issac Reichmuth returns to the scene of one of his best collegiate outings this weekend when the Bulldogs visit Denver. Last January Reichmuth turned aside all 32 Pioneers shots in a 1-0 shutout. While the Bulldogs have not recorded a home shutout since 1998, Reichmuth's whitewash is one of six shutouts they've recorded away from the DECC since then.
• In both of his team's games last weekend, Minnesota coach Don Lucia watched his team fall behind 2-0. It's a marked change from early in the season, when the Gophers were the ones with the early offense. "We're getting down a lot now," said Lucia of his team's recent struggles. "In the first part of the year we were eliminating teams in the first period."
It should be noted that the last time Minnesota rallied from a 2-0 deficit to win was at the 2004 Midwest Regional in Grand Rapids, Mich., when Notre Dame led the Gophers 2-0 early before Minnesota scored five unanswered. Of course, there's very, very little chance of Lucia having to face his alma mater in the NCAA playoffs this season.
• Chris Clark seems to be settling into the role as Minnesota State, Mankato's top goaltender late in his sophomore season. Clark has started the Mavericks' last three games and has produced the best numbers of any of the trio (Jon Volp and Kyle Nixon being the others) that has seen time in the Mavs' net this season. Clark, who hails from the San Francisco suburb of San Mateo, is only the second Californian to lace them up for the Mavericks. John Cobb, of Whittier, Calif., played 40 games for the Mavs in the mid-1980s, becoming the program's first left-coaster.
• Two generations ago, Michgan Tech was all but unbeatable during its Winter Carnival weekend. John MacInnes' powerful Huskies teams went 18-2-0 during Winter Carnival in the 1960s. By contrast, last weekend's Winter Carnival win and tie by the Huskies marked just the second time in the last seven seasons that Tech has won a game during the weekend festival.
• Colorado College fell victim to perhaps the most memorable playoff upset in league history in 1994 when the league-champion Tigers fell to 10th-place Michigan Tech in the opening round. With lower-division teams pulling off scores of upsets in the second half of this season (including 10th-place St. Cloud State beating CC in overtime last weekend), current Tigers coach Scott Owens recently told the St. Cloud Times that it's nearly impossible to determine who his team would like to host in the playoffs. "It's hard to say," Owens told Times reporter Kevin Allenspach. "Tech is going good. St. Cloud always plays well in this building. Mankato we've seen a lot this year, and Anchorage, my God. No matter who you play, the way visiting teams are playing in the league this year it's going to be a tough battle."
• A loss at Alaska Anchorage on Friday would give North Dakota a six-game WCHA losing streak, and mark the first time since the 1974-75 season that the Sioux have dropped six conference games in a row. The Sioux have not been to Alaska in more than two years, but won 11-2 and 3-0 on their last trip there, in January 2003.
• Reporters know that some coaches love to talk, while it's a chore to squeeze a complete sentence out of others. Wisconsin assistant coach Troy Ward is apparently in the former category, especially when it comes to talking on the phone. A recent story in the Wisconsin State Journal revealed that Ward had the highest cell phone bill of any UW employee in 2004, racking up more than $8,600 in calls last year. Apparently, those roaming charges in south-central Wisconsin add up.