February 17, 2005
Ohio State's Major Player
By Mike Eidelbes
CCHA Notebook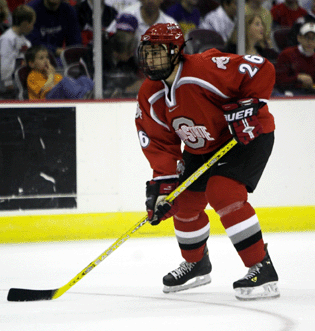 Ohio State's Matt Beaudoin has 13 goals in the Buckeyes' last 14 games.

Like most kids growing up in Canada, Ohio State sophomore forward Matt Beaudoin dreamed of playing in the NHL. And, like most kids growing up in Canada, he thought playing major junior hockey was the best way to get there.

"In Quebec, pretty much everyone was hoping to play major junior," said Beaudoin, who hails from Rock Forest, a town of 55,000 located about 30 minutes north of the Vermont-Quebec border. "I didn't know anything else."

Beaudoin's hopes were dashed six years ago when he wasn't picked in the Quebec Major Junior Hockey League's annual entry draft. With his primary option blocked, the then-15-year-old was forced to reassess his future. It was around that same time that he met a fellow Quebecois who had played at Brown.

"At that point, I realized that school was an option, too," Beaudoin said. "I wasn't really ready for major junior, so I took a year to play junior A and think about what I was going to do."
Beaudoin (pronounced BO-dway) lit up the junior A ranks, scoring 60 points in 32 games for the Lennoxville Cougars of the Quebec Junior AAA Hockey League in 2001-02 and scoring 69 points for the British Columbia Hockey League's Cowichan Valley Capitals the following season. He committed to Ohio State in January 2003 and originally intended to start his college career this season, but enrolled a year early after Ryan Kesler signed with the Vancouver Canucks.

After a promising end to his freshman season – nine of his 14 points as a rookie came in OSU's last nine games – Beaudoin got off to a shaky start this year. He missed the team's first two games due to injury and entered the holiday break with steady-but-unspectacular totals of five goals and three assists in 16 games.

During the break, Beaudoin approached coach John Markell and the Buckeyes' coaching staff with a suggestion he thought would boost the team's power play.

"My role before Christmas on the power play was more on the point," Beaudoin explained. "I went up to the coaches and said, 'If you want to try something new, I would feel good if you tried me in the slot instead of at the point. That's my spot, and I think I can help the team this way.'"

He's done more than help. In the Buckeyes' 14 games since Christmas, Beaudoin has scored 13 goals – 10 on the power play – and added five assists. The CCHA Offensive Player of the Month in January leads the conference and ranks third nationally with 12 power play goals, and the team currently ranks fifth in the nation with a 23.4 percent success rate. More importantly, Ohio State is 11-2-1 during that span and has crept to within one point of first-place Michigan in the league standings.

"Our power play unit has been working pretty well," said Beaudoin, part of Ohio State's first group along with forwards JB Bittner, Andrew Schembri, Tom Fritsche and defenseman Kyle Hood. "I'm focusing more on the slot area and I'm getting a lot more chances down low.

"I don't want to make moves…I just want to shoot the puck. I know what to do in the slot, and lately it's been going pretty well for me."

With four games remaining in the regular season, the Buckeyes are a virtual lock for the NCAA Tournament and harbor hopes of overtaking Michigan and winning their first CCHA regular season title since 1972. Needless to say, Beaudoin feels pretty good about the path he chose.

"A lot of my friends right now, they're playing major junior and they look at me and they realize I made a wise move," Beaudoin said. "A lot of my friends wish they would have done the same thing."
SEEN AND HEARD IN THE CCHA

BGSU's MS Awareness Weekend: When Jordan Sigalet announced in December that he had multiple sclerosis, the Bowling Green senior goaltender said he hoped coming forward would help raise awareness of the disease. This weekend, he's getting some help with that endeavor.

In conjunction with their series against Western Michigan, the Falcons are holding MS Awareness Weekend at the BGSU Ice Arena. Among the events planned are a charity raffle and auction featuring items signed by Sigalet and former Bowling Green All-American Rob Blake and the annual "Skate With the Falcons" Sunday. All proceeds from the weekend will be donated to the MS Society.

While raising money is a plus, Sigalet believes tuning people into the facts regarding multiple sclerosis, an inflammatory disease of the central nervous system, is just as important.

"I want to show people that it's not the end of the world. You can keep living your life the way you have even though you have MS," Sigalet said. "Everyone thinks it's the same with everybody – that if you have MS, it's going to affect you the same as someone else. It's such an unpredictable disease. A lot of people don't know that."

Sigalet says that the feedback he received after his announcement has been phenomenal. He was flooded with e-mails and letters from well-wishers, and the college hockey community has also reached out – he's received cards signed by players at Boston College and Michigan and just last week, Nebraska-Omaha sent him an autographed Mavericks sweater complete with his name and number.

"It's such a huge sigh of relief after having that hidden for so long," Sigalet explained. "The only people I could talk to about it were the people that knew about it. Now that everybody knows, it makes it so much easier."

As important as MS Awareness Weekend is to Sigalet, he hasn't forgotten about the other business at hand – namely, sweeping Western Michigan and continuing a march toward a home-ice berth in the first round of the conference playoffs. As his college career winds down, the Surrey, B.C., native is honored to have played a role in the Falcons' growth under coach Scott Paluch.

"It's really exciting to see the improvement every year," Sigalet said. "It's a place where people want to come now because they see the drastic improvements. I wish I had a few more years, because [the program] is on the rise right now."

Fort Wayne's World: The odds of Notre Dame getting a sniff of the NCAA Tournament this season are longer than the punch line of a Dennis Miller joke, but coach Dave Poulin is readying his team for that experience in the future. That's why the Fighting Irish have already played two neutral-site games this season. Friday's contest against Michigan at the Allen County War Memorial Coliseum in Fort Wayne, Ind. – technically, it's a Notre Dame home game – is the team's final neutral-ice foray of the regular season for the Irish.

"It prepares you for [NCAA] Regional-type atmospheres," said Poulin, whose team last month visited Green Bay, Wis., to face Michigan Tech and met Wisconsin in Rosemont, Ill. "We're going to have close to 11,000 people in Fort Wayne."

Indeed, nearly 8,000 tickets have been sold for the game, believed to be the first college hockey match played in Fort Wayne. Coliseum general manager Randy Brown told the South Bend Tribune that he expects a sellout, and hopes a successful showing serves as a springboard for Fort Wayne to someday host an NCAA regional.

"It's like the Good Housekeeping seal of approval for getting a regional bid," Brown told Tribune writer Steve Lowe. "It says a lot about the [Fort Wayne] marketplace. We have hockey enthusiasts here."
Great Weekend Getaway

Michigan vs. Notre Dame
(Fri. at Fort Wayne, Ind.)

Given the outcomes of the two previous games between the Wolverines and Fighting Irish – Michigan won by 6-1 and 8-0 scores in December – this one could be lopsided. The most compelling reason to attend is the opportunity to visit Allen County War Memorial Coliseum. Dedicated in 1952, the arena was renovated three years ago but still maintains much of its old school charm.

While you're there: More like while you're on the way there. Keeping the War Memorial Coliseum theme in mind, track down comedian George Carlin's classic monologue comparing baseball and football and download the bit to a CD or iPod (legally, of course). Even if the game is a rout, you'll still be chuckling in the third period.

Stick Salute

An era came to an end last week as Pride on Ice, the Minnesota hockey fan Web site, went dark after two national titles, endless North Dakota jokes and who-knows-how-many lamentations about Adam Hauser's play. INCH will always owe a debt of gratitude to the POIer's, who were quick to embrace our fledgling site when we launched in October 2002. But, hey, www.beerdarts.com is still up and running.


Bench Minor

Isn't the whole premise of the power play to put the penalized team at a disadvantage? In most cases it is, unless you're playing Western Michigan. The Broncos, who gave up three shorthanded goals in last weekend's tie and loss at Northern Michigan, have allowed shorties in five straight games.
FRIES AT THE BOTTOM OF THE BAG

• The CCHA will partner with the WCHA and three Fox Sports Net affiliates next month to provide combined coverage of the championship tournaments in both leagues.

Dubbed 'Breakaway Hockey Weekend', the effort meshes Fox Sports Net Detroit's coverage of the CCHA Super Six and Fox Sports Net North's coverage of the WCHA Final Five with the addition of studio show produced by Fox Sports Net Rocky Mountain. The programming begins on Friday, March 18, with semifinal games in both leagues and concludes Saturday, March 19, with the CCHA and WCHA championship matches.

Start times for the CCHA and WCHA contests will be staggered in order to allow viewers in other markets to look in on action from the other conference. For example, Fox Sports Net Detroit viewers will see the CCHA Super Six in its entirety. Prior to and following games from Joe Louis Arena, the CCHA markets will watch the WCHA game in progress.

DirecTV and Dish Network subscribers are quick to point out that, thanks to the satellite and a quick remote hand, they've looked in on games in other markets for years.

• About a month ago after a pair of losses at Michigan ran his team's winless streak to eight games, Alaska-Fairbanks coach Tavis McMillan told a collection of reporters not to write off the Nanooks. Since that night in Ann Arbor, Alaska-Fairbanks is 5-1-2 in its last eight games, the latest victories coming last weekend when the Nanooks swept Michigan State for the first time in school history.

With two league series remaining – UAF ends the season with a non-conference set with Alaska Anchorage – the Nanooks are tied for fifth in the CCHA standings. More important, with games remaining against the team immediately behind it (Miami, this weekend) and in front of it (Nebraska-Omaha, next weekend), they control their own destiny in the chase for a home series in the first round of the league playoffs.

• Last weekend's trek to the Last Frontier was hardly pleasant for Michigan State, but the Spartans broke a school record in Friday's overtime loss to Alaska-Fairbanks when forwards David Booth and Bryan Lerg scored five seconds apart in the third period. The previous mark was set nearly 18 years ago when Bruce Rendall and Bill Shibicky scored six seconds apart against Ohio State on Feb. 21, 1987.

• Saturday's win at Nebraska-Omaha was coach Red Berenson's 555th behind the Michigan bench. He enters the Wolverines' weekend series with Notre Dame tied for eighth place on the all-time wins list with another Great Lakes State hockey legend, John MacInnes of Michigan Tech.

• Ferris State looked as if it was poised to mount a second-half charge after winning the Badger Hockey Showdown at the end of December and splitting a road series at Ohio State to start January. The Bulldogs followed that promising stretch with an 0-6-2 mark in their next eight outings before sweeping Notre Dame at the Joyce Center last weekend. The eight-game winless streak was FSU's longest since the 1991-92 campaign, when the Bulldogs were 0-4-4 between Nov. 23, 1991-Jan. 10, 1992.

• A pair of CCHA goaltenders currently lead the preliminary fan balloting for the 2005 Hobey Baker Memorial Award. Northern Michigan's Tuomas Tarkki is in first place, roughly 5,200 votes in front of Jordan Sigalet of Bowling Green. Two other CCHA players are among the top 10 vote-getters – Western Michigan forward Brent Walton (seventh) and NMU defenseman Nathan Oystrick (tenth). Fan balloting ends March 6.

A variety of sources were utilized in the compilation of this report

Other Notebooks: Atlantic Hockey/CHA Notebook | ECACHL Notebook | Hockey East Notebook | WCHA Notebook