December 16, 2004
2004-05 CCHA Mid-Season Report
By Mike Eidelbes
SURPRISE TEAM

The glass at Lake Superior State is half-full this season, which is significant considering that two seasons ago, the Lakers didn't have a glass – it was in pieces after getting knocked off the table.
Frank Anzalone and Co. have glued the shards together and, while it may not be the prettiest vessel, it's holding water thus far. After starting the season on the wrong end of sweeps against nationally ranked Colgate and Michigan, the Lakers are 6-5-1 in their last 12 games with wins against four teams that have appeared in INCH's Power Rankings this season – Alaska-Fairbanks, Bowling Green, Nebraska-Omaha and Northern Michigan.
Stingy defense and solid goaltending are the primary reasons for LSSU's success thus far. Despite ranking 11th in the CCHA in goals per game, the Lakers continue to hover around .500 because they've given up the third-fewest goals in the league and netminders Jeff Jakaitis and Matt Violin have combined for a 2.79 goals against average and a .923 save percentage.
SURPRISE INDIVIDUAL
Most people considered Drew Miller an afterthought in a Michigan State recruiting class that included more heralded prospects such as forward Tom Goebel and goalie Dominic Vicari. His main claim to fame was being über-goalie Ryan's little brother. In fact, after Ron Mason moved to the athletic director's chair at MSU, there was considerable doubt as to whether new coach Rick Comley would bring the spindly forward from East Lansing on board.
Halfway through his sophomore year, Miller has become one of the CCHA's best two-way players. A solid defensive forward last season, he's picked up his offense this year. He ranks second on the team with eight goals (including a team-leading five power play goals) and is third among MSU skaters in scoring with 13 points. Miller, who plays bigger than his 6-foot-2, 165-pound frame, is a preeminent penalty killer and a disciplined player, with just three minor penalties in 18 games.
WHAT HAPPENED TO …
The learning curve? Not so long ago, talented players would show flashes of brilliance during their freshman campaign – Junior Lessard, last year's Hobey Baker Award winner, is a prime example.

In the CCHA this season, freshmen hit the ground running…and contributing. For example, without the emergence of rookies such as Fritsche, Domenic Maiani, John Dingle and Kyle Hood, Ohio State wouldn't have spent the better part of the last 10 weeks in the conference penthouse. Coach Mike Kemp has taken a giant step forward rebuilding Nebraska-Omaha by adding guys like forwards Bill Thomas (24 points) and Bryan Marshall (14 in 15 games), and defenseman Joe Grimaldi (a +11 plus-minus rating). Even Michigan, a team loaded with veterans, is better because of newcomers Chad Kolarik (13 points) and Kevin Porter (12 points).

The glut of talented freshmen could be an anomaly, or it could mark the start of a golden age of impact newcomers. Either way, forget that I said in October that this was a bad year for top-flight rookies in the CCHA. Hey, it's not like I was calling the outcome of the Presidential race at 1 p.m. on Election Day.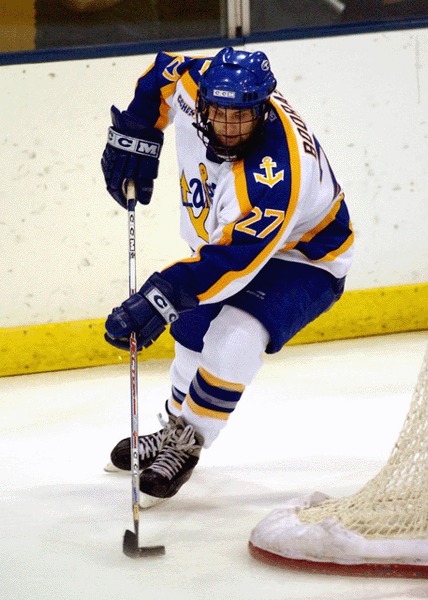 Lake Show: Jon Booras and the Lakers are 6-5-1 in their last 12 games.
BEST NEW FACE
Picking one person for this slot is like picking your favorite episode of 'The Simpsons' – just when you think you've got it narrowed down to one selection, another candidate pops into mind. Since I'm playing with house money, I'll take Ohio State forward Tom Fritsche.
UNO's Thomas has more points, Jonathan Matsumoto of Bowling Green is electric when he has the puck and Western Michigan goalie Daniel Bellissimo has brought sorely needed stability to that position for the Broncos. Fritsche, however, has all the trappings of a dynamic playmaker – something the Buckeyes haven't had in years. He skates and is strong on his skates, has a quick release on his shot and has tremendous vision.
Special mention goes to Western Michigan's Mike Erickson. In his first year with the Broncos after spending two seasons at Minnesota, Erickson is a big, rugged forward who's shown a knack for scoring goals and brings a winning attitude to the WMU locker room.
BIGGEST UPSET
Even though Boston College was without a couple regulars due to injury, Notre Dame's 3-2 win against the then-top ranked Eagles was one they'll be talking about for a long time in South Bend.
Somehow, the game was scoreless after the first period in spite of BC outshooting the Fighting Irish by a 20-4 margin. The shots were nearly even – 10-9 in favor of the Eagles – in the second period, but Notre Dame managed to sneak a couple past Matti Kaltiainen to take a 2-0 lead heading into the final period.
Boston College struck with two goals 15 seconds apart to tie the game with 7:30 left in regulation, and it appeared the Eagles would get a huge break when the Irish's Tim Wallace was whistled for a questionable charging call with 49 second remaining in the third period, but a terrific play on the penalty kill by defenseman Wes O'Neill sprung T.J. Jindra, who raced up the left wing and fired a shot past Kaltiainen with 15 seconds to go. Morgan Cey made a career-high 50 saves for Notre Dame, which hasn't lost to BC since 2001.
TOUGHEST ROAD OUT
That honor belongs to the aforementioned Fighting Irish, whose first-half schedule reads like an NCAA Tournament bracket.
After opening at home against 2004 Frozen Four participants Minnesota Duluth, Dave Poulin's squad traveled to Oxford to face Miami – this was before the RedHawks were riddled with injuries. The single game with BC was followed by a home series against Northern Michigan, a home-and-home pair against Bowling Green and two at Western Michigan. Notre Dame went to Alaska-Fairbanks for two games during Thanksgiving weekend, and closed out the first half of the season with home-and-home affairs with Michigan and Michigan State. Combined record of the Fighting Irish's opponents thus far? 74-56-15, for a .562 winning percentage.
TOUGHEST ROAD IN

Michigan State gets the nod for a second-half slate that includes trips to Miami and Alaska-Fairbanks, home-and-home affairs with Bowling Green, Notre Dame and Western Michigan and home series with Lake Superior State and Ohio State. Oh, and don't forget the two remaining games with Michigan – one's at Yost, the other is at Joe Louis Arena in Detroit. That happens to be the site of the 40th annual Great Lakes Invitational, where the Spartans face New Hampshire in the opening round.
MUST-SEE SERIES
Whether Red Berenson or John Markell have any use for marbles is doubtful, but it's a good bet that all of the round playthings with regard to the CCHA regular season title will be on the line when Michigan visits Columbus Jan. 21-22 for two games against Ohio State at Value City Arena. As of right now, the two Big Ten combatants are the cream of the conference, with only Northern Michigan realistically harboring any chance of challenging for the top spot.
Even if the Buckeyes manage a sweep that weekend, the Wolverines have the horses and a favorable schedule (only two true road series in the second half of the season) to win the league title for the second year in a row. On the other hand, a Michigan sweep would not only put them in the driver's seat for the CCHA championship, but it'd also give them right to pile fast food and CDs on the seat next to them.
BIGGEST QUESTION ANSWERED
How would the crackdown on obstruction affect the quality of play? It's not a CCHA-specific question, but so far, it appears to be a step in the right direction. Of course, the early season 'feeling out' period was frustrating for players, coaches, officials and fans, but over the course of the last month or so, two things appear to be taking shape. One is that the players have, for the most part, figured out what will and won't be called. The second – and this is strictly an observation – is that officials seem to have found a balance between carrying out the NCAA's directive and keeping games from evolving into tedious whistle-fests.
The feeling here was that the crackdown on obstruction would artificially swing the pendulum to the other side of the issue, resulting in a different set of problems that would be just as severe. But a middle ground has developed, and games in recent weeks have been fairly entertaining. The true litmus test of this movement will come during the league and national playoffs, however, so a final verdict on this issue won't be in until April.
BIGGEST QUESTION REMAINING
Can Michigan State make a second-half run? To say that the Spartans – a team that lost four letterwinners from last year's squad – are underachieving is an understatement. Only Lake Superior State and Notre Dame average fewer goals per game than the Spartans. Special teams, once a hallmark of MSU under Ron Mason, are average at best. Players are prone to taking thoughtless penalties and making high-risk plays that lead to turnovers.

Jim Slater is averaging a point a game, but hasn't looked like the Hobey Baker Award finalist of a year ago. David Booth, who scored 36 points as a freshman, has eight points through 18 games this season. Mike Lalonde had 22 goals as a junior; he has three points this year. A.J. Thelen was the 12th overall pick in the 2004 NHL Draft. After scoring 11 goals and 29 points last season, he's got seven assists thus far, a number that would probably double if you counted his turnovers that led to goals for the opposition.

Recent history says MSU can make a charge – the team's post-Christmas record under Comley is 30-16-2. But even if they win 10 of their last 16 CCHA games, MSU will finish with 30 points and it'll be tough for them to climb much higher than fourth in the league standings. The Spartans will make a push after the break – Slater and Thelen will rebound and Lalonde will come back strong from his injury – but it won't be enough to get them into the NCAA Tournament.
INCH's First Half All-CCHA Team

Pos.

Player
Of Note

G

Jordan Sigalet, Bowling Green
How does a team that's scored four fewer goals than it allows stay above .500? With a goalie who averages 30 saves a night and rarely gets beaten at even strength – 16 of the 39 goals he's given up are PP variety.

D

Andy Greene,
Miami
The one constant during a volatile first half of the season for the RedHawks. We'll continue to put his name in this spot until he's done in Oxford.

D

Wes O'Neill, Notre Dame
The CCHA's most improved player has NHL general managers kicking themselves for not taking him in the 2004 draft. He slid the fourth round, where the Islanders snapped him up and got first-round value.

F

T.J. Hensick,
Michigan
Leads the conference's best team in goals (11), assists (13) and points (24). He's an absolute magician.

F

Rod Pelley,
Ohio State
By a shade over teammate Tom Fritsche, UNO's Bill Thomas and WMU's Brent Walton. Pelley's leadership has been as important to the young Buckeyes as his scoring..

F

Jeff Tambellini,
Michigan
He looks like the player he was two years ago when he scored 45 points. The plus-minus rating of +14 is a nice bonus, too.

Send this to a friend
About Us | Advertiser Info | Site Map | Privacy Policy
© 2002-04 Inside College Hockey, Inc., All Rights Reserved