December 16, 2004
2004-05 WCHA Mid-Season Report
By Jess Myers
SURPRISE TEAM

How can you be a surprise success after winning two out of the last three NCAA titles? Simple – freshmen just aren't supposed to contribute this much this fast, and no home ice advantage should be good for almost a year without a home loss.

But that's what we've seen from Minnesota thus far. The rookies have been superlative, and the team is unbeaten (and looks all but unbeatable) at Mariucci Arena. Where some coaches use a roster filled with freshmen and sophomores as an excuse for early-season struggles, Don Lucia has used a similar roster to climb to the top of the national rankings. Rookie defenders Alex Goligiski and Derek Peltier are getting it done both offensively and defensively, and a sophomore who had a whopping 15 games of collegiate experience under his belt prior to the season (Ryan Potulny) is averaging a goal a game.

Add to that the fact that goalie Kellen Briggs seems to have spent the summer patching any holes he had in his game, and the Gophers' 13-4-0 mark is no fluke. The Gopher-haters out there (and there are scores of them) say that the kids won't be able to sustain their success over a full season. Of course, they said that about a Minnesota sophomore goalie named Stauber once too.

SURPRISE INDIVIDUAL
In a community where some street signs are still written in English and Finnish, Michigan Tech's Lars Helminen has a name that fits right in among many fans in the Keewenaw. But in the interest of full disclosure, it should be know that this flying Finn was born in Florida and raised outside of Detroit.

As a rookie defenseman for the WCHA's cellar-dwellers, Helminen scored just two goals (and added eight assists). But perhaps it was a sign of things to come that both of his freshman-year goals came on the power play.
Halfway through another winter of discontent in Houghton, Helminen has pretty much been the Husky fans' only reason to cheer as he leads all WCHA players in man-advantage points and is the league's top-scoring defenseman with 18 points after 16 games. While their scoring is down and the goaltending hasn't been consistent enough for the Huskies to win more than a home game with Alaska Anchorage, Helminen has been a pleasant (and rare) source of optimism for Jamie Russell and his long-suffering alma mater.

BEST NEW FACE

Philippe Lamoureux, North Dakota. Since the last shot Karl Goehring faced between the pipes for North Dakota nearly four years ago, fans of the Fighting Sioux have been lamenting how much their offensive wonders might have been able to do with more reliable goaltending. Well, they're no longer scoring goals by the dozen at the Ralph, but they seem to have found an answer to the nagging goaltending questions right in their own backyard.

Lamoureux is a Grand Forks kid with NCAA titles in his blood, after his father Jean Pierre tended goal on a pair of Sioux teams that won the big trophy (in 1980 and '82). Thus far in his rookie season, Philippe has backstopped five of his team's 11 wins and has some of the best stats in the WCHA through half of the season. Perhaps his most impressive work came on Nov. 6, in turning aside 28 shots by the much-feared Colorado College offense as the Sioux won a 2-1 defensive battle at home.

Sure, everybody likes offense, and goals are entertaining, especially when accompanied by the bells, whistles, lasers and all of that other Vegas-style fun in Grand Forks. But here's thinking that Sioux fans don't mind seeing 2-1 or 3-2 wins instead of the 7-3 and 8-4 victories they'd grown accustomed to in recent years.

WHAT HAPPENED TO …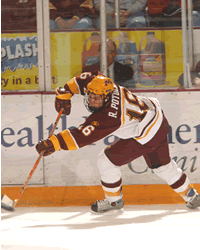 With 17 goals in 17 games, Ryan Potulny is a big reason Minnesota enters the holidays as the nation's top ranked team.
Minnesota Duluth? When November dawned, everything seemed fine on the western shore of Lake Superior. The beloved Bulldogs were coming off their inspiring run to the Frozen Four, picked to win the WCHA, undefeated (5-0-1) and ranked first in the nation. With a lightly-regarded eastern team (Vermont) coming to town, all was right with the world for Scott Sandelin's crew. Seven weeks and a 3-8-1 stretch later, the team seems to be sinking faster than the Edmund Fitzgerald.

The "glass is half full" folks will note that the Bulldogs still have a .500 record, and that they were in a similar position at the holiday break a year ago (9-8-2) before embarking on a 14-game unbeaten streak. The pessimists note that with 2004 Hobey Baker Award winner Junior Lessard toiling in the Dallas minor league system, the team lacks the finisher needed to help the team compete offensively, and there's been some quiet grumbling about Sandelin leaving the team prior to their series with Denver to coach Team USA at the World Junior Championships.

The Bulldogs have shown some heart in recent conference wins over North Dakota and St. Cloud State, and their rabid fans are staying loyal, for now. Still, more trouble in January will make empty seats at the DECC as easy to find as round rocks at Brighton Beach.

BIGGEST UPSET

Alaska Anchorage 3, Minnesota 2, Oct. 16 in Anchorage. Thanks to a rash of injuries, summertime defections, and a notable locker room fight in September, the Seawolves were all but left for dead before they dropped the first puck of the season. In their second game of the year, John Hill's crew served notice that what Jack London taught us a century ago remains true – the Last Frontier is still not a place where anything comes easy. With a big crowd on hand for the title game of the Nye Frontier Classic, Hill beat his former boss behind 36 saves by Nathan Lawson and the first two collegiate goals from Shea Hamilton. Since it was a tournament game, the Seawolves didn't get the two WCHA points for the win, but they may have gotten a more important boost of confidence that's allowed them to play near-.500 hockey thus far despite a rash of injuries.

TOUGHEST ROAD OUT
Minnesota State, Mankato might have been ready to concede their place in the WCHA race as early as Halloween, after a brutal first three weeks of the season left them at 0-5-1. Suffice it to say that with a young team full of defensemen trying to find their footing and question marks in goal, you don't want to see a home series with North Dakota, then trips to Minnesota Duluth and Minnesota on your October slate. Mavs coach Troy Jutting can be commended for keeping his team's chins up through that rough patch, then leading them on a 5-0-1 tear and to a .500 record to this point. Still, that 4-7-1 conference mark is a concern if the people in Mankato have designs on hosting home playoff games come March.

TOUGHEST ROAD IN

Picked to win the WCHA by many (including INCH), Minnesota Duluth has six conference losses already, and post-New Year's trips to Minnesota, Denver and Colorado College looming on the schedule. Most concerning for Bulldog fans yearning for a return trip to the NCAAs and the Frozen Four is their team's early-season collapses against low-hanging fruit like Vermont, Brown and Alaska Anchorage. If the Pairwise rankings were released today, the Bulldogs wouldn't even make the top 25, let alone the top 16. It might be time for the team to forget about bringing the MacNaughton Cup to Duluth and instead just try to ensure their third consecutive finish among the league's top five.

MUST-SEE SERIES

Colorado College at Minnesota, Jan. 8-9. For the talented Tigers, all roads suddenly lead through the Twin Cities. If they want to get to the Frozen Four, they might have to win two games in Mariucci Arena during the NCAA West Regional. Prior to that, if they want to win the WCHA Final Five, that'll require two (or three) wins at the Xcel Energy Center. And prior to that, if the Tigers want their second MacNaughton Cup in three years, having four points in their luggage when they leave Minneapolis after this series may be vital. As for the Gophers, their coach won three Cups when he was at CC, but he's got none to his credit at Minnesota. If his team wants its first outright WCHA title since 1992, this will be the weekend to get it done.

BIGGEST QUESTIONS ANSWERED

Should the NCAA consider six WCHA teams for the field of 16? Each member of the league's top sextet (Minnesota, Colorado College, North Dakota, Denver, Wisconsin and Minnesota Duluth) has made a strong case at some point thus far that they may deserve the right to play after their conference tournament has concluded. Of course, at least one of those six teams won't even make it to the conference tournament (they call it the Final Five for a reason, folks), but that little bump in the road didn't stop Denver from claiming the NCAA title a year ago. Still, before they make a case for a WCHA six-pack in the NCAAs, the league's hierarchy is well aware that the top six teams could look much different after two more months of beating up on each other.

What's the best student section chant we've heard so far? The clear sentimental favorite is the St. Cloud State partisans chanting "She said yes!" in response to an in-arena marriage proposal recently, but it's always more fun when there's a little edge to them, right? For years, Gopher fans have pelted the Bulldogs with the "Gopher rejects" refrain, but this year we've heard Badger fans use that one on the Bulldogs too. And in Duluth, the MSU Mavericks were ripped with a chant of "Seawolf rejects" from the UMD Penalty Box. Another fun moment came in Mankato in November when the then-15th ranked Seawolves were called "Over-rated!" by the Maverick backers – which Alaska Anchorage coach John Hill said was a badge of honor. Still, our favorite came just last week when North Dakota visited the DECC and the visiting fans who made the long drive from the prairie were greeted with a refrain of "We've got trees!"

BIGGEST QUESTIONS REMAINING

Does anyone with designs on a NCAA title really want to win the Cup? We're rapidly approaching the 15th anniversary of the last WCHA team to win the league title outright and win the NCAA title in the same season. And the last WCHA team to do it (Northern Michigan in 1991) hasn't even been a member of the league for nearly a decade. Every year, the league champs seem poised for a title run, and for the last three consecutive seasons, the league champs have been polishing the Cup in their dorm rooms, watching on TV as a different WCHA team wins the national championship.

What is it going to take for Michigan Tech to be competitive again? The Huskies remain the most patiently anticipated feel-good story in WCHA history, but there's no light to be found at the end of their long tunnel just yet. Coach Jamie Russell shipped in a boatload of good-sized rookies thinking that youth might lead the way. Instead, their most-feared veteran (Chris Conner) is having his least-productive collegiate season and at 1-14-1 the Huskies have been out of the race for home ice since before the Thanksgiving turkey was cooking. Some find hope in other small Michigan schools that have had hockey success (Lake Superior State in the '90s and Ferris State more recently). Others have gone as far as to point to the Big East football conference which just kicked out Temple after the Owls were uncompetitive for more than a decade, and have suggested that the WCHA take the same tactic with Tech.
INCH's First Half All-WCHA Team

Pos.

Player
Of Note

G

Kellen Briggs, Minnesota
Young, inexperienced defensemen? No worries, especially when your goalie is playing as well as Briggs has thus far.

D

Lars Helminen,
Michigan Tech
The league's best offensive defenseman thus far is the lone ray of light in another long, cold winter in Houghton.

D

Brett Skinner, Denver
Skinner has been the blueline corps leader for the defending national champions. He and Matt Carle form one of the country's best defensive tandems.

F

Ryan Potulny,
Minnesota
After an injury wiped out most of Potulny's rookie season, we wondered what he'd do with health. Seventeen goals in as many games is your answer.

F

Marty Sertich, Colorado College
The league's leading scorer has members of the Sertich family thinking that the Hobey would look good next to the Spencer Penrose trophy at Uncle Mike's house.

F

Brett Sterling, Colorado College
Another member of the "here's what I can do when I'm healthy" club. This kid from Pasadena and his dozen goals have the Tigers smelling like roses.

Send this to a friend
About Us | Advertiser Info | Site Map | Privacy Policy
© 2002-04 Inside College Hockey, Inc., All Rights Reserved