December 16, 2004
2004-05 ECACHL Mid-Season Report
By Joe Gladziszewski
SURPRISE TEAM

When the Vermont Catamounts beat Minnesota Duluth, it shocked the majority of the college hockey world. Just one week earlier UVM lost twice at home to Niagara and stood at 1-4-0 on the season. Little did we know that victory over UMD would spark an 11-game unbeaten streak by Vermont that included wins over New Hampshire and Colgate.

The Catamounts quickly ascended up the ECACHL standings and into the national rankings, and remain there despite a loss to Harvard that ended the first half on a sour note. Vermont crosses the state line and will play its next three games at Dartmouth's Thompson Arena. UVM faces the Big Green in an ECACHL game on Sunday, and will participate in the Ledyard National Bank Classic at Dartmouth on Dec. 29 and 30.

SURPRISE INDIVIDUAL

Princeton has lifted itself from the bottom of the league and approaching games with an offense-first mindset under new coach Guy Gadowsky. One beneficiary of the new attitude in Old Nassau is junior forward Dustin Sproat. He's scored 20 points in 14 games and ranks first in scoring in ECACHL games. Sproat had just 11 points in each of his first two years.

BEST NEWCOMER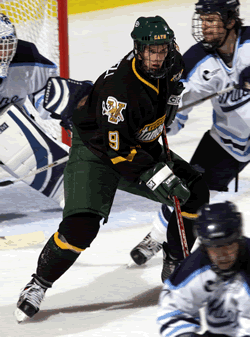 Thanks to contributions from Torrey Mitchell and others, Vermont reeled off an 11-game unbeaten streak.
Vermont forward Torrey Mitchell arrived on campus and found himself centering the Catamounts' top line with Scott Mifsud and Brady Leisenring. He's been the number-one pivot for coach Kevin Sneddon and his immediate contributions have been necessary for Vermont, as Leisenring is injured and will miss the rest of the season.

WHAT HAPPENED TO ...
The Clarkson Golden Knights announced to the ECACHL that they were back among the elite teams in the league with a playoff run that fell mere seconds short of a championship last year. That momentum was clearly lost over the summer and Clarkson struggled for most of the first half. Heralded recruit Shawn Weller missed four games and the Knights stumbled to a 4-11-2 overall record, with just one win in seven ECACHL games.

BIGGEST UPSETS

Vermont's win over Minnesota Duluth on Oct. 29 and Harvard's win over Boston College on Nov. 16 came while UMD and BC were ranked No. 1 in the nation. Those wins were unexpected at the time, but both Vermont and Harvard have validated those performances with other big wins. Similar results at this stage in the season wouldn't seem like upsets at all.

TOUGHEST ROAD OUT

St. Lawrence has played 12 of its 17 games so far against teams that have been nationally ranked at some point this season, including series against Maine, Miami, and New Hampshire. Within the league, the Saints have taken on four of the top five teams according to the current league standings. January is a little easier, but things get difficult again in February with consecutive road games at Dartmouth, Vermont, Brown, and Harvard.

TOUGHEST ROAD IN

Brown finishes its regular season with a road game against its travel partner, Harvard, and a trip to Vermont and Dartmouth. Five of the Bears last seven games are on the road. The Bears should take advantage of a favorable January schedule which includes five straight home games. Brown is 27-8-9 in its last 44 games at Meehan Auditorium.

MUST-SEE WEEKEND

We won't have to wait long to see it. Colgate and Cornell trek East to go up against Harvard and Brown on Jan. 7 and 8. Whether you're at the Bright Hockey Center or Meehan Auditorium, you're bound to see great games as four teams with championship aspirations get the New Year started off with crucial ECACHL games.

BIGGEST QUESTION ANSWERED

Who will take over the goaltending duties at Brown? Hearing Yann Danis announced as Brown's starting goaltender over the last three years was practically guaranteed. He started every game but two over his final two seasons and was a Hobey Baker Hat Trick finalist and All-American last year. Finding another Danis is impossible, but coach Roger Grillo has found a suitable replacement in freshman Adam D'Alba. He made 44 saves in his first start, a 2-1 win at Minnesota Duluth, and it started a 4-0-1 streak for D'Alba and the Bears.

BIGGEST QUESTION REMAINING

Can Union keep up its stellar play within the league? The Dutchmen got off to a perfect 6-0-0 start in league play before losing both games in a road trip to Harvard and Brown. Union begins its second half with four straight home games, and a successful homestand could put the Dutchmen in great position for a top-four finish and first-round bye in the ECACHL playoffs.
INCH's First Half All-ECACHL Team

Pos.

Player
Of Note

G

David McKee, Cornell
McKee is the second coming of Yann Danis, with impressive statistics and durability for a very good hockey team. McKee has started all 11 of Cornell's games.

D

Mike Campaner,
Colgate
Finding the single most important player in Colgate's talented lineup is difficult, but this sophomore defensemen might be that guy.

D

Noah Welch, Harvard
After a slow start to the season, Welch's play began to resemble that from his All-American season as a sophomore. Harvard's fortunes turned as a result.

F

Tom Cavanagh,
Harvard
Like teammate Welch on the blueline, Cavanagh is making his senior year at Harvard his best. He leads the Crimson in scoring.

F

Scott Mifsud,
Vermont
Mifsud has 23 points and ranks in the top-10 in scoring in the nation. He's the primary source of offense for the Catamounts.

F

Scott Seney,
Union
The big forward showed signs of stardom last year, and is among the offensive leaders for the surprising Dutchmen.

Send this to a friend
About Us | Advertiser Info | Site Map | Privacy Policy
© 2002-04 Inside College Hockey, Inc., All Rights Reserved