December 16, 2004
2004-05 Hockey East Mid-Season Report
By Nate Ewell
SURPRISE TEAM
It's easy to point to the production of the freshmen as a reason for Boston University's resurgence, but the Terriers' rookies were supposed to be effective. A bigger surprise has been the development of the sophomores and, especially, the juniors. Head coach Jack Parker thought a spike in production from those juniors – like John Laliberte, David Van der Gulik, and Brad Zancanaro – was going to be key for the Terriers last season. When they didn't produce, well, neither did BU, finishing eighth. Now they are second, fourth and sixth, respectively, in scoring on a very balanced Terrier attack that's 8-1-0 in Hockey East play in the first half.
SURPRISE INDIVIDUAL
The best story of the Hockey East season may be the emergence of goaltender John Curry, but since we anointed the Terriers as the surprise team, we'll spread the wealth here and salute Maine's John Ronan. A reliable checking forward for his first three years in Orono, the senior captain has emerged as a scoring threat this season – especially important given Maine's loss of Todd Jackson, Colin Shields and Dustin Penner. Ronan, a versatile player who boasts a terrific shot, has six goals already to match his career high, and his 12 points are just two points shy of his best season.
WHAT HAPPENED TO …
UMass Lowell? The River Hawks seemed poised for a monster year, not just in Hockey East but on a national scale as well. Yet they're mired in last place, winless, in the conference standings. That league record hides some impressive numbers – Lowell's 8-0-0 non-conference record and six-game unbeaten streak are the best in the country – but there's no denying that the first half hasn't gone as planned for Blaise MacDonald's club. Injuries and simple bad luck have contributed, as well as bad timing – when they've played well, the River Hawks have either faced a team without "Hockey East" on its sweater, or they've come away with a tie.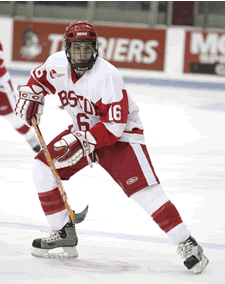 Pete MacArthur's seven goals and 13 points in Hockey East games lead the conference.
BEST NEW FACE
Pete MacArthur came in relatively unheralded among a talented BU freshman class, in part because he battled injuries last year with the Waterloo Black Hawks. It even took some convincing from head coach Jack Parker that he didn't need another year of seasoning in juniors. But MacArthur has emerged as a star in the first half of 2004-05, showing a scorer's touch and the effort and hockey sense it takes to be effective in every situation. He's also benefited from an immediate connection with linemate and fellow freshman Chris Bourque – at times it appears that the two have been skating together since pee wees.
BIGGEST UPSET
The second game of the college hockey season produced the biggest upset thus far involving a Hockey East team: Northeastern's 4-2 win over Michigan at the Lefty McFadden Tournament. The Wolverines have since shown the ability to turn in performances with all the consistency of Courtney Love, but that game served notice that this will be a different Husky team from the one that has finished last in Hockey East each of the past two seasons. Improved goaltending from Keni Gibson and timely offense from Jason Guerriero were the keys to that win over Michigan, as they have been in the Huskies' 6-8-2 start.
TOUGHEST ROAD OUT
Massachusetts is the only team outside of the WCHA that has played the two best teams in the country, Minnesota and Colorado College, and the Minutemen put up good fights in both games. That's the good news. The bad news is that they traveled over 6,000 miles in those trips, played four games, and won just one (2-1 vs. Canisius). UMass has also played surprising Vermont and defending national champion Denver, part of a brutal four-game trip away from the Mullins Center that took them to Maine, Vermont, Colorado College and Denver. Not surprisingly, all losses. The schedule is easier in the second half, with only a game at Niagara coming outside of New England, but with leading scorer Matt Anderson out for 6-to-8 weeks, the challenge doesn't subside.
TOUGHEST ROAD IN
Boston College faces a second-half slate that's challenging both qualitatively and quantitatively. Perhaps as payback for a first half in which the Eagles played on back-to-back nights only once, they have 21 games the rest of the way. BC should enjoy the week of Jan. 16, because between now and President's Day, that's the only time they don't have a mid-week game. The pace slows in the last two weeks of the regular season, but the competition doesn't – the Eagles play New Hampshire and Maine in their last two series.
MUST-SEE SERIES
We won't have to wait long for what might be the best series of the second half: Boston College and Boston University meet in a home-and-home Jan. 14-15. Each had one Hockey East loss in the first half and, along with UNH, sits in the best position to make a run at the regular-season conference title. This series, which will feature the first-ever meeting of two coaches with 700 career wins, also includes BC's first visit to Agganis Arena. But forget the firsts – it's a must-see series for the same reason it always is: it's BC vs. BU.
BIGGEST QUESTION ANSWERED
How will New Hampshire cope with the graduation of three defensemen and goaltender Mike Ayers? A mix of players have stepped up to ensure that, if anything, the Wildcat defense may be improved over last season (they are giving up 2.75 goals per game vs. 2.83 last year). Freshman Craig Switzer is the notable addition on defense, a player Dick Umile already considers a potential great in Durham who plays with a poise and grace reminiscent of Mike Mottau. In net, Jeff Pietrasiak has handled the bulk of the duties, posting a 7-2-2 record, with freshman Kevin Regan (4-1-0) playing a supporting role.
BIGGEST QUESTION REMAINING
How will the second-half additions impact the Hockey East race? Expect transfers Jeremy Hall and Scott Drewicki to jump-start UMass Lowell and Merrimack, respectively. Hall, who had a great first semester for Niagara last year, will be yet another dangerous ingredient up front for the River Hawks – giving them a group of top six forwards that rivals any team in the league. Drewicki, meanwhile, adds strength to an already talented Warrior blueline. If defense wins championships, a team with one of the league's best groups of defensemen can't possibly miss the playoffs, as Merrimack was predicted to do in the preseason.
INCH's First Half All-Hockey East Team

Pos.

Player
Of Note

G

Cory Schneider, Boston College
It's hard to argue with the rookie's numbers in Hockey East play: unbeaten at 3-0-3 and a league-best GAA (1.58) and save percentage (.938).

D

Bryan Schmidt, Merrimack
He's on the ice for more than half the game for the Warriors and contributes at both ends.

D

Cleve Kinley, UMass Lowell
Another strong two-way defenseman, he's followed his impressive rookie year with even more offense.

F

Sean Collins, New Hampshire
Several Wildcats earn consideration at this point, including Brett Hemingway, who has been on a scoring spree since joining Collins' line.

F

Patrick Eaves, Boston College
Hockey East's most dynamic player, he's cooled slightly after a fast start. Still our pick to take the league scoring crown.

F

Pete MacArthur, Boston University
Leads the conference in scoring at the break. The only rookie to do that for a full season? Paul Kariya.

Send this to a friend
About Us | Advertiser Info | Site Map | Privacy Policy
© 2002-04 Inside College Hockey, Inc., All Rights Reserved