February 24, 2005
What's The Scenario?
By Mike Eidelbes
CCHA Notebook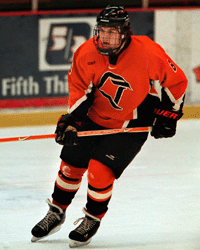 James Unger and Bowling Green are on the cusp of earning a home series for the first round of the CCHA playoffs.

With as many teams bunched in the middle of the CCHA standings as there are, the league's playoff picture heading into the penultimate weekend of the regular season is surprisingly clear. Maybe it's the harmonic balance – three teams have clinched a first-round home playoff series (Michigan, Ohio State and Northern Michigan) and three teams already know they'll be on the road during the second weekend in March (Ferris State, Western Michigan and Notre Dame).

That leaves six teams jockeying for the three remaining home ice spots. The half-dozen can be further broken down into three groups.
In Control: Fourth-place Nebraska-Omaha (16-12-4 overall, 12-10-4 CCHA) and fifth-place Bowling Green (15-11-4, 12-9-3) have uncomplicated tasks – get two points over the next two weeks and they're locked in. The Mavericks' set against the Nanooks is their last league series of the regular season – they close with a non-conference, home-and-home series with Minnesota State, Mankato. The Falcons, meanwhile, have four CCHA games remaining, but they're tough home-and-home series with Michigan State and Michigan.

A Little Help: After a disastrous first half, sixth-place Miami (15-15-4, 11-12-3) has picked itself off the mat and virtually controls its own destiny with regard to a top-six finish. That would require a sweep of Ohio State in a home-and-home series March 4-5 and a loss or tie from Michigan State in one of its last four games.

Speaking of the eighth-place Spartans (14-14-4, 9-12-3), they close out the regular season with home-and-home series against the aforementioned Bowling Green and last-place Notre Dame. The cleanest scenario for MSU to earn a home ice berth – sweeps against the Falcons and Fighting Irish, and two Miami losses to Ohio State.

Not Bloody Likely: Alaska-Fairbanks (11-14-3, 10-13-1) enters the weekend in seventh place in the CCHA standings, but because Michigan State has two games in hand, they've got the easier road to home ice. UAF's best bet is to sweep UNO this weekend, then hope for Michigan State and Lake Superior State to lose at least one of its last four games and Ohio State take three of four points from Miami.

For all intents and purposes, ninth-place Lake Superior State (8-17-7, 7-11-6) is alive in Euclidean terms only. The Lakers would need back-to-back sweeps against Western Michigan and Northern Michigan, respectively, a Miami-Ohio State split and for Michigan State to go 1-3 in its last four.

SEEN AND HEARD IN THE CCHA

Hood is Good: Even before he arrived on the Ohio State campus, freshman Kyle Hood had a reputation as an offensive defenseman. After all, he scored 66 points in 58 regular season games for the British Columbia Junior Hockey League's Cowichan Valley Capitals last year.

So it shouldn't come as a surprise that the Osoyoos, B.C., native hasn't looked out of place at forward, where coach John Markell moved him starting with the Buckeyes' 2-2 tie against Colorado College in the Ohio Hockey Classic championship game Dec. 30. In 15 games up front, Hood has four goals and nine assists. He's currently in the midst of a five-game point streak and put his name on the score sheet in all but one of OSU's last 10 contests.

"It's been working out OK," said the 5-11, 190-pound Hood, who last played forward during his first year of junior hockey with the BCHL's Penticton Panthers in 2001-02. "The coaches bear with me. I've made little mistakes here and there. I just try to keep up with my linemates the best I can."

For the most part, Hood has skated as a fourth-line winger. That changed last weekend, however, when he jumped to right side on a line with fellow freshmen Tom Fritsche (OSU's leading scorer with 35 points) and Dominic Maiani (29 points).

They're great offensive talents and real solid guys to play with," said Hood, who also mans the point on the Buckeyes' top power play unit. "I was the high guy all the time. I just let those two go down there and cycle away."

Ironically, Hood says the toughest transition has been managing his responsibilities in the defensive zone – "You've always got to read off the forwards and make sure you're in position," he said – and he enjoys being able to create scoring chances by outworking opponents. As for the future, Hood doesn't know if he'll move back to defense this year…or ever.

"As long as I'm playing and helping out the team as best I can, I'm happy," Hood said. "Whether it's the first line or the fourth line or the third set on defense, I'm not real concerned. I'm just looking to go out there and do what I can do to help the team win every game."

Fort Wayne, Fenway and the Frozen Tundra: For the people who run Allen County War Memorial Coliseum in Fort Wayne, the most important number from last week's neutral-site game featuring Michigan and Notre Dame wasn't the 9-2 final. It was 7,948, as in the number of fans who attended the first college hockey game in the 53-year-old building's history.

"In terms of the building, the atmosphere, the crowd, everything…I thought it was tremendous," Notre Dame coach Dave Poulin said. "I'm extremely appreciative of the way we were treated. I'd love to have a little different result, but I'd love to come back."

Michigan coach Red Berenson said he, too, would welcome a return engagement in Fort Wayne in the future. Coliseum officials are working with the CCHA in an effort to secure an NCAA Regional for the 10,500-seat arena between 2008-2011. Poulin believes Fort Wayne deserves serious consideration.

"To play a regular-season game and have the crowd respond the way they did, I don't think there's a question this is that caliber of facility," he said.

In Saturday's Boston Globe, meanwhile, Mark Blaudschun – citing an athletic department source at Boston College – wrote that BC and Boston University are investigating the possibility of playing an outdoor doubleheader at Fenway Park in December. The article specifically mentioned Michigan and Michigan State as potential opponents.

"It would be a thrill," said MSU sophomore forward Drew Miller when asked about the prospect of playing against the backdrop of Pesky's Pole and the Green Monster. "Anytime there's a big event like that, it'd be really cool to be a part of it."

Another storied athletic venue – Lambeau Field in Green Bay – appears to be on the verge of hosting an outdoor hockey game. According to Thursday's edition of the Wisconsin State Journal, Michigan Tech and Ohio State are the leading candidates to play Wisconsin in the U.S. Hockey Hall of Fame Game on Feb. 11, 2006. Notre Dame is also mentioned as a possible opponent. Once the opponent is finalized, the Green Bay Packers, the University of Wisconsin and the WCHA could have an agreement in place as soon as next month.

Packers' CEO John Jones, who's spearheading the effort, envisions an ampitheatre-type seating arrangement that could accommodate 30,000 to 35,000 spectators.

"We're not trying to set any attendance records," Jones said to Wisconsin hockey beat writer Andy Baggott. "We're just trying to give a great location and atmosphere for the Badger skaters to get on the ice and have a good game. That's our vision."
Great Weekend Getaway

Alaska-Fairbanks at Nebraska-Omaha (Fri.-Sat.)

Yeah, this series has playoff implications, blah, blah, blah. The real reason to take in this two-game set – the last CCHA regular-season series for both teams – is to show appreciation for UNO coach Mike Kemp and UAF bench boss Tavis McMillan. Both have taken incredibly young teams to the brink of top-six finishes in the league standings. The job Kemp has done this season is quite remarkable. The Mavs finished last in the league last season. This year, they'll likely finish fourth despite the fact that just one senior and one junior have played in more than half of the team's games.

While you're there: Qwest Center undergoes a rapid transformation following Friday's game as the Creighton men's basketball squad, one of five teams in the ultra-competitive Missouri Valley Conference, entertains last-place Indiana State for a 1 p.m. tip-off Saturday. If you're with a group, debate amongst yourselves who is the greatest player in Blue Jay history – Kyle Korver and Paul Silas are candidates, but we'll take Benoit Benjamin, the all-time leader in giant body-to-small head ratio.

Stick Salute

Kudos to Fort Wayne for putting on a great show for Friday's Michigan-Notre Dame tilt. The War Memorial Coliseum is a fine venue and, based on the attendance and the buzz in the concourses between periods, the city seems primed to embrace future college hockey events.


Bench Minor

The reality of minor league hockey is that the profitability of a franchise hinges on promotions and advertising, not wins and losses. Still, it was a tad disconcerting to watch Friday's game in Fort Wayne and see 27 advertisements on the War Memorial Coliseum ice sheet. The only business missing was Chico's Bail Bonds.
FRIES AT THE BOTTOM OF THE BAG

• In order to keep its slim hopes of a top-six finish in the conference standings alive, Alaska-Fairbanks will have to beat Nebraska-Omaha Friday without the services of at least two of its regulars. Freshman defenseman Darcy Campbell and freshman forward Ryan McLeod were both whistled for major penalties and game disqualifications for checking from behind in the Nanooks' 5-4 loss to Miami Saturday, and therefore must miss the front end of this weekend's series at UNO. Another freshman, forward Don Johnson, hurt his knee midway through the first period of Saturday's loss.

There is some positive news on the injury front for UAF, however. Senior defenseman Cramer Hickey could return to the lineup for the UNO series. He's been out since Jan. 21 with a knee problem.
• Another club with injury concerns is Michigan State. The Spartans could be without a pair of juniors – forward David Booth and defenseman Corey Potter – for this weekend's home-and-home series with Bowling Green. Both were hurt last Friday in MSU's win over Ohio State at Munn Ice Arena. Booth missed the rematch with the Buckeyes with a rib strain. Potter, on the other hand, tried to go Saturday despite a hip pointer, but only managed a handful of shifts before leaving the game. Both are listed as day-to-day.
• It was a good weekend for Jordan Sigalet and his Bowling Green teammates. On the ice, the senior goaltender from Surrey, B.C., stopped 51 of the 54 shots he faced as the Falcons swept visiting Western Michigan and virtually assured themselves a home series in the first round of the CCHA playoffs. Off the ice, more than $10,600 was raised at BGSU Ice Arena in conjunction with the team's Multiple Sclerosis Awareness Weekend spearheaded by Sigalet.

"Last week was a really busy week," said Sigalet, who announced in December he had MS. "I just wanted to make it look as professional as possible and raise as much money as possible."

• Notre Dame followed its loss to Michigan in Fort Wayne Friday by dropping a 6-3 decision to the Wolverines in Ann Arbor the next night, and now the Fighting Irish are on the doorstep of a dubious distinction – the team's winless streak currently stands at 15 games (0-13-2), one shy of the school record set during the 1988-89 campaign, when Notre Dame endured an 0-14-2 stretch. The Irish have this weekend off, but meet Michigan State – one of the five teams they've beaten this season – in a home-and-home series March 4-5.
• A microcosm of Notre Dame's season: It's the first period of Friday's game against Michigan. The Fighting Irish trail 2-1 and are about to kill a Wolverine power play. With less than 15 seconds remaining in the minor penalty, forward T.J. Jindra attempts to bat the puck out of the Notre Dame end with his hand...and his glove flies over the glass and into the fifth row of the arena.

Referee Mark Wilkins whistles Jindra for delay of game. The Wolverines score on the ensuing man advantage to take a 3-1 lead.

"That's kinda the way it's been going," Poulin said. "It's been a very, very difficult year all the way around in every aspect of it. But we've played hard all year."

• Last month, we turned the spotlight on Nebraska-Omaha forward Bill Thomas, the nation's leading point-getter among freshmen who was on track to top the school's single-season rookie scoring mark set by linemate Scott Parse last year. Last Friday in Sault Ste. Marie, Thomas surpassed Parse's mark when he recorded his 36th point of the season on a power-play goal in the second period of the Mavericks' 5-2 win at Lake Superior State. Not only did Parse assist on that goal, but he also set up Thomas's second goal of the night in the third period.
• For the third time this season, Northern Michigan broke its single-game attendance record as 4,216 packed Berry Events Center last Thursday to see the Wildcats skate to a 3-3 draw with non-conference rival Michigan Tech. That eclipsed the mark set Nov. 6, when 4,197 were on hand to watch the same two teams. The first time NMU broke its home attendance record was Oct. 22, when 4,163 saw the host team beat Michigan State.
• Canada has given us many wonderful things – Labatt Blue, The Tragically Hip, Eugene Levy – but the new CCHA promo that runs during the league's television broadcasts isn't one of them. The spot produced by Leafs TV, which is owned and operated by the Toronto Maple Leafs, is visually appealing, but includes clips of Boston College's Ben Eaves and Michigan Tech's Colin Murphy. Unless a radical realignment was recently (and secretly) announced, the Eagles and Huskies aren't in the CCHA.

A variety of sources were utilized in the compilation of this report

Other Notebooks: Atlantic Hockey/CHA Notebook | ECACHL Notebook | Hockey East Notebook | WCHA Notebook