February 24, 2005
Friar Breakthrough
By Nate Ewell
Hockey East Notebook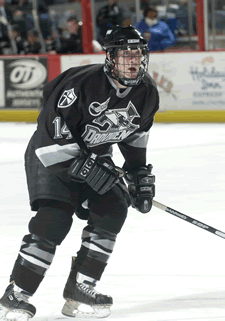 Jamie Carroll has gone from Iona Gael to Skating Friar.

Fresh off their first Hockey East win since before Halloween, you had to imagine the post-game feeling at Providence Friday night was one of jubilation, energy, and more than a little bit of relief.
But more than any of that, head coach Paul Pooley was basking in what it felt like during the team's 3-2 win over Maine.
"It was nice to be in a game like that, when we weren't coming from behind," said Pooley. "It's a whole different feeling. We really felt confident that we were going to win."
That's not to say there weren't nerve-wracking moments for the Friars, despite jumping to 2-0 and 3-1 leads. A little over midway through the third period Maine's Josh Soares scored on a play where most in Schneider Arena expected an icing call. It was waved off, Soares scored, and Providence could feel shades of its controversial overtime loss at UMass Lowell two weeks earlier.
"There was almost a sense of all right, here we go again," Pooley said. "But our guys have been good, they didn't get down."
Maintaining that lead was crucial for the Friars, who could finish seventh or eighth in the standings with three games to play. They are 7-4-3 in games when they score first; 1-15-1 when their opponent does.
Contributions from the power play could be just as important to getting the lead. Pooley emphasized the power play again in practice this week, hoping to improve on a unit that's clicking on 13.2 percent of its chances, ranked last in the league.
The biggest trouble has been the lack of a distributor at the point, a la All-American Stephen Wood last year. Providence's top-scoring defenseman this year is Eric Lundberg, with 11 points; Pooley has tried him and other defensemen at the points, as well as forwards like sophomore Jamie Carroll, but hasn't discovered the right combination yet.
Despite their struggles, Providence remains one of the league's hardest working teams, a theme reinforced by a handful of opposing coaches and echoed by Pooley.
"Our seniors have been good, our captains have been good, really everyone has shown the character of our club," he said. "We have a vision for our hockey club. We haven't reached it yet, but our guys have kept working."
Time's running out, but with some fast starts and power play support, Pooley's got faith in his team.
SEEN AND HEARD IN HOCKEY EAST
BC's Mystery – There's plenty in Hockey East that we may never understand: Is there a good way to pass the time on the drive up to Orono? Why does Providence ever change its jersey? And how many ways can you mangle the pronunciation of Conrad Hache's last name?
But the most puzzling question of all, at least this year, has involved Boston College's inability to put the puck in the net. Why can't the Eagles, with a league-high 36.8 shots per game, generate more than 3.17 goals per game?
"We're trying to sink the 35-foot downhill putt every time," said head coach Jerry York. "Sometimes you just have to put it close and then tap it in."
York hopes to combat the baffling 40- and 50-shot efforts that result in just one or two goals – and, all too often for his taste, ties and losses – by reinforcing the importance of putting the puck on the net. It started at Sunday's practice, hours after the Eagles' sweep at the hands of UMass Lowell.
"We've tried to emphasize that you don't have to go top-shelf, left-hand corner every time," he said. "Sometimes the five hole is a better option. Sometimes if you just shoot the puck hard it will find its way through the goalie, or to you or a teammate on the rebound.
"We've been a little too high-risk," he added. "We just want to get it on goal."
FRIES AT THE BOTTOM OF THE BAG
Great Weekend Getaway

UMass Lowell at Maine (Fri.-Sat.)
This could be a preview of the 4 vs. 5 quarterfinal matchup, although the red-hot River Hawks would like to change the site. With two wins this weekend, Lowell could overtake Maine for the fourth spot and potentially move that playoff series to Tsongas Arena. T

he Black Bears bounced back well from their 3-2 loss to Providence, posting a 6-2 win on Saturday night. They return to Alfond Arena, where they started the season slowly but now boast a 10-game unbeaten streak. They'd like nothing better than to ensure that they will be back home in two weeks.

Stick Salute

UNH's first line is marvelous to watch, and the trio led Hockey East in scoring for much of the season. But the Wildcat who has done the most offensive damage of late is sophomore Jacob Micflikier, who has the skills to be one of the nation's best players, especially if he keeps improving at his current pace.

Bench Minor

Special teams have simply buried Massachusetts. The Minutemen are last in league games in both power play and penalty killing.
• Is anyone – c'mon, anyone – surprised that Boston University's nine-game unbeaten streak has coincided with the arrival of the Beanpot?
• The success Merrimack had outside the league, where the Warriors went 7-4-1, never translated to Hockey East play. A big reason is the power play, which was a big weapon for them a year ago. Merrimack had a 26.4 percent success rate on the power play in non-league games, but just 12.3 percent – next-to-last in the league – in Hockey East.
• Not long ago, UNH had three linemates ranked 1-2-3 among league scorers. Now a fourth Wildcat, sophomore Jacob Micflikier, leads Hockey East in scoring with 28 points in 20 league games. Micflikier, who also leads the league with 14 goals, has been especially impressive lately, with 7-5—12 totals in his last four games.
• Cory Schneider's knee injury clouds Boston College's playoff goaltending scenario. If the injury were to keep him out for three more weeks, Jerry York said, it would be awfully tough to throw him back in action in the FleetCenter or the NCAA Tournament.
"It's not like a defenseman coming back, where he's one of six guys back there," he said.
As for the Eagles' other injuries, York is optimistic that Greg Lauze can return to action soon with a brace on his injured shoulder. Andrew Alberts is probably looking at a return for the first round of the Hockey East playoffs.
• At the other end of the spectrum, Boston University is enjoying the return of its stars from injury. Chris Bourque hsa been back for a while from the knee injury suffered at the World Junior Championship, but he certainly seemed back at the top of his game last week. Meanwhile, John Curry returned and posted three straight wins in goal.
• Paul Pooley shrugs off thoughts that the Friars might be hoping for any specific first-round matchup, like Boston College who PC tied three times this year. "We've got to focus on our game," he said. "We're trying to catch UMass, trying to get as many wins as we can."
• John Yaros and Peter Vetri got a lot of attention – including INCH's co-Players of the Week honors – but don't overlook junior center Elias Godoy's contributions to UMass Lowell's sweep of Boston College. With 1-3—4, Godoy had a hand in four of the River Hawks' seven goals on the weekend, and he now shares the team scoring lead with Ben Walter. Perhaps most impressive, Godoy had three of his four points at even strength. With Blaise MacDonald spreading his offensive talent among his top three lines, the River Hawks are a near-constant threat to score.
• Massachusetts takes Hockey East's final dip outside of conference play before the NCAA Tournament this weekend, traveling to Niagara for a Saturday game. The Purple Eagles, who have lost twice to UMass Lowell this season, will have played teams from the UMass system almost as often as teams in their own conference.
• Northeastern senior Tim Judy, a defensive defenseman for his entire career on Huntington Ave., had just 28 points in 92 games before the start of February. Since then he's got 3-7—10 in seven games. He may be cursing that it's the shortest month of the year.
• Between advance ticket sales and the cancellation of the NHL season, Hockey East officials expect sold out crowds on both nights of the Hockey East championship weekend at the FleetCenter. With five, even six teams entering with a legitimate shot at the title, the level of play should live up to the expectations. It's worth getting your tickets early.
A variety of sources were utilized in the compilation of this report.
Other Notebooks: Atlantic Hockey/CHA Notebook | CCHA Notebook | ECACHL Notebook | WCHA Notebook