February 24, 2005
Worth Waiting For
By James Jahnke
Atlantic Hockey/CHA Notebook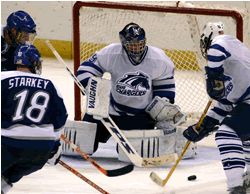 Scott Munroe has appeared in 25 of 26 games for the Chargers.

Like the Expos' move to Washington, Scott Munroe's emergence between the UAH pipes has come to fruition after a year's delay.
Munroe was supposed to be "the man" for the Chargers last season following a solid freshman year that saw him play as many games (20) as then-senior Mark Byrne (17) and then-junior Adam MacLean (3) combined. But those grand plans junked up Munroe's head. He put too much pressure on himself and wasn't as confident or as sharp as he was as a rookie.
"We expected him to play 70 percent of our games last year," UAH assistant coach Lance West said.
Instead, Munroe saw time in 17 – one fewer than MacLean. His goals-against average rose and his save percentage dropped from his freshman campaign. His record sunk from 11-6-1 to 5-9-1. If he surrendered a goal, he would let his focus slip and worry about its ramifications. Before games, he felt that he had to post a shutout to win. He admitted that he became uptight from trying too hard to be a leader.
"I thought I was ready for the role," Munroe said this week, "but maybe I wasn't."
Things have changed this year. With MacLean gone, the job was Munroe's to lose – and he hasn't even come close. The junior owns a 2.38 GAA and .926 percentage – both career bests – and, most importantly, he has started 24 of the Chargers' 26 games this year, including every one since Marc Narduzzi got the nod the night before Halloween.
"I didn't want to have a repeat of last season, even though it was a good learning experience," the native of Moose Jaw, Sask., said. "I worked harder in the offseason and learned to relax a little more. I'm a year older and more mature in the net, and I'm calm and just letting the puck hit me."
Munroe has helped the explosive Chargers grab a stranglehold on second place in College Hockey America and, subsequently, a bye in the first round of the league tournament. This past weekend, he made 71 saves in a split at first-place Bemidji State, including 37 in the first periods as the Beavers outshot the Chargers 39-10 in the opening stanzas.
"Goaltenders are a fragile position," West said. "You see goaltenders all the time go up and down. One year, they win the Vezina Trophy, and the next, they're No. 2. Scott is just mentally a lot stronger this year. Marc played well when he was in, but Scott has been so good that he hasn't given anybody a chance to get back in there."
UAH plays at Robert Morris this weekend, but it might be without star forward Bruce Mulherin, who had his shoulder sprained by a check in Friday's win over Bemidji and didn't play in Saturday's loss. Team officials said he will make the trip this weekend and is considered "probable."
SEEN AND HEARD IN THE LEAGUES
Where's Boone? – Rick Gotkin sounds a bit like Kevin Bacon telling everybody that things are under control even as a parade disintegrates into a riot around him at the end of Animal House. The only thing that remains to be seen is whether Gotkin, Mercyhurst's coach, can, in fact, restore order or if his squad is doomed to get trampled by a human stampede like Bacon's Chip Diller.
As it stands, Mercyhurst is in fifth place in Atlantic Hockey, which would force it to go on the road for the first round of the league playoffs if the season ended today. A lot of that is due to the fact that the Lakers are 2-10 in one-goal games (2-12 if you count empty-net goals that made for two-goal differentials). However, optimistically, the Lakers are just four points out of first place with two weekends left. They'll get their shot to move up the standings with a set at second-place Holy Cross this weekend.
"It's been a little frustrating," Gotkin said. "The stars just haven't lined up right for us yet. But we're awful close. We're a confident group, and I think we're due. We can still be a really, really good team."
Mercyhurst has played better in recent weeks because of the return of all-league defenseman T.J. Kemp, who missed six of seven games from December to January with upper- and lower-body injuries. Since his return, he has four goals and eight assists in eight games.
Not on Life Support – Contrary to chat-room scuttlebutt, Wayne State officials insist their program is not in dire financial straits. In fact, they're perplexed by how that rumor even got started.
"Our budget is as good as I had at Western Michigan," coach Bill Wilkinson said. "We're putting close to three-quarters of a million dollars into the program, so we're not worried about things in that regard. It's no issue at all."
The doomsayers' speculation likely is based on poor attendance figures at Compuware Sports Arena in suburban Plymouth. With 25 miles separating the Warriors' home rink from their Detroit campus, WSU homes games rarely draw 500 fans. That's why getting an on-campus arena is paramount to the long-term viability of the program, even though there are no concrete plans to build one by the end of the decade.
"The whole school, we've got a referendum this month where the Board of Governors is trying to make a commitment to go Division I across the board in everything," Wilkinson said. "So we're not cutting back, we're going forward and advancing our whole athletic image. If (the school) goes Division I, (a rink) is the next step. Two different buildings. One for basketball and one for hockey."
Wayne State athletic director Rob Fournier echoed Wilkinson's assessment that rumors of the Warriors folding are "gibberish."
"The state of hockey here is strong," Fournier said. "Our president is behind the program, and we spend a lot more on hockey than a lot of teams in this league, and, certainly, more than a lot of teams in Atlantic Hockey."
FRIES AT THE BOTTOM OF THE BAG
Great Weekend Getaway

Sacred Heart at Quinnipiac (Fri.), Quinnipiac at Sacred Heart (Sat.)
We hope you didn't write off the Bobcats last month, because, Lord knows, we didn't. And they've rewarded us with a 9-2 record in their last 11, vaulting themselves into a tie for second place in Atlantic Hockey. Sacred Heart, of course, is in first, one point ahead, so you know plenty is on the line in this intrastate rivalry. The Pioneers must find a way to slow down Quinnipiac's torrid offensive attack, which lately has been led by Ben Nelson, Reid Cashman and Matt Froehlich.

While you're there: Roughly halfway between game sites Milford and Northford is New Haven, home of Louis' Lunch, the "birthplace" of the hamburger. Locals warns out-of-towners not to ask for ketchup at Louis'. We'll take their word for it.


Stick Salute

Robert Morris goaltender Christian Boucher has set single-game career highs in saves during each of the Colonials' past four series, going from 40 versus Wayne State to 42 versus Niagara to 45 versus Air Force to 50 versus Bemidji State. Coming off a bye week, the stellar freshman from Orleans, Ontario, might get a chance to extend his run against high-powered Alabama-Huntsville this weekend.


Bench Minor

Wayne State's NHL jersey promotion isn't a bad idea, but why not extend the same offer to fans wearing college hockey sweaters? After all, most of us would rather see some nice, sharp St. Cloud State apparel in the stands than a Thrashers road jersey. Ugh. And if some clown shows up wearing a relic from the Islanders' teal era, I suggest he be hurled over the boards during Chuck-a-Puck.

• When we highlighted Sacred Heart's tough remaining schedule in last week's notebook, we were sort of thinking that the visit to American International was the lone gimme of the six games left. But as anyone who has walked 18 holes with me can attest, gimmes can be missed. AIC stunned the Pioneers, 4-1, last Saturday in what has to be one of the most confounding results of the year. The loss didn't knock Sacred Heart out of first place, but it did prevent the Pioneers from capitalizing on Friday's win over Holy Cross and extending its lead in the standings.
For those of you wondering how AIC pulled off the upset, INCH spies at the rink point to four reasons: Sacred Heart was a bit flat (1), especially after it had an early power-play goal disallowed because the net was dislodged (2). Yellow Jackets goalie Frank Novello was sharp with 33 saves (3) and AIC's defensemen were as sound and active as they've been all year (4).
• Novello broke the AIC single-season school record for saves against Quinnipiac Wednesday night. He now has 1,013 saves, breaking Chance Thede's mark of 1,001 from 2000-01.
• Atlantic Hockey can't claim Air Force as its own yet (still waiting ...), but it does boast the best regular-season race of any of the six conferences. At the top, Sacred Heart, Quinnipiac, Holy Cross, Canisius and Mercyhurst are separated by just four points, with sixth-place Connecticut two behind the Lakers. That bunching remained intact through last weekend, thanks to Holy Cross losing its only game and the other five teams splitting. There's even a good race at the bottom of the AHA, as Army and AIC are tied for eighth place and the right to host the play-in game of the league tournament. Those two squads play two in West Point this weekend. The only squad in the conference with a little elbow room is seventh-place Bentley, but the Falcons still have to be mindful of Army and AIC lurking four points back.
• The battle between Bemidji State and Minnesota Duluth for Babe the Blue Ox commences this weekend, Friday in Duluth, then Saturday in Bemidji. The teams split last season, but the Bulldogs won the 10-pound bronze trophy because they won Game 2.
• Niagara junior Justin Cross became the first CHA player to net two empty-net goals in the same game when he scored at 19:00 and 19:25 of the third period of a 5-2 win at Air Force on Friday.
• Despite playing in just 18 games, Quinnipiac freshman Ben Nelson is one goal behind Holy Cross' Tyler McGregor (29 games) and Sacred Heart's Pierre-Luc O'Brien (30 games) for the most goals in Atlantic Hockey. Nelson, who recorded his second hat trick of the year Saturday, has 15 markers. McGregor and O'Brien have 16.
• With agitators such as Mike Forgie, Nate Higgins and Tylor Michel on the roster, Wayne State is one of the feistiest teams in the CHA. But at 21.2 penalty minutes per game, coach Wilkinson thinks the Warriors go too far sometimes. "I think we need to take less penalties but still play with that intense, aggressive style," Wilkinson said. "You can't just go out of control."
WSU fans can judge for themselves when Air Force visits Detroit this weekend. Patrons wearing NHL jerseys to Compuware can buy one ticket and receive a second one free for the rest of the season. If you can't make it to the rink, Sunday's contest versus the Falcons will be televised live on Comcast Local in southeastern Michigan.
• Air Force sophomore Brian Gineo notched his eighth goal of the season Saturday, the most by a Falcon defenseman since Bob Ingraham scored 14 in 1992.